Return to Headlines
Edison Middle School Named a "School to Watch"
WEST ORANGE, NJ – Edison Middle School has been named a 2020 "School to Watch" by the National Forum to Accelerate Middle-Grades Reform, making it one of only two new schools in New Jersey to receive the prestigious accreditation this year. (George Washington Middle School in Wayne received the other recognition.)
"It is no coincidence, in my view, that Edison Middle School has been selected as a Schools to Watch," stated West Orange School District Superintendent of Schools Dr. Scott Cascone.
"Edison's consistent emphasis and use of distributed leadership has helped to foster a shared sense of purpose and a mission that is built upon high expectations for students and staff all operating within an environment which is nurturing, rigorous, and innovative," he added.
While the recognition of receiving a "School to Watch" is an incredible accomplishment, Edison's journey to achieve it makes it all the more satisfying. Unlike most schools that make the decision to work towards the goal of becoming a School to Watch, Edison fought back from a technicality that placed it in "Focus School" status for several years.
Principal Xavier Fitzgerald and Assistant Principal Steve Melendez know only too well the unique situation that running a Central Six Middle School can bring. Drawing from the entire township, the Central Six boasts a broad-range demographic. There are only two known Central Six Middle schools in the state: Thomas A. Edison Middle in West Orange and Mt. Pleasant Middle in Livingston.
The journey began in 2011 with the annual review of Edison's performance based on New Jersey state assessments. One of the criteria designating a school a Focus School is a "Largest Within-School Gaps: schools with the largest in-school proficiency gap between the highest-performing subgroup and the combined proficiency of the two lowest-performing subgroups." The difference between their highest-performing subgroup and the two lowest-performing subgroups was one-tenth of one percent. Because of that gap, Edison was designated a "Focus School"
Between 2011 and 2016, Fitzgerald and Melendez worked with administrators, faculty, and parents to make the necessary changes that would remove Edison from Focus School status.
During the 2011-12 school year, Fitzgerald and the team at Edison improved time on task with teachers and the school switched to block scheduling. Class sizes were reduced and additional teachers were hired. A balanced literacy approach was examined for English Language Arts, and the transition from Everyday Math to Connected Math was strengthened.
Other district initiatives like Benchmark testing and the implementation of the Marzano Model for teacher evaluation aided in the process.
"It made me take a harder look at how we were doing things at EMS and how we could improve it," said Fitzgerald.
The effort was quickly noticed by the state, which after the first year began sending other schools in Focus status to EMS to see what was being done schedule and instructional wise. EMS staff also presented during Summer RAC sessions during the required Focus School training with the Department of Education.
On Dec. 10, 2015, President Barack Obama signed the "Every Student Succeeds Act (ESSA)," replacing the No Child Left Behind Act. As a result, changes were made in reporting requirements and criteria and Edison was well on its way to exiting Focus School Status.
In a letter dated June 30, 2017, from the State of New Jersey Department of Education, Acting Commissioner Kimberley Harrington stated:
"Based on the exit criteria set forth in NJAC 6A:33-2.1(e)(1)-(4), a Focus School is eligible to exit status if it fails to meet the definition of a Focus School for two consecutive years after implementation of the SIP; successfully implements all interventions required by the Quality Service Review (QSR) as determined by the RAC; meets performance targets for its two lowest-performing subgroups and/or demonstrates high subgroup growth as measured by Student Growth Percentiles (mSGP); or reduces the number of students not graduating. As a result of your success according to these metrics, your school will be removed from the current list of Focus Schools and will no longer be supported by the Regional Achievement Centers (RACs)."
"I'm happy that my staff doesn't have to live under the stigma of being a Focus School any longer," said Fitzgerald at the time, who also described the staff's commitment and dedication to their students and the school. "All of my academic and related arts teachers are Highly Qualified Teachers (HQT) in the subject areas they teach."
To be considered a highly qualified teacher by the federal government, teachers must have at least a Bachelor's degree; have valid state certification (CE and CEAS are considered state certification); no requirements have been waived; they have no emergency or conditional certificates, and they demonstrate content expertise in the core academic subject(s) they teach.
"I would put my staff up against any staff at any school anywhere," said Fitzgerald.
To have a strong team, a school needs strong leaders to empower them. Edison has that with Principal Xavier Fitzgerald and Asst. Principal Steve Melendez.
"I knew I wanted a career in education since I was 20 years old," said Fitzgerald, who graduated with a Bachelor of Science in Elementary Education in 1994, a Master's in Urban Education with a concentration in Administration and Supervision in 2003, and is set to graduate in 2021 with a Doctorate in Educational Leadership. He was an award-winning mathematics teacher and Assistant Principal in Roselle until beginning at Edison in 2005.
The pairing of Fitzgerald and Melendez began in 2008. Melendez had worked in the district as a social worker and Child Study Team member for nine years. He holds a Bachelor of Arts in Psychology, a Masters of Social Work, and a Master's in Educational Administration and Supervision.
"Being named a Focus School became a blessing in disguise," Fitzgerald continued.
"It challenged us to change our narrative and to institute better practices. We began to understand who we are and what we are about as a transitional sixth-grade middle school."
"We knew we had an exceptional teaching staff, but it was important to get them invested in the process by asking them, 'What's your why?' That's what sets forth their purpose," he explained.
Following the removal of Focus School status in 2016, Edison moved to a seven-period, 55-minute schedule to ensure all core subjects (Math, Science, Social Studies, and ELA) had equal time. In 2017-18, the team stepped up their Science, Technology, Engineering, and Mathematics (STEM) offerings along with coding and computer application classes. Mandarin was added as a second World Language course and the school began implementation of the new mandated science program.
In 2018, Melendez came to Fitzgerald and said, "I think we're ready to apply for Schools to Watch status," and a committee was formed comprised of administrators, teachers, and parents to begin the process. The criteria for becoming a "School to Watch" is wide-ranging:
ORGANIZATIONAL STRUCTURES AND PROCESSES. The school is a learning organization that establishes norms, structures, and organizational arrangements to support and sustain its trajectory toward excellence.
ACADEMIC EXCELLENCE. The school is academically excellent. It challenges all students to use their minds well.
DEVELOPMENTAL RESPONSIVENESS. The school is sensitive to the unique developmental challenges of early adolescence.
SOCIAL EQUITY. The school is socially equitable, democratic, and fair. It provides every student with high-quality teachers, resources, learning opportunities, and supports. It keeps positive options open for all students.
"Becoming a School to Watch was not about getting a banner. It was our goal that Edison's Instructional Practices become an example," noted Fitzgerald.
As the committee began its work, the 2018-19 school year brought with it more changes in district ideation, including the adoption of the Charlotte Danielson Evaluation Model, the implementation of MAP assessments, revision of intervention and referral services, and addition of staff-run technology PLC's.
In 2018, Edison became the first West Orange School District school to receive a Future Ready Schools Bronze Certification. The school worked with district Director of Technology Fil Santiago and Tech specialist Diana DaCosta to integrate the Future Ready effort "to maximize digital learning opportunities and help school districts move quickly toward preparing students for success in college, a career, and citizenship."
The Future Ready effort is geared to "provide districts with resources and support to ensure that local technology and digital learning plans align with instructional best practices, are implemented by highly trained teachers, and lead to personalized learning experiences for all students, particularly those from traditionally under-served communities."
At the start of the 2019 School year, Edison applied for the School to Watch status. The school added an Academic Intervention Team (with a Literacy focus), added a Literacy Coach, added a Full-time English Language Learner teacher to co-teach with Science, Math, and Social Studies teachers, infused a Financial Literacy Course into their computer and coding classes, added an Extended Academic Development program, and implemented Reflection Circle Time aligned with restorative practices.
Co-Director Dr. Gail Nelson Hilliard of National Forum to Accelerate Middle-Grades Reform visited the school on Feb. 2. Edison received the news that they had been named a School to Watch on March 2.
"The application process was 1.5 years in the making, but ensuring the necessary components were all in place took 10 years in total," stated Fitzgerald. "However, we're not resting on our laurels."
In fact, Fitzgerald, Melendez, and the staff have become even more focused as their vision of excellence has taken shape, and they have continued to evolve its best practices.
This year, teachers are requested to sit in on each other's classes informally to see what is done in their classrooms and learning environments.
"The teachers get to see the exemplary instructional practices they are all doing," noted Melendez.
Another component is the continued development of Teacher Leadership.
"Teachers need to take care of each other so they can take care of the kids," learning communities."
Fitzgerald and Melendez are particularly pleased with the initial results of the Reflection Circle, a new approach to the school's discipline policy entailing detention, in-school, and out-of-school suspensions.
"In a review of Edison's 2016 and 2017 school discipline data, we recognized that there were a number of students who were repeat offenders, Fitzgerald explained.
In 2018 the building administration, along with the school counselors Mr. Jeff LaFoon and Mrs. Pam Stewart, attended a workshop on restorative practices. Collectively they decided that it was best to move toward implementing restorative practices when dealing with student discipline.
Over the summer building administration looked at the 2018 school data and developed the Reflection Circle Program aligned with restorative practices. The counselors meet with students once a week after school for 55 minutes. The student's behavioral infractions can range from out-of-school suspension to those that have received administrative detention. The goal of the program is to show the "Five R's:" Respect, Relationships, Responsibility for actions, Repairing the harm, and finally Reintegrating students into their normal routine.
"It's always students and teachers first," Fitzgerald added. "Our students are new every year and we want to meet their needs."
Edison Middle School will be recognized as a 2020 New Jersey School to Watch on March 13 at Kean University at the annual NJAMLE Conference. The National Forum to Accelerate Middle-Grades Reform will recognize all middle schools designated a School to Watch in Washington, D.C. in June at their annual national conference.
At Edison Middle School, the culture of excellence is as much a goal of leadership as it is for its students. As their school motto encourages: "Good, Better, Best, Never Let It Rest, Until Your Good Is Better, and You Are The Very Best."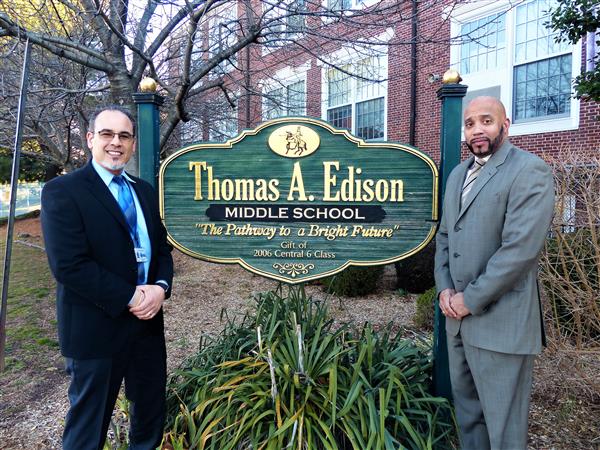 Edison Middle School Assistant Principal Steve Melendez and Principal Xavier Fitzgerald.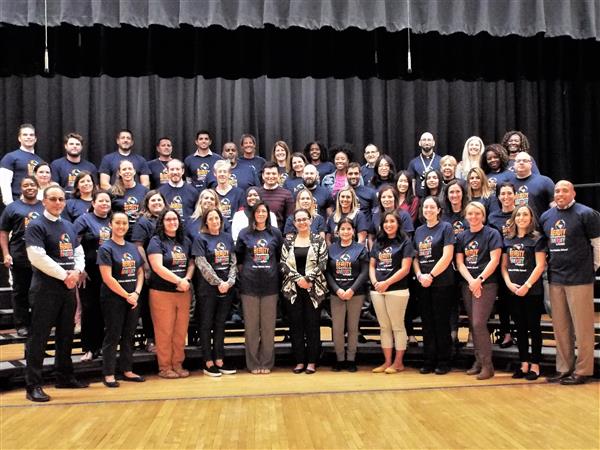 EMS Staff.
Cynthia Cumming
March 9, 2020