Return to Headlines
West Orange High School Student Assistance Counselors Present Documentary "Chasing the Dragon"
WEST ORANGE, NJ – In an initiative to educate parents and guardians regarding the dangers of opiate addiction, Student Assistance Counselors at West Orange High School presented the FBI documentary "Chasing the Dragon," on Nov. 6.
"This is only the beginning of what we hope to offer to parents," said Student Assistance Counselor Keshia GoldingCooper, who organized the event with fellow counselor Amadeo Chirichiello.
In 2014, there were 47,055 overdose deaths in the United States and 61 per cent were due to opioids (prescription and non-prescription). Preliminary figures from the National Center for Health Statistics suggest that there were more than 64,000 drug overdose deaths in 2016. Synthetic opioids like fentanyl overtook both heroin and prescription painkillers in terms of overdose deaths.
In West Orange, there were five overdoses in 2016 and there have been seven overdoses to-date in 2017. The age range for overdoses was 23-35. Heroin appears to be the current opioiod of choice.
"Chasing the Dragon" was filmed in 2014 and originally premiered in September of 2017, produced by the FBI to underscore the dangers of opiate addiction. Interviews with current and recovering addicts offered insight into how they became addicted to various forms of opioids. Sadly, several of the young people overdosed following their interview, highlighting the insidiousness of opiate addiction.
Following the documentary a short question and answer period followed with GoldingCooper and Chirichiello, along with Summit Behavioral Health Clinician Jamie Killmeyre, and Outreach Coordinator Stephanie Kresch.
Superintendent Jeff Rutzky was impressed with the presentation and felt it could benefit middle school students in addition to high school students.
In addition to GoldingCooper and Chirichiello at the high school, Heidi Brotzman works as a Student Assistance Counselor at Liberty and Roosevelt Middle Schools. The counselors serve a special function apart from regular school counselors.
Student assistance programs are designed to help students and their families with problems affecting their personal lives and academic performance. The Student Assistance Counselor's (SAC) role is to enhance and support students' success in the school environment. There are a range of school-based prevention and intervention services offered to assist students with personal problems and encourage them to build upon their strengths.
The counselors assist families and students with alcohol and drug issues by:
Connecting students and families to community resources;
Providing support for families, staff and administration for students who may have academic issues relating to social-emotional/mental health issues such as peer pressure, relationship difficulties, family problems, self-esteem and depression (among others);
Aid students with the adjustment to high school and getting to the next step of college or career, and serve as members of the high school student support teams (such as crisis, 504, I&RS, and emergency management teams);
Assisting with staff development.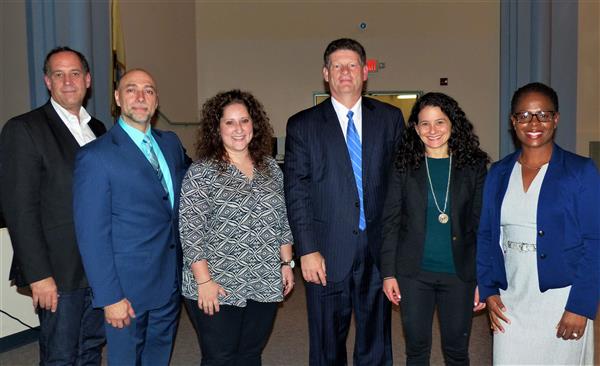 BOE Vice-President Irv Schwarzbaum, SAC Amedeo Chirichiello,
Summit Behavioral Health Clinician Jamie Killmeyre, Superintendent
Jeff Rutzky, SBH Outreach Coordinator Stephanie Kresch, and
SAC Keshia Golding-Cooper.
View the video "Chasing the Dragon" in its entirety here.