Return to Headlines
West Orange High School Students Get "Connected"
WEST ORANGE, NJ – West Orange High School students got "connected" at a special cyber safety assembly on Oct. 5.
Sgt. Tom Rich is a 20-plus year veteran of the Summit Police Department who has served as a Patrol Officer, Detective, Detective Sergeant, Juvenile Detective, D.A.R.E. Officer, Juvenile Sergeant, and Patrol Sergeant. He is also the founder of "Always Connected," which educates students in K-12 about the pros and cons of today's forms of communications, like iPhones and laptops.
Rich's credo of "make a difference" stems from years of experience on the Summit police force and his relationship to his own two young sons.
"I asked fourth grade students 'How many of you talk to strangers online?' and several hands went up," he said. "You older kids need to be role models to the younger ones and help them."
Rich engaged students by relating stories of his own family and encouraging them that they are not the "lost generation" that some believe millennials to be. He cited a conservative estimate of 573 billion texts that are sent each month.
"The best way to miscommunicate how you feel and misinterpret what someone says is through texting," Rich continued.
"Our communications need to be face-to-face. If you wouldn't say it in person, don't say it online," he stated.
Of particular importance to the seniors present at Rich's first assembly was the realization that once they turn 18, they can be charged as an adult for any illegal activity on their phones or online, and that even on Snapchat, things never really "disappear."
Close to Rich's heart was the reality that too many of the victims of cyber bullying suffer mentally and physically and can become suicidal, even younger children.
"Students come up to me after every presentation and the thing I hear the most is they feel "different," Rich explained.
"We're all different and we all have something that makes us unique from others. What do you think about yourself?" he concluded.
See the photos from the Always Connected assembly at West Orange High School here.
Find about more about Sgt. Tom Rich and Always Connected here.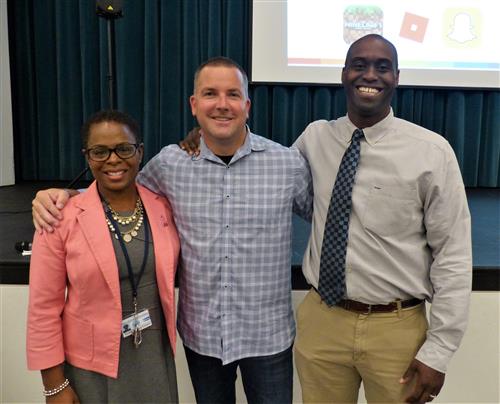 WOHS Guidance Counselor Keshia Golding-Cooper, Sgt. Tom Rich, WOHS Principal Hayden Moore.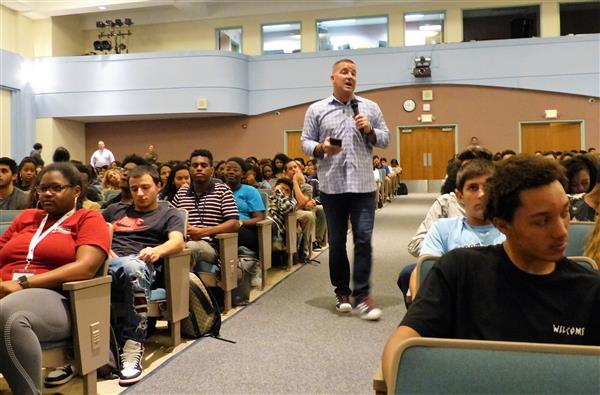 Rich addresses high school seniors.