Return to Headlines
West Orange High School Seniors Learn About Dorm Fire Safety from SHU Survivors
WEST ORANGE, NJ – West Orange High School seniors were captivated by a visit on May 16 by Shawn Simmons and Alvaro Llanos, two well-known survivors of the infamous Seton Hall University dorm fire on January 19, 2000.
The fire began on the third floor of the Boland Hall freshmen dorm at approximately 4:30 am following a SHU basketball victory. It was bitterly cold and a series of false fire alarms had been going off on a regular basis.
Roommates Simmons and Llanos heard the fire alarm and took their time getting out. When they attempted to leave their dorm room they realized the awful truth – this was no false alarm.
Three students died. Aaron Karol and Frank Caltabilota died of thermal injuries, and John Giunta died due to smoke inhalation. Fifty-six students and firefighters were injured, four seriously enough to require lengthy hospital stays and rehabilitation. Simmons and Llanos were two of the most critically injured students, spending months in rehabilitation in the St. Barnabas Burn Unit.
Roosevelt Middle School English teacher Kimberly Nunes was a student at SHU at the time and recalled the fire.
"I knew all three boys," said Nunes, "and I had a class with John Guinta. I knew Aaron's face from classes and around campus and Frank's from the training room. I am brought back to every service and every feeling… the years upon years have not made anything about the day different. I can say the experience itself was overwhelming for all of us involved," she stated.

In comas, the boys' journey was documented by a journalist and photographer for the New Jersey Star Ledger. Photographer Matt Rainey went on to win a Pulitzer Prize for Feature Photography and "After the Fire: A True Story of Friendship" by Robin Gaby Fisher became a New York Times bestseller.
Simmons and Llanos showed the students the 2011 documentary "After the Fire: A True Story of Heroes and Cowards," telling their story. As a result of the investigation, New Jersey became the first state in the country to require mandatory sprinkler systems in all college dormitories.
The arsonists were fellow students and drunk fraternity boys Sean Ryan and Joseph LePore, who originally denied culpability and eventually pleaded guilty to third-degree arson.
While the facts of the fire were covered by Simmons, Llanos and the documentary, it was the character of the men that they had become that captured the students' attention. They now travel to schools nationally to encourage students and provide invaluable advice, like knowing all the exits and escape routes and how to reach them no matter where you are.
The assembly was organized by PE Supervisor Kevin Alvine and Student Assistance Counselor Keshia Golding-Cooper. West Orange Fire Chief Pete Smeraldo was also on hand to speak to students, noting that on-campus fires were commonplace and dangerous.
"We wanted to provide you with something you can take with you as you go off to college," said Principal Hayden Moore.
"You'll be on your own soon and making your own decisions, and we want your safety and the safety of others to be one of them," he noted.
Find about more about Shawn and Alvaro here.
To see the documentary "After the Fire," go here.
See all the photos from the assembly here.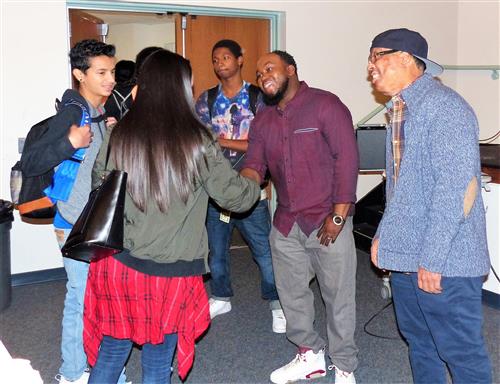 Simmons and Llanos with students.
WOFD Fire Chief Pete Smeraldo.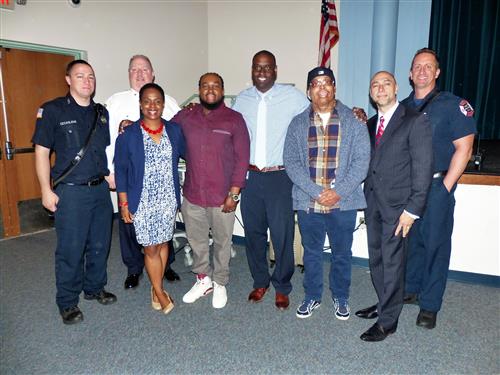 Smeraldo and firefighters with Keshia Golding-Cooper, Simmons, Hayden Moore,
Llanos, and teacher Armando Chirichiello,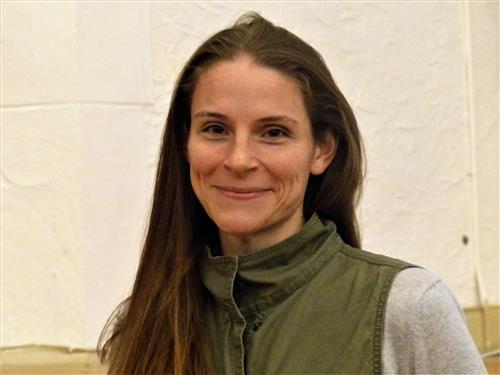 RMS ELA teacher Kimberly Nunes.