Return to Headlines
Thespian Society Inductions End Awards Season
WEST ORANGE, NJ - The Thespian Society at West Orange High School closed out the awards season on June 19 by inducting new members and presenting cords to graduating seniors. The evening was emotional for participants, who had grown into a family throughout the school year. Tears were shed as teacher Wendy Mapes lauded her students and encouraged seniors as they headed to graduation.
Although several seniors and inductees were out of town singing at Google Headquarters, the show went on. New inductees for the 2023-24 season were:
Freshman Inductees:

Sophomore Inductees:

Carlo Henriquez

Mason Insana

Mia Peretz

Karissa Rivers

Shyla Thomas

Junior Inductees:

Hannah Florendo

Allyssa Jules

Justus Wheatley

Senior Inductees:

Brandon Dios

Paige Palent
Each year, members of the Thespian Society amass points for the various activities they participate in. Accrual of enough points earns them Honors bars, National Honors (medal), or International Honors (medal).
Honors Bars:
Class of 2025 (VP)

Class of 2024 (SECRETARY)

Nakhayla Green - 103

Allyssa Jules - 66.5

Chloe Zucker - 73

Class of 2023 (TREASURER)

Nia Caesar - 90.5

Shea Donagher - 71

Buck Minervino - 62

Ewan O'Sullivan - 64

James Tibang - 65

Rocio Urquia - 61

National Honors Inductees (120+ pts)

Madison Gough - 121

Jack Harwood - 120.5

Elena Hause - 122.5

Delia Kravits - 120

Samuel Selikoff - 120.5

Lance Zeligson - 120.5

International Honors Inductee (180+ pts):

Morgan LanzotWoodridge - 181.5
Thespian Graduation Cords
VII. Senior Thespians-
Nia Caesar - Tuskegee University

Brandon Dios -

Shea Donagher - Fordham University

James Felton - Pace University

Madison Gough - American University

Jack Harwood - Rutgers University New Brunswick Honors College

Riley Hahn - University of Michigan

Elena Hause - Bard College

Carlos Henriquez - Bergen Community College

Delia Kravits - Marymount Manhattan College

Daniel Levin - Albright College

Buck Minervino -

Ewan O'Sullivan - Bard College

Morgan Palent - Rutgers University New Brunswick

Paige Palent - Rutgers University New Brunswick

Charlie Peterson - Worcester Polytechnic Institute

Gus Peterson - College of the Holy Cross

Jessica Sarkes - New Jersey Institute of Technology

Cullen Smith - Syracuse University (?)

James Tibang - Yale University

Rocio Urquia - Seton Hall University

Morgan LanzotWoodridge - Montclair State University

Lance Zeligson - Cornell University
Outgoing Board members also introduced the new Board for the coming year:
Historian: (Abigail Rothstein) passes to (Mason Insana)

Public Relations: (Shea Donagher) passes to (Amelie Swayze)

Points Coordinator: (James Tibang) passes to (Ofelia Perez)

Secretary: (Sam Selikoff) passes to (Chloe Zucker)

Treasurer: (Jack Harwood) passes to (Abigail Rothstein)

Vice President: (Lance Zeligson) passes to (Nakhayla Green)

President:(Morgan LanzotWoodridge) passes to (Sam Selikoff)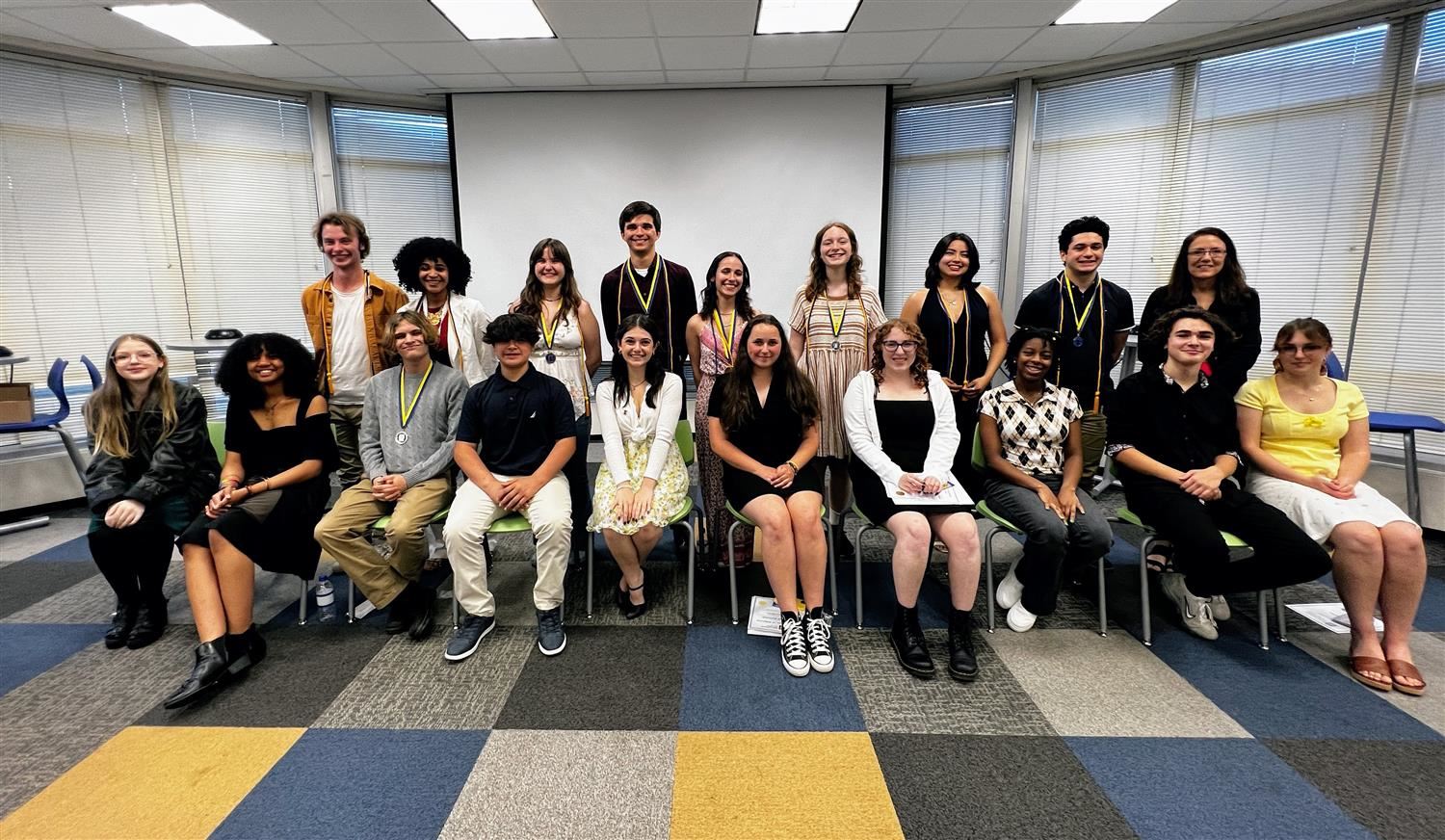 Graduating seniors and newly inducted Thespian members with teacher Wendy Mapes (back, right)
Cynthia Cumming
July 5, 2023