Return to Headlines
West Orange High School Closes Year With Senior Sports Awards and Honor Society Recognitions
WEST ORANGE, NJ - Along with the challenges faced by the West Orange High School graduating class of 2020, juniors and seniors were unable to attend the many honor society recognitions and sports awards that normally take place in May and June. Several societies did hold private virtual inductions and for others, students were notified.
Typically seniors receive their honor society cords to wear for graduation and newly-inducted juniors are announced.
This year, the Junior Honor Guard had it largest number ever. 66 students would have flanked the aisles at Codey Arena to welcome the seniors at graduation. The Junior Honor Guard represents all WOHS Juniors who have earned all A's and B's during their time at WOHS from Freshman year up until the third marking period of their Junior year. The Valedictorian and Salutatorian are usually named from the group in September.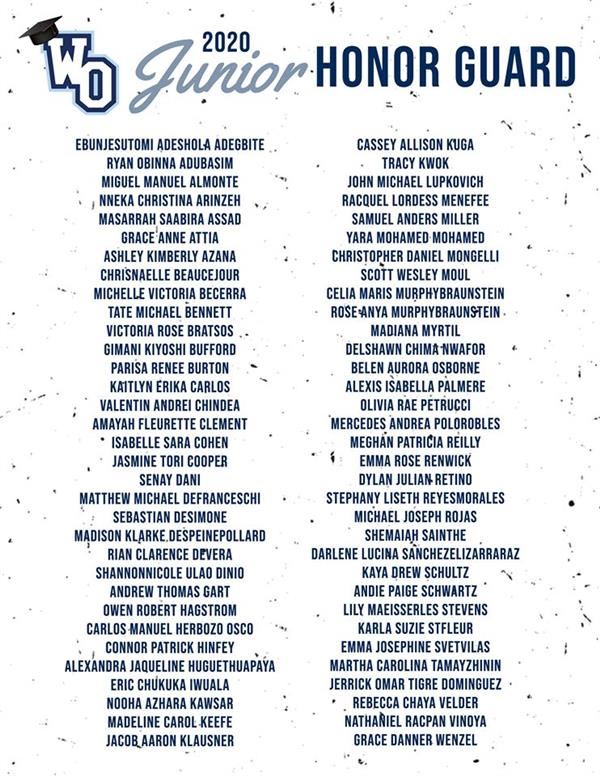 Graduating seniors receiving recognitions for athletic excellence:
| | | |
| --- | --- | --- |
| NJSIAA Scholar Athlete | Natalie Nevins | |
| Essex County Scholar Athletes | Yedidia Mesfin | Brett Zeligson |
| UNICO Brian Piccolo Memorial Award | Giovanna Winning | Cade Lipsey |
| ECADA Teammate of the Year | Emily Baker | |
| Maxwell Award - Football | | Michael Charles |
| Betty Maddalena Memorial Award | Angelyne Silverio | Erik Powell |
| Lawrence Cunningham Memorial Award | | Calvin Nwosu |
| Matt Lombardi Memorial Award | Davionna Phillips | |
| Daniel Schiffer Memorial Award | | Gustav Hall |
| Jerome Sanzari Memorial Award | | Gregory Ward |
| Marilyn Kuhlman Memorial Award | Abigail Vital | Jefferson Cajuste |
| John Skillman Memorial Award | | Mark Mincolelli |
| Richard Cataldo Memorial Award | | Daniela Tacuri |
| Judy Risse Memorial Award | | Sophia Sholtz |
| Mackenzie Fitchsen Memorial Award | Jo Tse | |
| Bligh Family Memorial Award | Natalie Nevins, Davionna Phillips | Mark Mincolelli, Matthew Arizmendi |
| Girls Tennis Coach Award | Kaia Baker | |
| Boys Tennis Coach Award | | Karan Belday |
| Hockey Coaches Award | | Shawn Sandels |
| Girls Volleyball Coaches Award | Gabriella Uribe | |
| Boys Volleyball Coaches Award | | Jackson Edwards |
| Girls Lacrosse Coaches Award | Precious Opara | |
| Boys Lacrosse Coaches Award | | Lucio Maffei |
| Girls Soccer Coaches Award | Kiara Machuca | |
| Boys Soccer Coaches Award | | Yasin Aly |
| Bowling Coaches Award | | Garrett Weinstein |
| Fencing Coaches Award | | William Schick |
| Girls Indoor Track and Field Coaches Award | Denae Hill | |
| Boys Indoor Track and Field Coaches Award | | Keith Lakeman |
| West Orange High School Hall of Fame Inductees | Natalie Nevins - Soccer, Sandra Guerrero - Wrestling, Ogechi Nwobu - Volleyball | Adonis May - Football |
| West Orange Hall of Fame Athletes of the Year | Natalie Nevins | Adonis May |
Graduating seniors receiving cords for graduation in their respective honor societies:
Art National Honor Society
| | |
| --- | --- |
| ART NATIONAL HONOR SOCIETY | |
| Last Name | First Name |
| Anand | Gita |
| Baker | Emily |
| Callender | Olivia |
| Correia | Emma |
| Donagher | Ruth |
| Joyce | Cassidy |
| Winning | Maria |
Chinese Honor Society
| | |
| --- | --- |
| CHINESE NHS | |
| Last Name | First Name |
| Andrada | Devin |
| Andrade | Brandon |
| Chen | Jenny |
| Cordoba | Sofia |
| Donagher | Ruth |
| Edwards | Jackson |
| Garchitorena | Tricia |
| Hume | Ashlea |
| Mengden | Chloe |
| Miller | Imani |
| Ng | Kevin |
| Smith | Kiley |
| Zeligson | Brett |
Junior Air Force ROTC Kitty Hawk Honor Society
| | |
| --- | --- |
| AFJROTC Kitty Hawk National Honor Society | |
| Last Name | First Name |
| Bolen | Kevin |
| Chavez | Yamilee |
| Folas | Darlene |
| Louis | Geraldine |
| Maffei | Lucio |
| Palomino | Karin |
| Tobin | Maya |
English Honor Society (Escriptus)
| | |
| --- | --- |
| ENGLISH NHS | |
| Last Name | First Name |
| Anand | Gita |
| Baker | Emily |
| Baker | Kaia |
| Charles | Kailey |
| Cordoba Valencia | Sofia |
| Donagher | Ruth |
| Edwards | Jackson |
| Femi Akanbi | Damilare |
| Fernandes | Anika |
| Hall | Gustav |
| Hume | Ashlea |
| Kicior | Alexandra |
| Mengden | Chloe |
| Miller | Imani |
| Nevins | Natalie |
| Nwobu | Ogechi |
| Schwartz | Matthew |
| Sivendra | Arthi |
| Smith | Kiley |
| Smith | Mellany |
| Titus | Meghan |
| | |
| Zeligson | Brett |
French Honor Society
| | |
| --- | --- |
| FRENCH Honor Society | |
| Last Name | First Name |
| Byun | Simone |
| Kicior | Alexandra |
| LaFleur | Vanassa |
| Levine | Lindsay |
| Makachi | Cynthia |
| Nwobu | Ogechi |
| Santisteban | Jahaira |
Italian Honor Society
| | |
| --- | --- |
| Italian National Honor Society | |
| Last Name | First Name |
| Acuna | Joaquin |
| Amanuel | Ziyanna |
| Chavez | Yamilee |
| Cordova | Anna |
| Jaeger | Johanna |
| Maciejak | Jennifer |
| Mincolelli | Mark |
| Nalieth | Joseph |
| Palomino | Karin |
| Querques | Isabella |
| Reitberger | Bryan |
| Reyna | Gabriel |
| Rivera | Arnoldo |
| Scholz | Sophia |
| Tom | Alyssa |
| Vera | Justin |
| Visitacion | Jason |
| Winning | Maria |
Spanish Honor Society
| | |
| --- | --- |
| SPANISH NHS | |
| Last Name | First Name |
| Alvarez | Mariela |
| Arizmendi | Matthew |
| Benaroya | Victoria |
| Gouin | Keren |
| Guallpa | Erica |
| Hilliard | Jasper |
| MarinTobar | Maria |
| Rodriguez | Melani |
| Silva | Evelyn |
| Tamay | Katerin |
| Valencia | Salome |
Mathematics Honor Society
| | |
| --- | --- |
| Mu Alpha Theta Mathematics Honor Society | |
| Last Name | First Name |
| Anand | Gita |
| Andrada | Devin |
| Baker | Kaia |
| Belday | Karan |
| Byun | Simone |
| Edwards | Jackson |
| Femi | Damilare |
| Fernandes | Anika |
| Godinez | Paul |
| Gouin | Keren |
| Hall | Gustav |
| Hume | Ashlea |
| Kicior | Alexandra |
| Lafleur | Vanassa |
| Lim | Stanley |
| Makachi | Cynthia |
| Mengden | Chloe |
| Mesfin | Yedidia |
| Miller | Imani |
| Nwobu | Ogechi |
| Pappano | Isabella |
| Pryor | Mecca |
| Sanghvi | Shrey |
| Scholz | Sophia |
| Sivendra | Arthi |
| Smith | Mellany |
| Vargas Eugene | Ramone |
| Vigo | Anayelli |
| Zeligson | Brett |
| Baker | Kaia |
| LaFleur | Vanessa |
| McCormick | Massimo |
| Smith | Mellany |
Music National Honor Society (Tri-M)
| | |
| --- | --- |
| MUSIC NATIONAL HONOR SOCIETY Tri-M | |
| Last Name | First Name |
| Adams | Julian |
| Adrien | Isaiah |
| Amanuel | Ziyanna |
| Anand | Gita |
| Belday | Karan |
| BrizuelaFernandez | Steve |
| Bunao | Jorielyn |
| Cordoba | Sofia |
| Donagher | Ruth |
| Egan | Vincent |
| Favetta | Rachel |
| Femi-Akanbi | Damilare |
| Fernandes | Anika |
| Giovine | Julia |
| Hernandez-Pemberton | Celastina |
| Jackson | Indigo |
| Jaeger | Johanna |
| Kicior | Alexandra |
| Lafleur | Vanassa |
| Lecour | Gabrielle |
| Lim | Stanley |
| Louigene | Khalil |
| Maciejak | Jennifer |
| Maciejak | Melanie |
| Makachi | Cynthia |
| McCormick | Massimo |
| Mengden | Chloe |
| Mesfin | Yedidia |
| Minervino | Iliana |
| Nalieth | Joseph |
| Ng | Kevin |
| Oliver | Abigail |
| Reznik | Amy |
| Sanghvi | Shrey |
| Schneider | Abbie |
| Singer | Bryan |
| Sivendra | Arthi |
| Smith | Mellany |
| Soto, Jr. | Israel |
| Thomas | Toluwase |
| Thornton | Kaiya |
| Ford-Titus | Meghan |
| Vahalla | Justin |
| Vasquez | Johan |
| Vigo | Anayelli |
| Zeligson | Brett |
National Honor Society
| | |
| --- | --- |
| NATIONAL HONOR SOCIETY | |
| Last Name | First Name |
| Anand | Gita |
| Andrada | Devin |
| Angeles | Isabella |
| Arizmendi | Matthew |
| Atkins | Kevon |
| Baker | Emily |
| Baker | Kaia |
| Belday | Karan |
| Benaroya | Victoria |
| Byun | Simone |
| Callender | Olivia |
| Chapman | Chenell |
| Chavez | Yamilee |
| Corasmin | Christyne |
| Cordova | Anna |
| Donagher | Ruth |
| Edwards | Jackson |
| FemiAkanbi | Damilare |
| Fernandes | Anika |
| Ford-Titus | Meghan |
| Folas | Darlene |
| GouinDominguez | Keren |
| Graham | Safiya |
| Hall | Gustav |
| Jackson | Indigo |
| Joyce | Cassidy |
| Kicior | Alexandra |
| Lafleur | Vanassa |
| LaMar | Nadia |
| Lecour | Gabrielle |
| Levine | Lindsay |
| Lim | Stanley |
| Maciejak | Melanie |
| McCormick | Massimo |
| Mengden | Chloe |
| Miller | Imani |
| Miller | Olivia |
| Millington | Elijah |
| Nevins | Natalie |
| Nwobu | Ogechi |
| Opoku | Courtney |
| Palomino | Karin |
| Pappano | Isabella |
| Pryor | Mecca |
| Reyna | Gabriel |
| Rhew | Samantha |
| Robalino | Olivia |
| Salkin | Rebecca |
| Sanghvi | Shrey |
| Scholz | Sophia |
| Shick | William |
| Singer | Bryan |
| Sivendra | Arthi |
| Smith | Kiley |
| Smith | Mellany |
| Tacuri | Daniela |
| Tobin | Maya |
| VargasEugene | Ramone |
| Ventura | Brianna |
| Vigo | Anayelli |
| Winning | Maria |
| Zeligson | Brett |
Seal of Biliteracy
| | | | | | |
| --- | --- | --- | --- | --- | --- |
| Seal of Biliteracy | | | | | |
| Last Name | First Name | Language 1 | Language 2 | Language 3 | |
| Acuna | Joaquin Rodrigo | Spanish | Italian | | |
| Alvarez | Mariela | Spanish | | | |
| Angeles | Isabella | Spanish | | | |
| Anselme | Chrismaelie | Haitian Creole | | | |
| Ardon | Emily | Spanish | | | |
| Arizmendi | Matthew | Spanish | | | |
| Benaroya | Victoria | Spanish | | | |
| BrizuelaFernandez | Steve | Spanish | | | |
| Cabezas | Maria | Spanish | | | |
| Cardoza Mejia | Aleks | Spanish | | | |
| Cavero Vasquez | Brandon | Spanish | | | |
| Chavez | Yamilee Kristen | Spanish | Italian | Portuguese | |
| Chen | Jenny | Chinese | | | |
| Clerveus | Jhunie | Haitian Creole | French | | |
| Clervil | Ernishka | Haitian Creole | | | |
| CordobaValencia | Sofia | Spanish | Chinese | | |
| Cordova | Anna Sophia | Spanish | Italian | Portuguese | |
| Dalencour | Nathanael | Haitian Creole | | | |
| Duarte | Elizabeth | Spanish | | | |
| Fleurisma | Natchenly | Spanish | Haitian Creole | | |
| Garcia Pulido | Odalis | Spanish | | | |
| Geronimo | Abigail | Spanish | French | | |
| Gouin Dominguez | Keren | Spanish | | | |
| Guallpa | Erica | Spanish | | | |
| Guilloteau | Leensay | Haitian Creole | | | |
| Hercules Ramos | Kimberly | Spanish | | | |
| Hernandez-Garcia | July | Spanish | | | |
| Hilliard | Jasper | Spanish | | | |
| Humala | Kevin | Spanish | | | |
| Garcia | Katherine Isabella | Italian | | | |
| Kicior | Alexandra | Polish | | | |
| LaTorre | Carolina | Spanish | | | |
| Lecour | Gabrielle | French | | | |
| Luna | Glenda | Spanish | | | |
| Magloire | Loucille | French | Haitian Creole | | |
| MarinTobar | Maria | Spanish | | | |
| Morocho | Richardt | Spanish | | | |
| Nalieth | Joseph | Italian | | | |
| Olivera | Brandon | Spanish | | | |
| Palomino | Karin Alexa | Spanish | Italian | | |
| Pappano | Isabella | Spanish | Italian | | |
| Paredes | Brunella | Spanish | | | |
| Ponce Hernan | Felipe | Spanish | | | |
| Rendon | Diana | Spanish | | | |
| Reyna | Gabriel | Italian | | | |
| Rhew | Samantha | Korean | | | |
| Rivera | Elizabeth | Spanish | | | |
| Rivero | Sebastian Adrian | Spanish | Italian | | |
| Rodriguez | Melani | Spanish | | | |
| Saade | Isabella | Spanish | | | |
| Salazar | Matthew | Spanish | | | |
| Santisteban | Jahaira | Spanish | French | | |
| Silva Herrera | Evelyn | Spanish | | | |
| Tacuri Andrade | Daniela Paolina | Spanish | Italian | | |
| Tamay | Katerin | Spanish | | | |
| Tamay | Christopher | Spanish | | | |
| Tobin | Maya | Spanish | Hebrew | | |
| Valencia | Salome | Spanish | | | |
| Vela Mendoza | Danna | Spanish | | | |
| VelaEspejo | Diego | Spanish | | | |
| Vera | Justin | Spanish | Italian | | |
| Vera | Thaina | Spanish | | | |
| Vigo | Anayelli Denise | Spanish | | | |
| Villafan Crocett | Julieta | Spanish | | | |
| Winning | Maria Giovanna | Italian | | | |
Social Studies Honor Society (Rho Kappa)
RHO KAPPA
Last Name
First Name
Angeles
Isabella
Arizmendi
Matthew
Baker
Emily
Benaroya
Victoria
Blanding
Imani
Byun
Simone
Corasmine
Christyne
Cordova
Anna
Correia
Emma
Donagher
Ruth
Donaghy
Ava
Downer
Mikayla
Hunter
Brielle
Jackson
Bryanna
Joyce
Cassidy
Kicior
Alexandra
Lim
Stanley
Maciejak
Melanie
Maffei
Lucio
Makachi
Cynthia
Mengden
Chloe
Miller
Imani
Miller
Olivia
Muhammad
Haneefah
Opara
Precious
Pryor
Mecca
Reznik
Amy
Robalino
Olivia
Sanghvi
Shrey
Shick
William
Simon
Monet
Singer
Bryan
Sivendra
Arthi
Smith
Kiley
Titus
Meghan
Tobin
Maya
Zeligson
Brett
Thespian Honor Society
| | |
| --- | --- |
| INTERNATIONAL THESPIAN SOCIETY | |
| Last Name | First Name |
| Adams | Julian |
| Adrien | Isaiah |
| Bosco | Onye |
| Brizuela | Steve |
| Cunningham | Clare |
| Donagher | Ruth |
| Donaghy | Ava |
| Favetta | Rachel |
| Lecour | Gabrielle |
| Louigene | Khalil |
| Maciejak | Melanie |
| Morales | Ashley |
| Nalieth | Joseph |
| Negash | Ezana |
| Saade | Isabella |
| Salkin | Rebecca |
| Schwartz | Matthew |
| Soto | Israel |
| Tarantino | Aidan |
| Vasquez | Johan |
Cynthia Cumming
June 30, 2020