Return to Headlines
West Orange High School Thespians Recognized at Induction Ceremony
WEST ORANGE, NJ - The West Orange High School Thespian Honor Society held its annual induction ceremony online on May 27, recognizing graduating seniors and welcoming a new board and new members into the growing group.
Despite the pandemic, theatre students at the high school collected several awards and mentions throughout the 2019-2020 school year, most notably at the New Jersey State Thespian Festival. The fall production of "William Shakespeare's Long-Lost Play (Abridged)" charmed audiences.
The Thespian Society is an International Honors Society for Theatre students who have demonstrated a deep commitment to theatre. Students are inducted when they have met a variety of requirements and earned a certain number of Thespian points. Drama teacher Wendy Mapes is the Director of Troupe 1530. After the cancellation of the spring musical, "The Drowsy Chaperone," students continued to hone their skills via online learning. After welcomes from Mapes and senior President Rachel Favetta, "Most Dedicated Awards" were given to freshman Morgan Lanzot Woodridge, sophomore Grace Soroko, junior Justin Peters, and senior Ashley Morales.
The outgoing board introduced the new board for the 2020-21 school year.
Historian: Aidan Tarantino passed to Val Pappano
Public Relations: Val Pappano passed to Morgan Lanzot Woodridge
Points Coordinator: Veena Steaphen passed to Grace Soroko
Secretary: Jillian Russell passed to Abigail Insana
Treasurer: Alex Perez passed to Veena Steaphen
Vice President: Isabella Saade passed to Alex Perez
President: Rachel Favetta passed to Jillian Russell
Newly inducted Thespian Society members:
Morgan Woodridge
Amber Goldberg
Shanelle Chambliss
Joseph Florendo
Onye Bosco
Johan Vasquez
Ezana Negash
Israel Soto
Honor Bars:
Junior Honor Bars:
Justin Peters
Veena Steaphen
Jillian Russell
Alexander Perez
Mapes personally recognized the graduating seniors for their talents, personalities, and skills as they were awarded their Senior Honor Bars.
Khalil Louigene: Funny, creative, and kind. Khalil is someone that you want on your team. He makes you laugh even when he isn't trying to, and his easy-going spirit creates a nice working vibe. For creativity to flourish, you need a good sense of humor balanced with a good sense of discipline and Khalil has it both. He is also super talented! This year Khalil won Best Supporting Actor for his work in Almost Maine at the Thespian Festival. Khalil is also one of the Captains of the Step Team and he knows the real-life struggle of balancing life, work, school work, and art. He lights up the stage in every play and musical that he's been in from Benny in In the Heights to George in The Drowsy Chaperone! Khalil lets his light shine on stage.
Ashley Morales: Sensitive, smart, and balanced. I first met Ashely in my Theatre Arts class and was instantly impressed with the 20-page one-act that she wrote. Fast forward three years and this year she wrote a FULL one act for the student production, which she auditioned and cast and was ready to rehearse.
Ashley was met with a lot of creative disappointment last year, but she never gave up. Instead she came back this year ready to go. In Advanced Theatre, Ashley took on the role of Director - one of three directors- for the class' presentation of Almost, Maine at the Chapter Select Competition. Under her care and direction and collaboration with others, they won second place for Best Overall Production in the Chapter Select Competition, and Ashley's leadership was instrumental in seeing this through.
Gabrielle LeCour Style and grace. Gabby has performed in every play and musical that I've directed at the high school and she has done it with style and grace. Gabby so embodies a role, that even when playing an ensemble role, many people have commented on how much she stands out. She has presence and grace and when she dances across the stage, the audience takes note.
Gabby, I am very proud of your accomplishments in dance and theatre and I was really excited to see you in your first lead role in a musical. You did a great job with Kitty in rehearsals and you brought her to life in a unique, quirky,and energetic way. And I am so glad I got to see you perform with Vanguard in Spring Awakening. You will be missed.
Matthew Schwartz I met Matt two years ago when he auditioned to be in Advanced Theatre, and suddenly he's a Thespian with an honors bar! Last June, Matt ripped up the audience with his stand up comedy act at Coffeehouse, and in the next minute, he was on TV doing the same routine! I was on a zen retreat in Ireland when Danielle Russell texted me about it and there I was in Ireland watching Matthew Schwartz on national television.
But we all come into our own when we do. Matt really jumped into Advanced Theatre last year and in the spring he got the lead role in The Heidi Chronicles. He said he completely blanked and forgot all of his lines, but the audience didn't know, and they loved him! This year he was really on fire, playing Puck in the Long Lost Play and then getting cast in his first musical, The Drowsy Chaperone! I just wonder, what's next?
Aidan Tarantino Aidan Tarantino is hilarious. He understands comedy in a natural way and when he sets foot on stage he intuitively finds the humor in the role and brings it to life. Aidan will be famous on the West Orange stage for playing characters who are either drunks or who push carts or maybe they do both. Famous pushing cart roles - Chef Louey, Piragua Guy, and Underling, and drunks: Simon Stimson and Bob.
Aidan also finds the funny in seemingly non-comedic roles, like he did with the Greek priest who marries everyone at the end of Mamma Mia. His accent and comedic timing had us in tears of laughter. We're going to miss you, Aidan!
Joe Nalieth is an amazing actor. Not only has he played a lead role in every play or musical that I've directed at West Orange HS, but he has also played the lead in several Off-Broadway productions with The Vanguard Theatre Company. Joe really cares about the craft of acting and I think he is the type who just wants to be acting or creative all the time. He allows himself to live and breathe in the role of whatever particular character he is working on.
This year Joe won the Governor's Award for Best Improv pair with Matt Schwartz at STANJ. At Thes Fest, Joe won several awards, including First Place for his film, YEAH OKAY, created with Matt Schwartz and Justin Peters and he won First Place for a scene from The Long Lost Play with Matt, Justin, and Hailey. And if that's not enough, Joe was also the President of the Screenwriter's Society and has written, directed, and acted in several awards winning short films! And he has earned a total of 85 points in the Thespian Society. Congratulations, Joe, I wish you continued creative success in whichever creative path you choose. I will miss you.
Isabella Saade I first met Isabella in my period 8 Theatre Arts class when she was a freshman. Isabella was shy but always had a smile and I felt comfortable around her. Isabella has been in every production I've directed at the high school - either as a lead, a supporting lead, or as a part of the production team. Isabella has been on the Thespian Board for two years and is currently the Vice President. She has supplied each Coffeehouse with an endless supply of cookies from her parents' bakery and she has earned 89 Thespian Points!
Finding your second family- your theatre family- is very important, especially in the arts. Artists and performers need all of the support we can get, and Isabella has created a home both with the Thespian Society and the West Orange Stage and also with The Vanguard Theatre Company, Off-Broadway, where Isabella most recently played an unforgettable and stunning, Ilse in the musical, Spring Awakening. Isabella, thank you for your leadership and I look forward to hearing what you do next!
Rachel Favetta has been a dedicated Thespian and performer for four years. Last year as Vice President and this year as President, Rachel has organized two Coffeehouse Productions which provided students with the opportunity to showcase their talent. She also co-directed Improv every Thursday with junior, Alex Perez.
Rachel is an amazing performer and has played many lead roles in the plays and musicals at WOHS. Rachel strives for honesty in her performances. She dives deep into the character's work and performs with authenticity and heart. This year Rachel won an award for Best Supporting Actress at the Thespian Festival for her portrayal of Gayle in Almost, Maine. Rachel also performed with the Papermill Playhouse Traveling Choir. Rachel, I am going to miss you!
Additional Senior Thespians:
Julian Adams will forever be remembered as Sonny from our 2018 production of In The Heights. The part was made for him, and I hope that someday he is able to play the role again and get paid for it! Julian, you have a positive, upbeat spirit, and that's why people enjoy being around you. I've enjoyed your creativity both on the stage and in the classroom and I am sad that the West Orange Audience didn't get to see that hilarious Aldolpho face that you made in the cane dropping scene. It was precious! You are fun to watch on stage, whether acting, singing, stepping, or dancing, and you got it all. I wish you creativity and perseverance as you move on to your next gig.
Isaiah Adrien is fabulous. He has a style that is all his own and I always looked forward to the days when he would bound through the Little Theatre door into my Advanced Theatre class and announce himself with enthusiasm and swag - and he wasn't even in the class. Isaiah, you have a beautiful voice and you are a gifted actor. I hope you continue to pursue your creativity in college and beyond. You have matured so much since I first met you in your sophomore year and I wish you continued growth in success in whatever comes next for you!
Onye Bosco is new to the Thespian Society, but not new to the stage! I first met Onye in 2018 when working on In the Heights. Onye was cast as one of the featured dancers, and she was one of those ensemble members that stood out - she had a real story going on! Onye has a positive spirit and a lot of good energy. I am so glad I got to work with you in Advanced Theatre this year and I look forward to hearing about your future success as a model and actor.
Steve Brizuela has been a very quiet but completely committed member of the Thespian Society. First, he has been in every musical for the last four years and he has competed at STANJ and the Thespian Festival. Steve has a heart of gold. He is honest and trustworthy and genuinely nice to be around. I think Steve has really found himself in his second family - his theatre family and his musical theatre family and I think Steve will help to keep people connected.
Clare Cunningham makes me laugh. Plain, simple, done. She is just funny. And this year, Clare finally received just reward for her talents when she won Best Actress for her performances of Marvlyn and Marci in Almost, Maine at the Thespian Festival Chapter Select Competition. How lucky we were in Advanced Theatre to be able to do that show three more times, as we toured Roosevelt, Liberty and WOHS. And each time, Clare gave a unique and fresh performance. Clare is also a great writer and has shared some of her original pieces at the Coffeehouse productions. Clare, please stay in touch and tell us what's next on your agenda!
Ruth Donagher won a Governor's Award for her Set Design for the Thespian All-State Show, Girls Like That. Ruth designed a series of slides that were projected onto the set and the stage throughout the show. In the fall, she drove down to Tom's River, NJ once a week to work with the other members of the tech team and by December's Thespian Festival, Ruth was well acquainted with her new friends from around the state, and well-rehearsed with the show. Ruth was also the head costume designer this fall for the Long Lost Play and she won first place for her As You Like It Costume Design at the Thespian Festival.
Ava Donaghy is also very funny. She knows how to laugh and she often provided a lot of comic relief both in class and after school in rehearsals. However, she is very good at dramatic acting. I think I will always remember Ava's performance of Johnny's alcoholic mother from The Outsiders. It was a small role, but Ava went for it. She embodied the role fully, and convincingly and each time she stepped on stage, I was mesmerized. Ava also played a mean witch this year in the Long Lost Play. I want to thank Ava for her leadership in our Master Scene Study class. She stepped up to direct a group scene that competed at STANJ, and she did an amazing job.
Melanie Maciejak just this year discovered that she wants to pursue Theatre. She took my class for the third time and worked really hard on her scenes and her contrasting monologue auditions, and she got accepted into several university theatre programs! I am so proud of your commitment and drive to pursue theatre. Melanie also won an award at STANJ for her Contrasting Monologue Performance as well as an award for her Dramatic Monologue Performance. Way to go, Melanie! Let us know how freshman year goes!
Ezana Negash is a newly inducted Thespian but he has been around the stage a lot. His freshman year he was part of a play of original monologues that was performed in our period 3 Theatre Arts class for other teachers, students and even Mr. Moore! Ezana was also a regular member of our Improv sessions. This year Ezana won an award with Alex Perez for Improv Pairs at STANJ and last year he won the same award with Melanie Chamorro. Ezana has been an essential part of the tech team in helping out in the sound booth for our plays and musicals. We will miss you Ezana!

Rebecca Salkin My first memory of Rebecca was my period 8 Theatre Arts class when she and Joe Nalieth were cast as the leads in a short film for the Ten Day Film Challenge. Rebecca was completely committed to the project and always showed up with a positive attitude. Rebecca was involved in all of the plays and musicals that I directed at WOHS either on stage or behind the scenes. I would say the role I most remember her for is the Doctor from The Outsiders. Rebecca performed it with such diligence, that I am left wondering if she actually wants to pursue medicine as a career. This year Rebecca was one of three dramaturgs for The Long Lost Play. She, along with Aidan and Isa, helped research the various Shakespearean references that came up in rehearsals. Rebecca, thank you, I'm going to miss you!
Israel Soto I am not sure how Izzy went this long without being inducted into the Thespian Society. He is on stage so much, I assumed he was already in! I am very happy that he is finally being inducted into the Thespian Society. Izzy is an incredibly hard worker and super quiet about it. Both in class and in the musicals, Izzy does his work and shows up prepared. If there is a song, he knows it; if there are lines, he memorizes them; if it's a dance, he practices it; if it's a note on the trumpet - he plays it. Thank you, Izzy, for being a shining stellar example. Art takes practice and more practice and more practice.
Johan Vasquez In life we are constantly making new friends and saying goodbye to the old. While I am saying goodbye to all of our senior friends in the Thespian Society, I feel that I am publically greeting Johan Vasquez for the first time. By the way people speak about you, I know that you are a really good person and a hard worker. You know that talent is not enough to win a Step Team Championship, but talent must befriend the discipline that a good Step Team Manager like yourself provides to a team.
Mapes concluded her comments by saying:
"We are always just beginning and as soon as you reach that one goal you are after, then another will present itself. And when you solve one problem, another will surface. So the trick, I believe, is in learning how to try, how to fall down, how to get up, how to try again, how to begin again and eventually, we learn how to dance in our chains. As T. S. Eliott says in his over-referenced but enlightening poem, "Little Gidding: "
"We shall not cease from exploration
And the end of all our exploring
Will be to arrive where we started
And know the place for the first time."
I was drawn to theatre because I was drawn to the human experience. I've always wondered what this life is about and why we are here and what was my purpose in it. When I graduated from college and took my first professional acting class in New York City - I found the answer, my answer, which was theatre.
When preparing for roles, I got to step into the shoes of many characters - some who were like me and some who were completely different. I was invited to explore their hearts and minds and souls - their demons and their gods, in a word, their humanity. While each character had different "shoes", my feet, the actor's feet, was the way in. In order to study and understand a character, I had to study and understand myself, the good and the bad, the parts I like and the parts I try to hide. And this pursuit of truth, of what it means to be human, is something I would like to give to the seniors tonight. Ask yourself, what is it for you? What are the things that set you on fire? What are you passionate about? Then use your life to become the living answer. And never stop asking questions."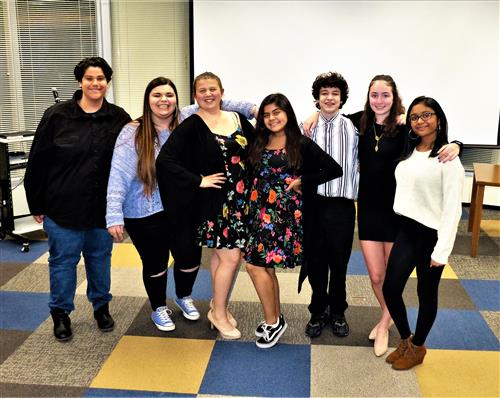 Outgoing 2019-2020 Board (L-R) Aidan Tarantino (Historian), Jillian Russell (Secretary), Rachel Favetta (President), Isabella Sande (Vice-President), Alex Perez (Treasurer), Valentina Pappano (Publicity), Veena Steaphans (Points).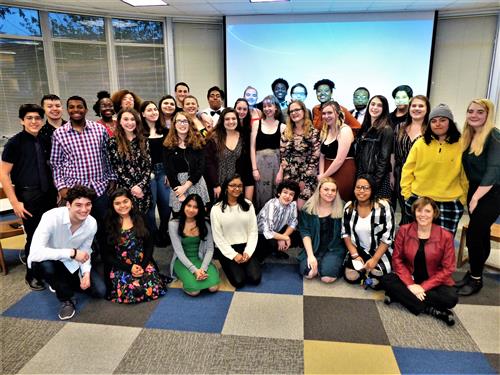 2019 Departing seniors, new inductees, and members.
Cynthia Cumming
May 28, 2020