Return to Headlines
Union Ends the Mountaineers' Spectacular Season in State Semifinals, 20-14
WEST ORANGE, NJ - After the eruption of the Union faithful as the final whistle blew during Friday night's semi-final round of the Section 2, Group 5 New Jersey football playoff, silence rang in the air over the West Orange Mountaineer team. Their historic season of perseverance and the formation of a brotherhood had come to a halt. A journey that premiered in the early goings of August and carried on until the bitter heart of November was over. The Mountaineers had fallen to the Union Farmers, 20-14, in a hard-fought battle that finished in nail-biting fashion.
The efforts of Farmer quarterback Andrew Sanborn #11, and senior captain wide receiver Ahmirr Robinson #1 proved why this senior-heavy Union squad was undefeated and a dangerous chunk-play-threat to opposing teams. Walking into this semi-final match-up, Sanborn posted a 65 percent completion percentage on the year with 2,173 yards, 21 touchdowns, and just three interceptions, instantly alerting the Mountaineer defensive unit and proving to be their toughest test all season.
Although this Farmer offensive unit was one of high power and explosiveness, the Mountaineers contained hard-nosed, gritty football players with a strong desire to win. Junior quarterback Mason Murdock #11, and senior Adonis May #31 had put up astounding numbers thus far in the season. Murdock, who is experiencing his first year as a starting quarterback for the varsity level, went 119 for 205 in the passing game, earned 1,683 passing yards, threw for 21 touchdowns, and conceded just seven interceptions coming into Friday night's game. May tallied a career-high of 69 total tackles, 11 sacks, two forced fumbles, two fumble recoveries, and two interceptions before entering Union for the semi-final of the playoffs.
The opening Mountaineer drive did not go as planned, as two crucial penalties (personal foul and holding) were flagged, putting them deep into their own territory and making success and conversion unlikely. On a fourth and 20, West Orange Head Coach Darnell Grant sent out his special teams unit to punt the ball away to the high powered Farmers offense, and the Mountaineers didn't get that fast start they were so accustomed to getting.
The Union Farmers first drive began in their own territory, where they would be plagued by penalties. A holding call on Terrell Cannon #55 would bring back a first down play, and set the Farmers back. Despite this miscue, Sanborn was able to drive his team down into the Mountaineer half of the field on a third and 19 play, following a huge sack by Mountaineer free safety Jared Massay #5. Union would be tasked with overcoming odds. Sanborn wasn't fazed by this challenge and threw a strike over the hashes of the field to hit Ahmirr Robinson in stride for the game's first score, a 19-yard touchdown pass (Sanborn's 22nd of the year.) The Farmer's got out to an early 7-0 lead after Ricardo Casas #18 was successful on his point-after try (PAT).
The Mountaineers were held scoreless in the opening half of the game and were contained by the Farmer defense. Both teams were contained to zero points as the attention shifted to the third and fourth quarters.
Each of the next two Union drives resulted in touchdowns. The first of the two second-half touchdowns came off the feet of a Farmer running back, who would post the first rushing touchdown of the night, and put Union up 14-0 after a successful PAT try off the foot of Ricardo Casas. The second of the two second-half Farmer touchdowns came when 5-10, 190-pound junior running back Diante Wilson trotted across the goal line for an eight-yard score on second and goal, in exchange for 6 points. Casas would then push his PAT attempt wide left, failing to capitalize on his third extra point chance of the night. The Farmers would stretch their lead to 20, and their shutout was still intact.
West Orange decided that it was time to buckle down, and the scoring was on the way for all those in attendance. On first and goal from the Farmer six-ard line, sophomore running back Makhi Green #1, who had emerged onto the scene in explosive style, rushed the six yards and crossed the goal line for a score. Green, who has slowly become a driving force to the success of the offensive unit, had added yet another touchdown to his spectacular sophomore resumè. Powered by a tackle for a loss of one yard by Jalen Rutherford #26, the Mountaineer defense put together a crucial stop and handed the ball back to its offense, providing the unit with the chance to shorten the Union High School lead to one possession. Just minutes later, Mason Murdock dumped off a pass over the middle to Jonathan Roberson #21, for another touchdown. Reitberger made the point after attempt, and the game was 20-14.
The game came to a close as the Union Farmers took a heart-wrenching, seven-plus minute drive down to triple zeros (0:00), and put the Mountaineer championship hopes to rest. Mason Murdock finished the day 10 for 21 with 148 passing yards and one touchdown (Murdock tied West Orange's single-season touchdown record with 22 this year), and Adonis May finished with 10 tackles and two sacks. For Union, Andrew Sanborn finished 16 for 21 with 180 passing yards and one touchdown.
As the Mountaineer football season came to an end, Head Coach Darnell Grant responded to how his squad proved all the nay-sayers wrong.
"Our players are the building blocks for the program," he noted, "and they made their community proud by playing with passion and resiliency."
"I'm really proud of my team's effort this season," he continued.
"I am grateful to the West Orange community for the warm welcome my staff and I received. I am especially grateful to the Mountaineer End Zone Club. They were phenomenal."
"On the field, we made great strides. My young team improved every week, and we overcame several key injuries and youthful inexperience to become very competitive," Grant concluded.
Thanks to senior Mountaineer Media Team member Mark Mincolelli for the article.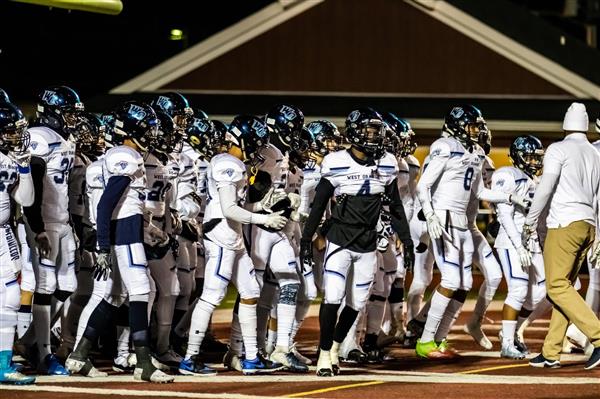 Photo Credits to Larry Washington: The Mountaineer squad runs out onto the field during their introduction.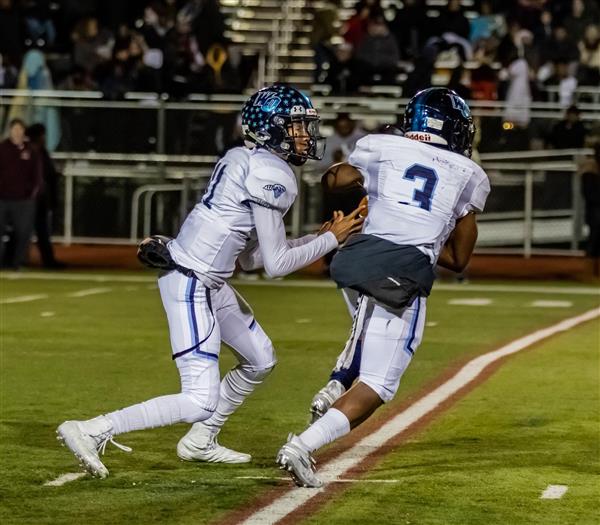 Photo Credits to Larry Washington: Mason Murdock hands the ball off to running back Shakhi Carson #3 of West Orange.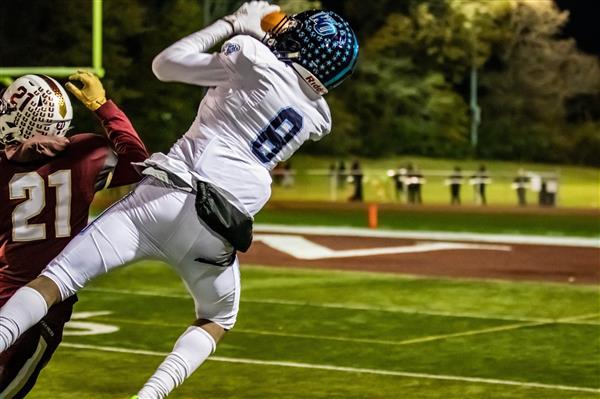 Photo Credits to Larry Washington: Jayson Raines #8 makes a spectacular grab on a 3rd down conversion over a defenders head.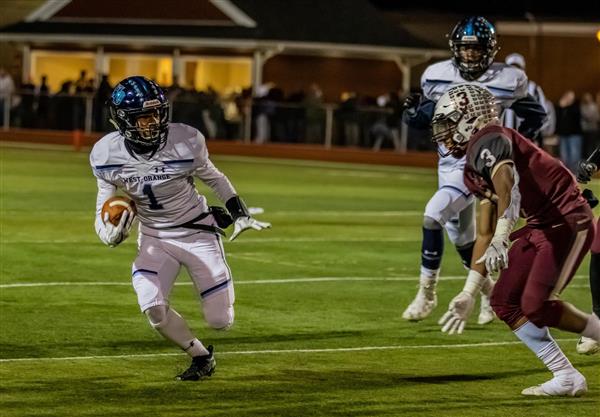 Photo Credits to Larry Washington: Makhi Green #1 breaks a run.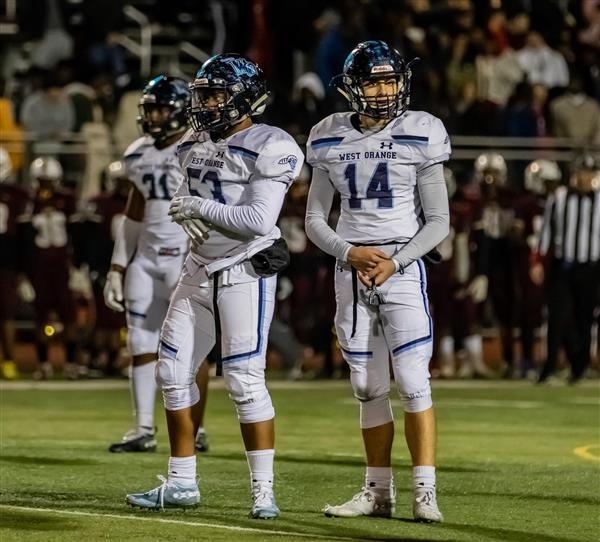 Photo Credits to Larry Washington: Tyrese Travis #53 and Chris Parsons #14 getting a call from the sideline.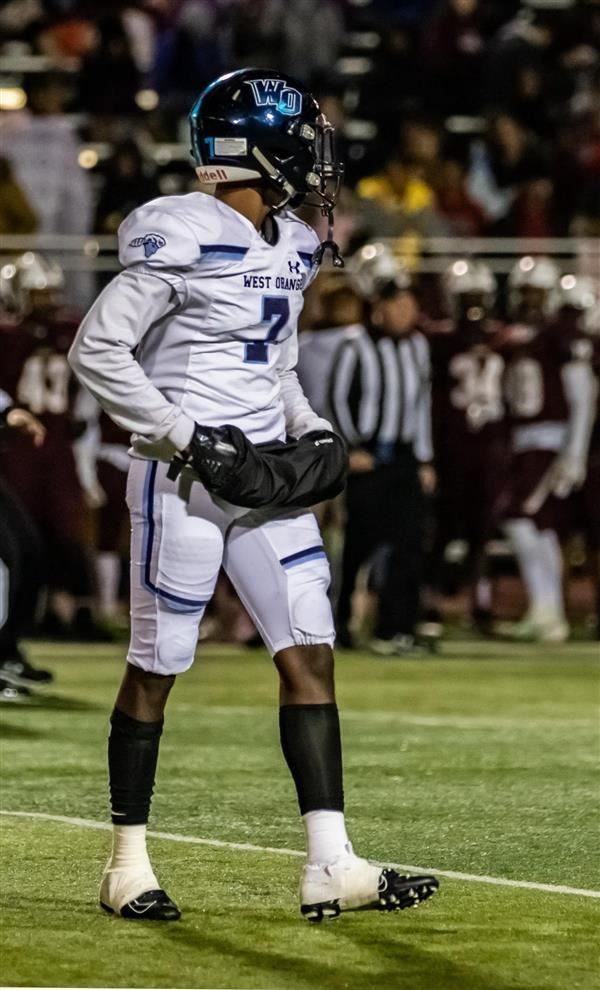 Photo Credits to Larry Washington: Senior cornerback Jahmil St. Pierre lining up for a snap in the 1st quarter of the semi-final match-up against Union High School.
Mark Mincolelli
Nov. 16, 2019