Return to Headlines
All Eyes on West Orange High School Football as New Season Begins
WEST ORANGE, NJ – Following their victory in this summer's Bergen Shootout, all eyes are West Orange High School Football to see what this season will bring. With a serious attitude and new Head Coach Darnell Grant at the helm, it should prove to be an exciting time for the Mountaineers.
Coach Grant has a storied career in high school football, coaching Shabazz varsity for nine years, receiving NJ Coach of the Year in 2014, and induction into the Essex County Coaches Association Hall of Fame in 2015. In 2017, Grant was named NAACP's Sportsman of the Year and in 2018, one of NJ's 50 Winningest Head Coaches.
Grant led Shabazz on a trajectory that outscored opponents 500-69, delivered their first undefeated season in more than five decades, and brought two State Championship crowns and three State Championship appearances in five years.
"I came to West Orange for two reasons," began Grant.
"I always felt that West Orange has so much untapped potential. First, West Orange High School is in an ideal location. The town is pretty big but still has a small town feel. It's the perfect place to build a football team," he noted.
"Secondly, the people in this community have been tremendous. I really love the support that the students get here whether it be athletic or non-athletic."
Members of the varsity were equally enthusiastic about their new coach.
"We feel a lot more confident and positive about the team and our abilities," said senior wide receiver Cade Lipsey. "Coach has no tolerance for laziness."
"There's a lot of energy on the team right now," said senior running back Michael Charles. "We are much more serious and 100 per cent committed."
The team all agreed that they are "on the radar" with their Bergen Shootout win, edging out top performers like Bergen Catholic and DePaul.
In addition to garnering more wins to improve over last year's 3-7 record, Grant wants his athletes to strive for at least 3.0 GPAs and be "assets to the school community."
"I want the team to represent the town of West Orange in the right way and be a team the community can be proud of," Grant continued. "We have a group of intelligent, high-character young men in addition to dedicated and talented coaches."
Coach Grant will bring with him his own sense of community, including his mom, who insists on helping with team meals.
"It's impossible to keep her away!" he laughed.
"I just want to thank the community of West Orange for this opportunity to lead these young men, and I welcome everyone to come and watch our boys compete," concluded Grant.
The Mountaineers will be put to the test in their first-ever appearance at "Rumble On the Raritan," to be held Sept. 7 at Rutgers University beginning at 7:00 pm. They will face off against Montclair High School. Their first home game is Sept. 13 against Kennedy beginning at 7:00 pm. The Marching Band will debt their new program "Which Witch" during halftime.
See more photos here.
View the West Orange High School Football schedule here.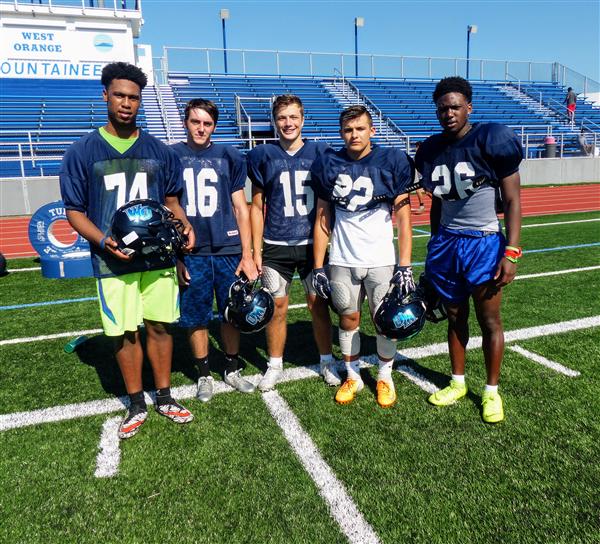 Players Roberto Franco, Bryan Reitburger, Cade Lipsey, and Michael Charles.
Coaches Richard Forfa, Peter Pascarella, Darnell Grant, Brian Green, Andrew Mazurek and Cyrus Harbin.
Cynthia Cumming
Aug. 29, 2019