Return to Headlines
West Orange High School Step-Up Program Supports Incoming Freshmen
WEST ORANGE, NJ - The four-week Summer Step-Up program at West Orange High School concluded on July 25, providing 44 incoming freshmen with the tools they need to begin a successful first year.
The program was headed by WOHS English-Language Arts teacher Charlene Muldrow.
"The purpose of the program is to help those students that may need some extra support to become acclimated to the high school environment before the school year begins," Muldrow explained.
"We work to help students acquire those basic skills in the ninth grade Math and English curricula as well as organizational and study skills that will help them in all their ninth grade classes," she continued.
The program ran from July 1- July 25, with a closing ceremony held on July 25. Students were recognized with certificates of completion. The program boasts an approximate 95 per cent improvement rate for participating students.
Students were introduced to administrators and deans, built new friendships and learned about teamwork and leadership through team building exercises. Current and former WOHS students spent time with the incoming freshmen to talk about the high school experience during a panel discussion.
"I am extremely proud of our Step-Up students," said WOHS Principal Hayden Moore.
"Their participation and hard work underscores their willingness to face challenges and do what it takes to become successful Mountaineers. I look forward to having these members of the Class of 2023 in September," he stated.
The program will continue throughout the academic year. Teachers will follow-up with the students each marking period.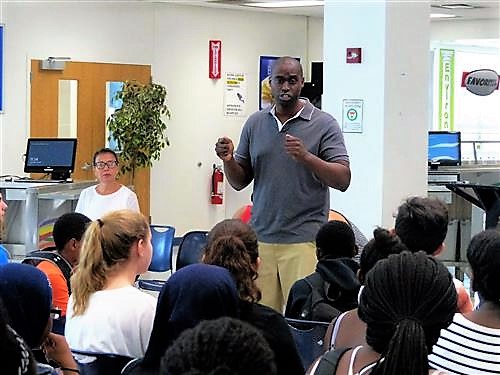 WOHS Principal Hayden Moore speaks to parents and students.
Cynthia Cumming
August 2, 2019