Return to Headlines
West Orange Football Wins Prestigious Bergen Shootout
WEST ORANGE, NJ - The West Orange High School Football team won their first-ever "Bergen Shootout" on July 13 under the direction of new Head Coach Darnell Grant. The tournament consisted of 16 teams and was held at the newly-opened Pulis Field in Franklin Lakes.
According to event organizers, "We feel by keeping the tournament to 16 teams, we can offer an optimum day of competitive football in the most productive conducive environment in an efficiently managed time structure. All teams will qualify for the playoff round and be seeded accordingly after a divisional round has been completed."
"The tournament is run by Coach Drew Gibbs and Ramapo High School football team," explained Grant. "It's always held in July this date is important because it's the last significant tournament before summer practice begins."
The shootout featured some of the better programs in North Jersey, including Bergen Catholic, Depaul, and Westwood.
"The boys played really well, going 7-0 for the tournament and defeating Depaul in the semifinals and Bergen Catholic for the Championship by the score of 21-12," said Grant.
"The Mountaineers were led by quarterback Mason Murdock, who threw 21 touchdowns and 0 interceptions. Receivers Jayson Raines, Mekhi Branch, Jason Gonzalez, and Amiyn Hanks all had outstanding days. Running back Shakhi Carson was very impressive, showing great speed and explosiveness," continued Grant.
"On the defensive side, linebackers Jaylen Rutherford, Chris Parsons, and Matt Bove were solid all day long. In the Secondary, Dorian Rawls, Jamil St. Phil, Jared Massay, and Cade Lipsey were outstanding."
Coach Grant told the team after the win " That 7 on 7's are a small part of the process, but it shows that we're getting better as a unit."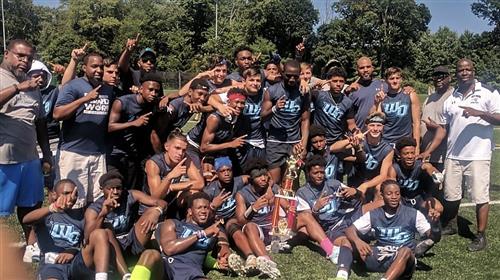 The WOHS Mountaineers celebrate their win.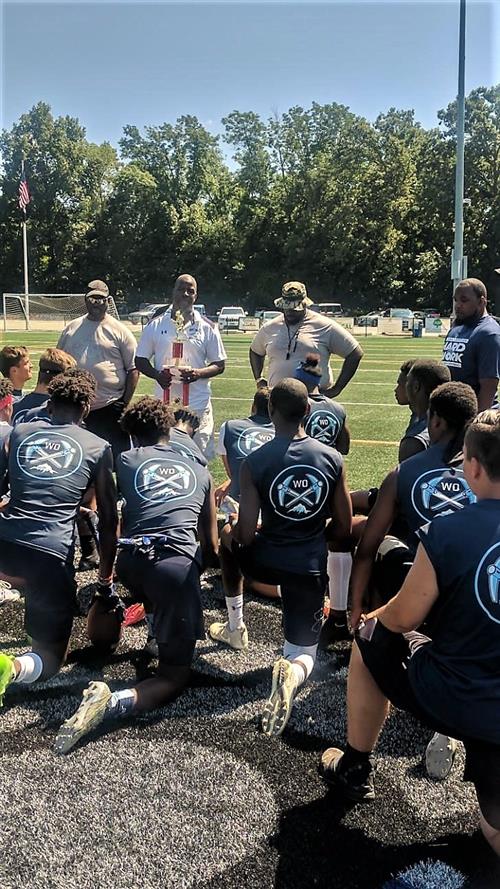 Coach Grant speaks to the team.
Cynthia Cumming
July 14, 2019