WEST ORANGE, NJ - The West Orange High School Boys Lacrosse team recently ended a successful 8-9 Kirst League season, and first-year Head Coach Kevin Yeager was named Coach of the Year for building a solid foundation for next year and giving top team West Milford a run for their money with a 10-8 win.
Last year's team struggled to score, and ended the 2018 season 2-14. Under Yeager's guidance, the team worked to build skills and relationship.
"This season our theme is "Buy In," said Yeager in April, "and we are developing a positive culture and a sense of family...when you're down, the rest of us will bring you up and have each other's backs," he noted.
"It's an honor to receive coach of the year, especially after concluding my first year as a head varsity coach," stated Yeager.
"The boys really started playing like a family and we ended on a high note with an unforgettable comeback victory on senior night," he continued.
In addition to Yeager's award, several Mountaineers were nominated by coaches to the Kirst Division All Star Teams:
First Team
Brian DiPalma
Nate Dalger
Luccio Maffei
Second Team
Exequiel Giorlando
Cade Lipsy
Chris Parsons
Honorable Mention
John Roberson
"I'm proud of what we're building here, and there will be much more to come next season...this is just the beginning," Yeager conclude

Brian DiPalma, Nate Dalger, Chris Parsons, Cade Lipsey, Coach Yeager, Exequiel Giorlando, John Roberson, Luccio Maffei and Coach Tourian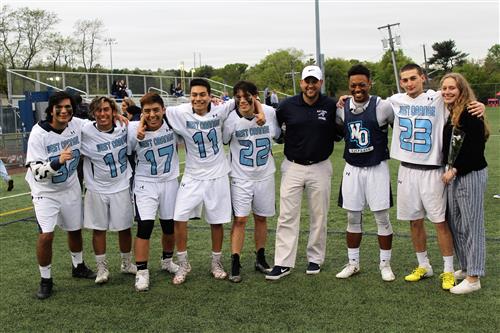 Recently graduated seniors with Coach Yeager.