Return to Headlines
West Orange High School Thanks Business Community
WEST ORANGE, NJ - Members of the West Orange business community were thanked at a year-end luncheon on June 3 for the support they provided during the 2018-2019 school year to the West Orange High School Business Department and the students that took third place in their first-ever Virtual Enterprise competition.
Business students competed at the the New Jersey Regional Trade Show and Business Competition, held Jan. 15 at Fairleigh Dickinson University.
Students were given the challenge to create a business idea and submit it to a panel of judges comprised of University professors and experts in business and entrepreneurship. With the guidance of advisor Maria Frangos, the WOHS team devised a business plan for "Elia Life."
"EliaLife, Inc. is a West Orange, New Jersey start-up dedicated to improving customer health while assisting in the preservation of traditional olive oil farming. We do so as facilitators of sale, connecting small southern European COOPs in Italy, Greece, and Spain with eco-friendly and health conscious buyers throughout the United States and Europe," the plan explained.
"Our relationship with the West Orange business community is remarkable," noted WOHS Principal Hayden Moore.
"The support and advice they offer to our students is invaluable and an important part of our community outreach," he continued.
"We are greatly appreciative of the time our local business leaders provide to our students, and the confidence that they have in them. Providing real-life experiences to our students will continue to prepare them for the real world and in their future endeavors," he concluded.
See more photos here.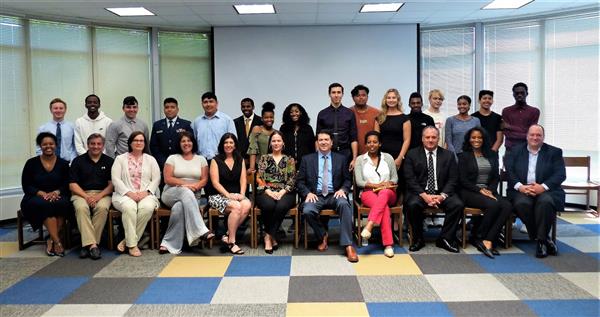 Back Row: David Campbell, Musie Weldeghergis, Christopher Henderson, Richard Dutan, Albert Gamboa, Ameer Brooks, Sahni Salaam, Samara Charles, Shanon Nieto-Phillips, Jesus Rosas, Victoria Benaroya, Shane Trudge, Alexander Simpson, Aja Bennett, Justin Vera, Edison Coriolan
Front Row: Tammy Williams, Mayor Parisi, Stacey Staaterman, Patty Stern, Nancy Mullin, Maria Frangos, Paul Presti, Tezeta Roro, Frank Gonnella, Joy Moton, James Quinn
Cynthia Cumming
July 5, 2019