Return to Headlines
Ron Bligh Named Athletic Director of the Year by SEC and ECADA; Student Athletes Honored
West Orange, NJ – West Orange High School Athletic Director Ron Bligh was named Athletic Director of the Year by the Super Essex Conference and Essex County Athletic Directors Association at their 42nd Annual Scholar Athlete Awards Ceremony, held May 7 at Mayfair Farms.
Bligh has been in involved in the New Jersey sports community for over 40 years, first as an athlete himself (wrestling, football, baseball, and track), then as a Physical Education teacher and coach at Bergenfield and Irvington High Schools. At Irvington he was the head of the Health and Physical Education Department and became principal of Union Avenue Middle School. He has received numerous awards and served on several distinguished committees and commissions.
Bligh has served as WOHS Athletic Director for the past ten years, where the sports program has taken huge leaps forward, especially in girls' sports. In 2018 the Girls Athletic Program was named the No. 1 athletic program in Essex County, a first-ever SEC Ronald SanFilipo Cup.
"My family taught me to have a strong work ethic, to give back, and be generous," said Bligh, "and the care and commitment to our kids is the most important thing. At West Orange High School, we do things the right way."
In addition to AD Bligh's prestigious recognition, West Orange seniors Sessina Dani (Swimming) and Morriel Kasher (Wrestling) were honored as the school's top scholar athletes.
66 students, representing the top male and female scholar athletes in each school, were recognized as family, friends, coaches, and educators applauded.
Both Dani and Kasher have 4.6 GPAs and scored 1510 and 1550 on the SAT, respectively. Sessina was captain of the Girls Swimming Team, is a liaison to the Board of Education, and is a National Merit Scholar semi-finalist. She will be attending Princeton and plans to study Molecular Biology and Political Affairs.
Morriel was captain of the Wrestling Team and excels in math and science. He attended the Governor's School of Engineering and Technology at Rutgers University and even presented a paper entitled "Application of Lean Manufacturing Principles in Optimizing Factory Production." He will be attending Rutgers Honors College and majoring in Electrical and Computer Engineering.
See all the photos from the Scholar Athlete Awards Ceremony here.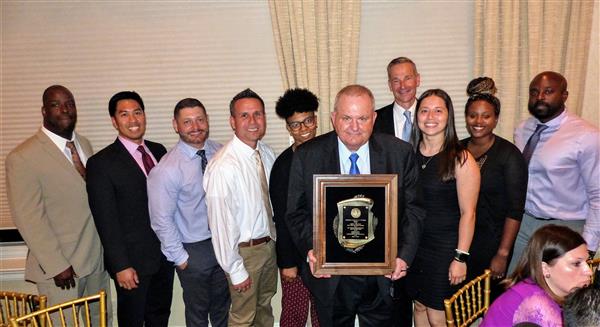 AD of the Year Ron Bligh with coaches (L-R) Darnell Grant (football), Mark Navata (swimming), Steve Zichella (wrestling and baseball), Doug Nevins (soccer), Caniece Williams (Girls Basketball and Volleyball), Steve Marini (WOHS PE and Asst. Girls Tennis), Jackie Cruz (Girls/Boys Volleyball), Freddie Christian (wrestling) and wife. (Not pictured: Bill Urbanski (bowling and golf).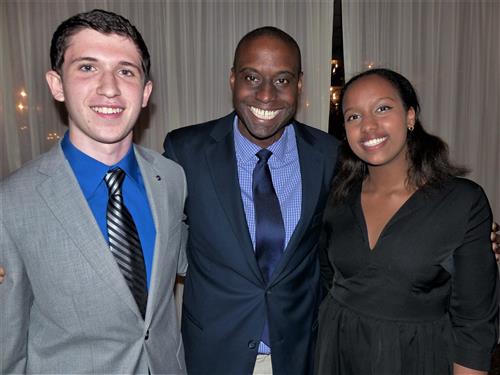 Morriel Kasher, Principal Hayden Moore, Sessina Dani.
Cynthia Cumming
May 14 2019