Return to Headlines
Spring Choral Concert Raises the Roof at West Orange High School
WEST ORANGE, NJ - An enthusiastic crowd was brought to its feet several times during the West Orange High School Spring Choral Concert, held May 9. Vocalists in grades 9-12 joined together to perform a wide range of songs that entertained as well as amazed.
A highlight of the evening was a performance of the song "If You Believe in Music," which featured the Concert Choir and Select Choirs of Edison, Liberty, and Roosevelt Middle Schools under the direction of John Hellyer.
The evening opened with the Treble Choir (girls) and Tenor and Bas Choir Choir (boys). Hellyer and William Farley lead the various groups through their music.
The Concert Choir and Chamber Choir followed. A recurring theme was the music of Queen, with renditions of "Somebody to Love," (Concert Choir), and a "We Will Rock You" medley performed by the Glee Choir.
The Chamber Choir surprised with melodic and powerful classical music selections like "Salma 150," and Schubert's "Mass in G." Graduating senior boys and girls sang "Seven Years Old," and "I Was Here," respectively, adding a sentimental mood to the evening.
The Jubilee Choir's rendition of "He Turned It," raised the roof and brought the audience to its feet. The evening ended with the traditional "Battle Hymn of the Republic," sung by all choir members and even alumni.
"We seem to have covered every possible genre of music tonight," noted Hellyer, and the appreciative audience went home humming some of their favorite tunes.
See all the photos from the Spring Choral Concert here.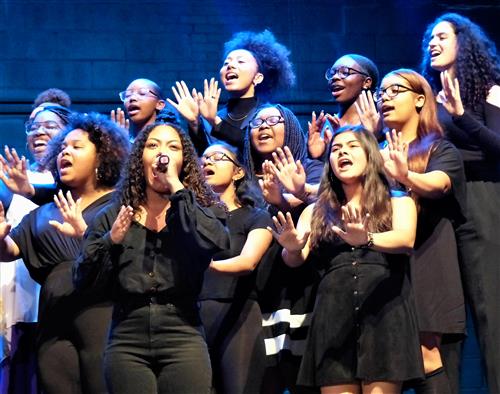 "Never Alone" - Jubilee Choir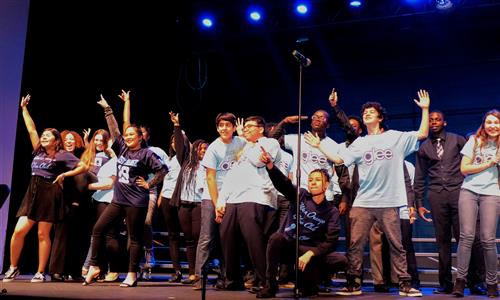 Jackson Five Motown Medley - Glee Choir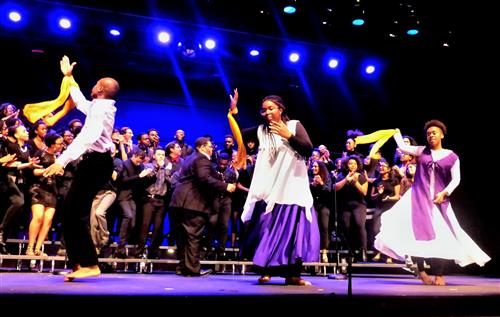 "He Turned It."
PROGRAM
Welcome ……………….West Orange High School Administrator
"The Star Spangled Banner" ………….….……………… F. S. Key
Danielle Russell, soloist
TREBLE CHOIR
Mr. William Y. Farley, Jr., director
"Art Thou Troubled"
Music and Lyrics by George Frideric Handel
"Shoshone Love Song" (The Heart's Friend)
Music by Roger Emerson
"Lift Thine Eyes" (Angel Trio from "Elijah")
Music and Lyrics by Felix Mendelssohn
"Treble Sisters" (in the tune of Cheetah Girls)
Music by Jamie Houston, arranged by Treble Choir

TENOR & BASS CHOIR
Mr. John Hellyer, director
"Shenandoah" (traditional folk song)
Arranged by Russell Robinson
"I'm Still Standing"
Music & Lyrics by Elton John & Bernie Taupin
Soloists: Omayah Bosco, Anthony Bollatta, Aden Lugo
"Goodnight, Sweetheart, Goodnight"
Music & Lyrics James Hudson & Calvin Carter
Soloist: Andy Chavez
CONCERT CHOIR
Mr. John Hellyer, director
"Take Me to the Water"
Music & Lyrics by Rollo Dilworth
"Sing Your Way Home"
Music & Lyrics by Joseph M. Martin
"Somebody to Love"
Music & Lyrics by Freddie Mercury
Arranged by Adam Anders & Tim Davis
Soloists: Hannah Fleming, Ivyn Miranda, Ernest Anuamadi,
Alicia Keenan-Jones, Justin Peters & Nichole Drane
"Sinner Man"
Traditional Spiritual
Arranged by Howard A. Roberts
Soloists: Miriam Pierre, Jason Dort, Alexa DeRonde & Kim Goldberg
"If You Believe in Music"
Music & Lyrics by Gary Fry
Soloists: Maria Nalieth & Daniel Pereira
Featuring the Select Choirs of Edison, Liberty & Roosevelt Middle Schools
Ms. Bonnie Pomeroy, Mr. Craig Sanphy & Mr. Patrick McLaughlin, directors
CHAMBER CHOIR
Mr. William Y. Farley, Jr., director
"Salmo 150" (Psalm 150)
Music by Ernani Aguiar
"Mass in G"
Music by Franz Schubert (1797-1828)
Soloists: Danielle Russell, Star Lawson, Phil Ojo
"The Music of Stillness"
Music & Lyrics by Elaine Hagenberg
"Didn't My Lord Deliver Daniel" (traditional spiritual)
Arranged by Moses Hogan
Soloist: Gabrielle Florendo
Senior Farewell Songs
"Seven Years Old " (Lukas Graham)
(senior boys)
"I Was Here" (Diane Warren)
(senior girls)
GLEE CHOIR
Mr. John Hellyer, director
"JACKSON 5 Medley" from MOTOWN: THE MUSICAL
Music & Lyrics by Benj Pasek & Justin Paul
Choreography: Onye Bosco, Kim Goldberg, Valentina Pappana
"History Has Its Eyes On You" from HAMILTON
Music & Lyrics by Lin-Manuel Miranda
Arranged by Stephen J. Markowski
"We Will Rock You—Medley"
Music & Lyrics by QUEEN
Arranged by Roger Emerson
Soloists: Jason Dort & Rachel Favetta

JUBILEE CHOIR
Mr. William Y. Farley, Jr., director
"Never Alone" by Kirk Franklin and Tory Kelly
Soloists: Daniella Rodriguez
"Total Praise" by Richard Smallwood
"He Turned It" by Tye Tribbett
Soloist: Blair Murdock
COMBINED CHORUS FINALE
"The Battle Hymn of the Republic" by Peter J. Willhousky
*WOHS Choir alumni invited to join us onstage
Cynthia Cumming
May 10, 2019