Return to Headlines
Nikhil Badlani Foundation Youth Advisory Board Unveils Mural at West Orange High School
WEST ORANGE, NJ - Safety Ambassadors for the Nikhil Badlani Foundation (NBF) proudly unveiled their interactive art piece at West Orange High School on May 3 with local dignataries, police, and board members in attendance.
Founded this year, NBF formed the Nikhil Badlani Foundation Youth Advisory Board to empower high school students to have a voice in reducing the number of car crashes that occur.
"The goal of the NBFYAB is to empower our youth to make a difference in our community by providing them a channel to express their ideas," said Sangeeta Badlani.
"Their mission is to evaluate, generate and develop traffic safety improvement plans. The ultimate goal is to reduce injuries and save lives from motor vehicle crashes," she noted.
Assemblyman John F. McKeon (D-27) was in attendance. McKeon sponsored and worked for the passage of Nikhil's Law (amending. R.S.39:3-10 and R.S.39:3-41), which includes "Nikhil's Pledge" that drivers are encouraged to take.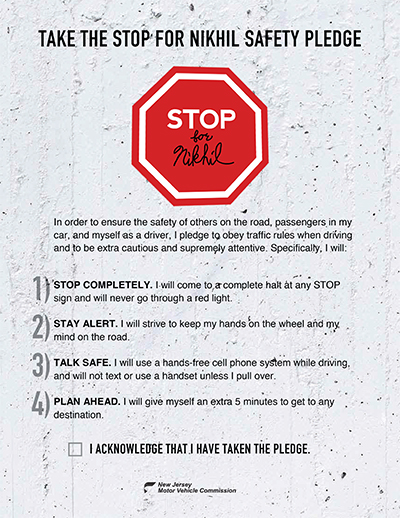 "It's great to get a driver's license, but with it comes a lot of responsibility," McKeon stated.
In speaking to students, McKeon said, "What you have done has helped people's lives move forward, including the Badlani's."
"In the wake of tragedy, the Badlanis came to me with an incredible strategy to prevent it in other's lives," he noted.
Each year, the township supports the Walk/Run for Nikhil at West Orange High School, which raises funds for traffic awareness safety and music scholarships for students.
McKeon and Mayor Robert Parisi unveiled the mural, which is a representation of Nikhil's Pledge. On either side of the pledge are empty stop signs that students and staff will fill in with their thumbprints after taking the pledge. Junior Ruth Donagher designed the concept for the mural, which took students over ten days to complete.
"The students have taken the STOP For Nikhil Safety pledge to the next level by incorporating it into the Drivers Ed curriculum," said Badlani.
"All sophomore students who pass the DMV NJ written test will now take the pledge by putting their thumbprint on it. I am always amazed by their creativity and passion. We are very proud of these students. They have been able to accomplish so much in such little time. They will continue to build on it each year," she explained.
A video of the process of completing the mural will be submitted to the "U Got Brains" Champion Schools Program. Each participating school develops its own project based on a topic pertaining to teen driving safety, and received a cash stipend and technical support to assist with their campaigns. Winning schools receive a driving simulator.
See all the photos from the mural unveiling here.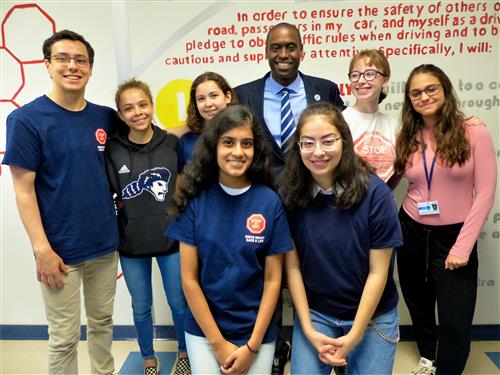 NBFYAB Mural creators with Principal Hayden Moore.
LtR Top: Brett Zeligson, Olivia Callender, Chloe Mengden, Hayden Moore, Ruth Donagher, Noemi Pare
LtR Bottom: Anika Fernandes, Nicole Rojas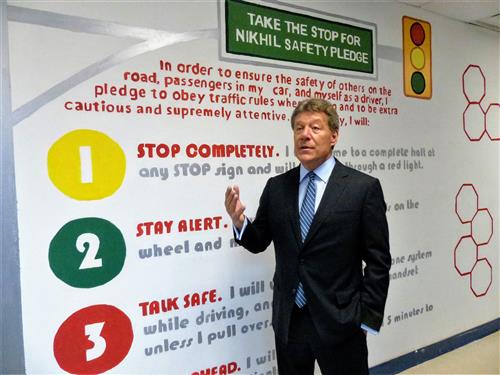 Assemblyman John McKeon sponsored and supported Nikhil's Law.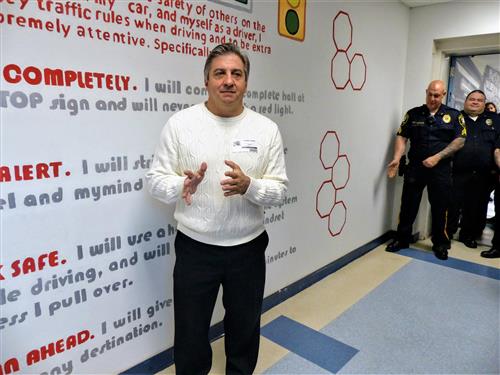 Mayor Rob Parisi attends the mural unveiling.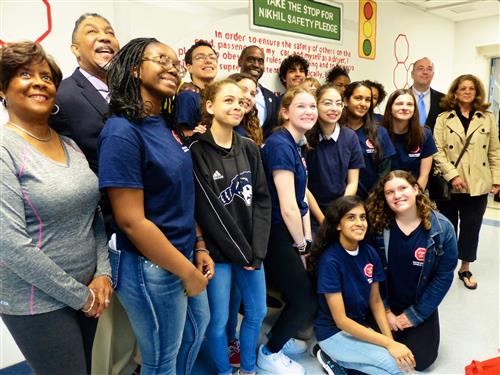 NBFYAB members with board members Terry Triggs-Scales, Mark Robertson, and Ken Alper; also Hayden Moore and towncouncilwoman Sue McCartney.
Cynthia Cumming
May 9, 2019