Return to Headlines
High School Students Visit China, Hangzhou Sister School
WEST ORANGE, NJ - Students in the Mandarin Chinese Language program at West Orange High School recently returned from a trip-of-a-lifetime visit to Beijing, Shanghai, and Hangzhou, China from April 13-21.
The trip combined viewing the magnificent sights of Beijing and connecting with their sister school in Hangzhou. Trip chaperones were WOHS teachers Yajing Li, Tony Edelstein, and Raquel Feliciano. Liberty Middle School orchestra teacher Dave Rimelis and WOHS Spanish teacher Susan Leon-Guerrera participated in a teacher exchange program with the Hangzhou School.
In Beijing, students toured the Great Wall of China, the Forbidden City, Tian'an Men Square, Temple of Heaven, and the 798 Art District. They visited and shopped at the Tea House, the Jade market, and the Pearl market.
The group took an overnight sleep train to Hangzhou and stayed at the beautiful campus of Hangzhou Foreign Languages School.
"Our students attended martial arts and Peking opera classes, shadowed their host students for one day, and toured the enchanting Hangzhou City," said Li, "and each student went home with a host family on Friday after school to experience Chinese home life."
The final leg of the trip included a visit to Shanghai, where the group toured the famous Shanghai Bund for its breathtaking night view. They also visited the Silk Museum and Nanjing Road.
"Our students were curious, engaging and respectful in learning and experiencing the Chinese culture," noted Li.
"They were helpful and cheerful to each other, and the teachers enjoyed chaperoning this group tremendously. I am looking forward to our next trip in 2021," she concluded.
See all the photos from the trip here.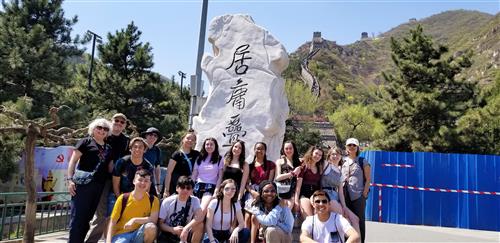 At the Great Wall of China.
Cynthia Cumming
April 29, 2019