Return to Headlines
West Orange High School Students Construct "Liter of Light" Solar Circuits for Third World Countries
WEST ORANGE, NJ – Students in the Sustainable Engineering class at West Orange High School spent several weeks fabricating solar light circuit boards for the "Liter of Light" initiative that provides low-cost lighting sources to third world countries and countries devastated by catastrophes.
Interest in the Liter of Light program began in March, 2015 at the annual West Orange Environmental Commission's Earth Hour program at Thomas Edison National Historical Park.
Representatives from Liter of Light (Eduardo Pena), EVCO Mechanical (Isaiah Colon), students, teachers and administrators from the West Orange School district (Superintendent Jeff Rutzky, WOHS Principal Hayden Moore, Tech Supervisor Ryan Del Guercio, and curriculum writer Anthony Prasa), and members of the Environmental Commission (Chairman Mike Brick and Town Councilwoman Sue McCartney) met and developed plans to implement the program.
The first step was a written curriculum for the Sustainable Engineering and Design Solutions classes at WOHS that would not only educate students about energy poverty, but include them in the actual construction of solar circuit boards and lamps. It is expected that these curricula will be utilized by other schools as the program expands.
The Sustainable Engineering class spent several weeks learning about energy poverty (over one billion people in the world are without electricity), Liter of Light, and fabricating solar light circuit boards that includes a circuit board, rechargeable battery, solar panel and LED.
The next phase of the Liter of Light initiative at the high school will involve students in the Engineering and Design Solutions class, who will design and construct the entire completed street lamp (stand, housing, circuit board, and liter bottle), similar to the street lamp donated by EVCO Mechanical that is located outside Suriano Stadium.
Sustainable Engineering instructor Donald was pleased with the students' effort and involvement.
"Students were very excited to get involved in this project both because it included electrical engineering, environmental engineering, and materials engineering and attached to that learning was the reward of helping a region in need. It was also fun for them apply the previously learned DECIDER design process within a real world problem," Jones noted.
WOHS Technology and Engineering Supervisor Ryan Del Guercio described additional projects that the classes will be involved with throughout the school year.
"Students in Sustainable Engineering will be completing hands-on projects within various engineering disciplines," Del Guercio began.
"For example, students will gain experience in pneumatic inventions in mechanical engineering, solar-powered devices in environmental engineering, water-powered rockets in aerospace engineering, and automobile safety systems in materials engineering. In Engineering and Design Solutions students are challenged to identify a community problem that can be solved through the use of technology and engineering. Students will develop and propose solutions to that problem by applying the "DECIDER" engineering design process. Solutions can be completed through detailed designs for larger projects, like new traffic patterns around the school to improve traffic flow or through prototypes like more efficient recycling receptacles throughout the school."
To see the DECIDER process used at WOHS go here.
To read more about Liter of Light go here.
Students work on circuit boards. (L-R) Daoud Mohamed, Tiffany Sagustume, Angely Melendez, David Okechukwu, Myles Douglin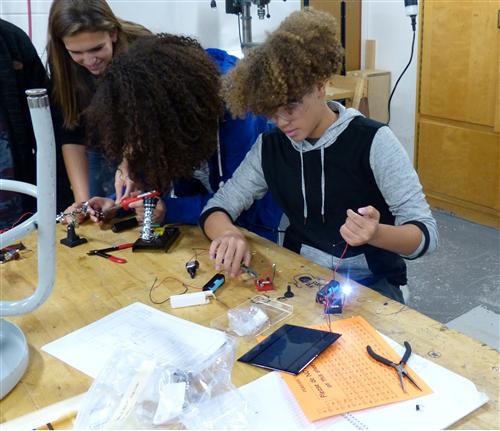 Lighting the circuit board. (L-R) Amelia Apollon, Desiree Rivera, Matigan Kohlman.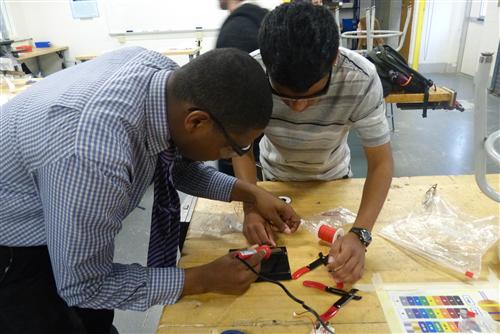 Sustainable Technology teacher Don Jones and student Joel Hinojosa.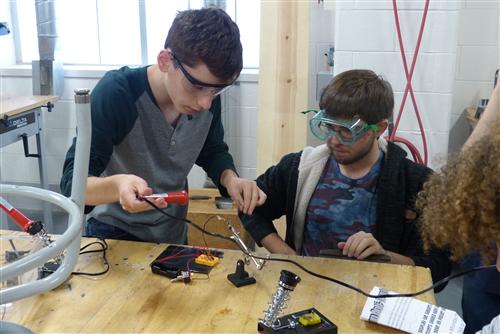 Josh Baker and Julian Gorring solder components.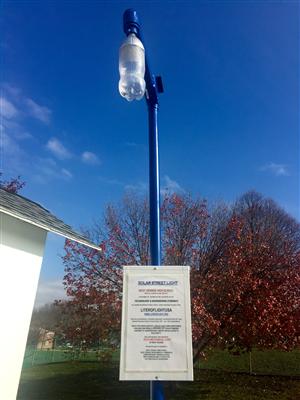 The completed lamp donated by EVCO outside Suriano Stadium.