Return to Headlines
District Jazz Concert Swings at West Orange High School
WEST ORANGE, NJ - The joint was jumping at West Orange High School as the middle and high school jazz bands entertained the audience with some swinging tunes at the annual District Jazz Band Concert on Feb. 25.
The Edison Knights, the Roosevelt Roughriders, the Liberty Lions, and the West Orange High School Jazz Bands I and II underscored the hard work of the musicians, who rehearse for the Jazz Bands after school. The concert also provides a window into the award-winning music program and the progression of musical development of students in the program.
"I love these concerts so much," said parent Sangeeta Badlani. "Every time I come, I just walk out with my spirits so lifted. The kids are incredible."
See the program below. See all the photos from the concert here.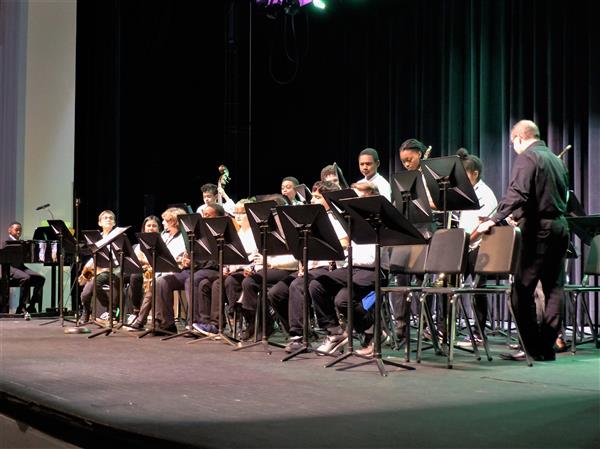 Edison Knights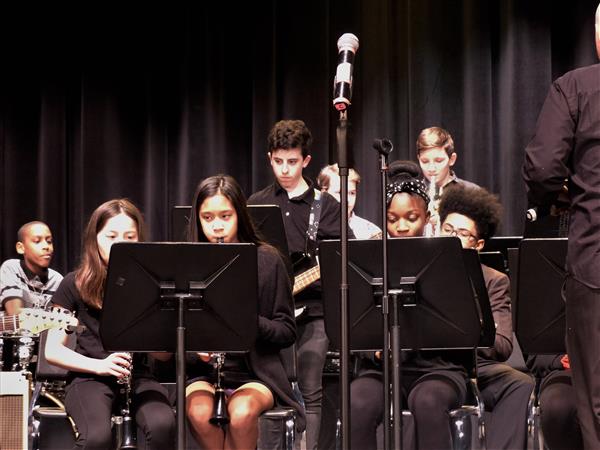 Roosevelt Roughriders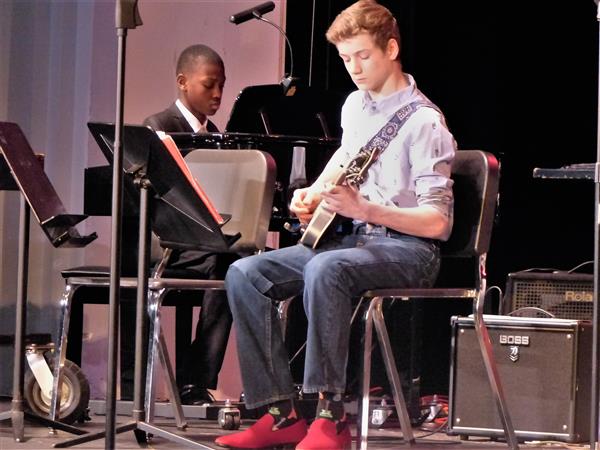 Liberty Lions
Jazz Band II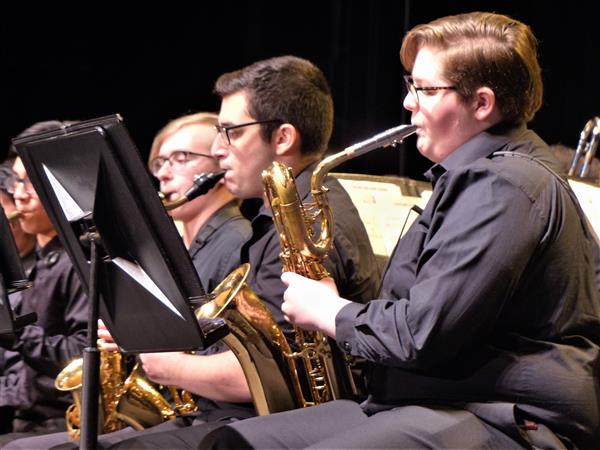 Jazz Band I
PROGRAM
Edison Central Six
Knights Jazz Band
Jammin' With Charlie..……………………………………………..……………………Dean Sorenson
Roosevelt Middle School
Roughriders Jazz Band
Handclap……………………………………………………….…………..……..arr. by Paul Murtha
Bubbert Takes the Train...............………………………………..…………..……...Mike Steinel
Liberty Middle School
Lion Jazz Band
Grandpa's Blues.……..……………………………....………...……………….……….. Ryan Krewer
Señorita.…………………………..………....…..……..…..…...……………………...…Billy Strayhorn
WOHS Jazz Ensemble II
Summertime.…………………………………………………………………...……...George Gershwin What Will Be..……………………………………………………..…………………....……….Matt Amy
A Few Good Men..…...…………………………..………………….………………...Gordon Goodwin
WOHS Jazz Ensemble I
Flight of the Foo Bird………………………………………………..…...………..…………...Neal Hefti
I Remember Clifford……………………………….……………..………..….…………..Benny Golson
La Fiesta…………………………………………...………...……………………………….Chick Corea
Knights - EMS

Clarinet

Max Kelly

Emil Koning

Naomi Sedita-Lott

Bass Clarinet

Leonardo McCormick

Evan Pereira

Alto Saxophone

Maliha Assad

Jack Davidson

Carl Hall

Zack Kilonzo

Zander Ventulo

Trumpet

Conner Camargo

Marcus Jackson

French Horn

Ethan Gannon

Trombone

Olivia Raines

Jailynn Robinson

Leila Slaten

Rhythm Section

Jordan Brister

Kyle Kuznieski

Daniel McBlain

Liam Convery

Cormac O'Gorman

Roughriders - RMS

Flute

Cory James

Daniella Charro

Ellie Kukes

Alexander Azana

Augustine Korlie

Clarinet

Kris Kuzniewski

Saniya Jones

Mishaele Pierre

Jasmine Palencia

Aniya Hale Wilson

Bass Clarinet

Keni James

Dylan Miller

Saxophone

Bryce Mendgen

Winston McAbee

Reuben Doreilant

Armani Dukes

Keyla Interiano

Robeson Bennett

Trumpet

Ryan Sinha

Chester Koch

Ozzie Corrigan

Alex Henriques

Julian Bock

Reggie Germain

Wil Fifield

Luke DelBello

Mason Insana

Danny Tornopsky

Guyberdley Beauvais

Baritone

Alex Miller

Trombone

Steve Mulvilhill

Jahrod Hughes

Kenneth McBlain

Nathaniel Holland

Tuba

Jayden Cherubin

Guitar

Justice Beeman Volscho

Samuel Selikoff

Piano

Claire Kantor

Bass

Henry Pfeifer

Drums

Starvens Pierre

Joshua Elgin

Percussion/Vibes

Reuben Frolow

Adarsh Jacob
Lion Jazz - LMS

Flute

Olivia Camacho

Louisiana Castillo Alarcon

Zakayah Ertilien

Chrissie Felissaint

Zoe Nevel

Clarinet

Dylan Alvarenga Soler

Lilly Chabla

Christian Rolden

Hayden Silva

Saxophone

Spencer Brown

Jonathan McDonald

George Bellido Jara

Clesnise Saintsulne

Trumpet

Justin Brister

Daniel Curry

Jeremy Curry

Giovanni Da Silva

Cesar Herbozo Osco

Altanay Oakley

Nathaniel Thomas

Trombone

Nathanrood Charles

D'Louis Dick

Talia James

Anthony Pondillo

Guitar

Michael Greco

Peter Tunnicliffe

Percussion

Jeffrey Brasier

Adrian Crane

Somtochukwu Ndukwe

Jazz Ensemble II - WOHS

Flute

Gabi Payne

Clarinet

Maya Robinson

Saxophone

Paulina Acosta

Talia Adelsohn

Trynity Matos James

Julian Melendez

Kianna Rodriguez

Anna Shelley

Xavier ThomasHinds

Trumpet

Byron Alvarez

Ashwin Anand

Anay Badlani

Alex Gough

Angelie Jean Baptiste

Nate Kilonzo

Jackson Pruksarnukul

Andrew Strom

Trombone

Shane Donagher

Ulices Gonzalez

Samuel Miller

Lorenzo Viney

Rhythm Section

Cooper Davis

Chiedozie Ekpo

Anika Fernandes

Ashton Kittur

Yaschley LaRame

Nikhil Prasad
Jazz Ensemble I - WOHS

Woodwinds

Sophia Cordoba

Andrew Cupo

Matthew Holland

Massimo McCormick

Ayush Narin

Bryan Singer

Trumpet

Stanley Lim

Chris Mongelli

Nate Randolph

Jon Ridley

Israel Soto

Trombone

Khristian Jarvis-Squire

Jennifer Maciejek

Aidan O'Gorman

Matt Veal

Rhythm Section

Karan Belday

Cooper Davis

Jackson Helms

Jacob Klausner

Matt Pacheco

Instrumental Music Teachers

Joe Romano, Edison Central Six

Roger Bryson, Roosevelt Middle School

Ryan Krewer, Liberty Middle School

Josh Zimmer, WOHS, Kelly Elementary

Lewis C. Kelly, WOHS
Cynthia Cumming
Feb. 28, 2020