Return to Headlines
Bullying/Anti Bullying Expert Randy Nathan Offers Solutions at Redwood PTA Meeting
WEST ORANGE, NJ – West Orange resident and bullying/anti-bullying expert Randy Nathan brought his powerful presentation to the Jan. 16 Redwood PTA meeting and left parents with invaluable information.
Nathan's topic was "Conflict v. Bullying," and discussed the challenges of the New Jersey anti-bullying law in school districts, the history of the law, facts about bullying, and ways to begin addressing it.
Verbal bullying is the number one form of bullying. It is estimated that 160,000 students call out sick nationally on any given school day because they are bullied. Over 30 per cent of children between the ages of 6-10 experience bullying, which Bullying.gov describes as "unwanted, aggressive behavior among school aged children that involves a real or perceived power imbalance."
Nathan explained that student response to bullying is broken down into targeted students (10 per cent), bystanders (85 percent) and upstanders (five per cent). The hope is that as parents and students are educated and encouraged, that the number of upstanders will grow.
Here are Nathan's responses to address solutions.
What is your recommendation to increase the number of "upstanders" in a school?
Let up classroom meetings weekly (with core curriculum for each teachers) where students come together to discuss various themes about empathy, kindness, overcoming challenges, sharing common obstacles, etc.

Have clear rules about anti-bullying behavior, that promote upstander behavior

Common language and understanding throughout school that all staff, parents and students understand and promote

Have overall community responsibility and buy-in through mayor's office, police/fire, local Rec, and local business (It's not only the responsibility of the schools, it's all our responsibility)
What is your recommendation to decrease the number of "targets?"
Honestly it is not really possible to "decrease" the number of targets. However, there are things that can be done with bystanders.
Create an overall culture of acceptance and empathy

Teach self-advocacy skills to all students

Clear rules for all students and reward those that stand up towards bullying behavior

It's not about standing up to the bully, it's learning how to stand up for the target

Consistent messages from all adults
Do you feel restorative justice works in the case of a bully? What role do you think counseling (group, in-school, or out-of-school) might be? Do you feel discipline works?
Research clearly indicates bullying is learned behavior and detrimental to the academic, physical, social and emotional development of all involved - bullies, targets, and the bystanders (DuPage County Anti-Bullying Task Force Model Bullying Policy (2011).

Therefore, what is learned can be unlearned, or new behavior can be learned. For those that bully (obvious depending on the code of conduct and whether or not the behavior is considered criminal), the most effective model is to provide restorative behavior modification within the school.

Counseling is essential for targets, bystanders and those that bully – both in and out of school.

Discipline is effective (only if) parents are 100% partners in the overall process. Too many times I have encountered parents that are more concerned about information being in a file and impacting college acceptance, rather than supporting the need for their child to change their behavior (For example – in one school district a student was suspended for three days for bullying. So, the parents decided to go on a five-day extended vacation.) Most of the times when students are suspended at home, parents are working and they are home alone sending text messages, watching TV, surfing the net, etc.
If you had three wishes for making the world bully-free, what would they be?
More empathy

More Acceptance

More Kindness
For more information about Coach Randy and his Project NextGen efforts, visit his website at www.coachrandysays.com.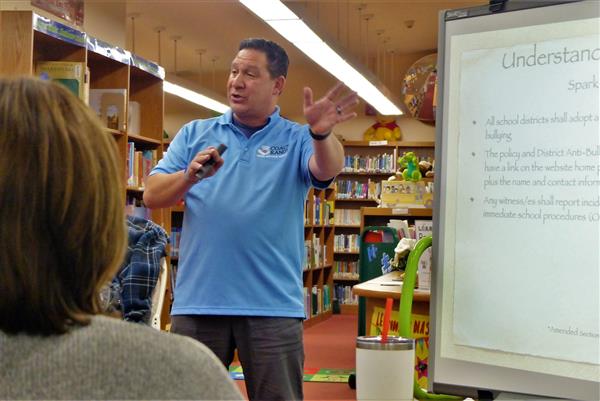 Randy Nathan speaks to parents at Redwood PTA meeting.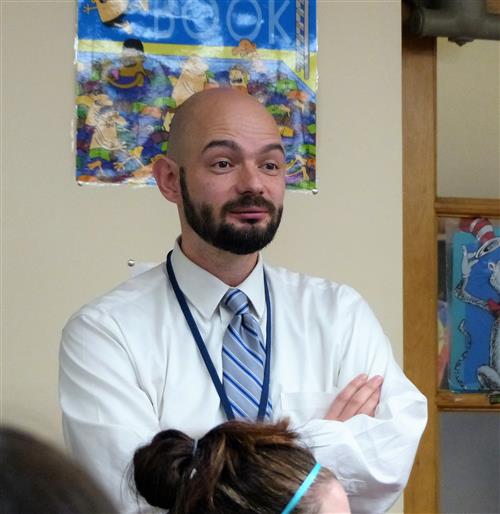 Principal Tim Beaumont shares his perspective.
Cynthia Cumming
Jan. 23, 2019