Return to Headlines
West Orange Schools Support Cycle for Survival
WEST ORANGE, NJ - Flo Chirichiello, aka "Disco the Clown," and the West Orange High School Cheerleaders brightened the annual "
Cycle for Survival
" held at
Equinox Gym
in Summit on Feb. 4.
Chirichiello is a guidance counselor at
Kelly Elementary School
. In addition to spearheading several projects at Kelly, where she has been known to dress up as Buzz Lightyear, she also performs as "Disco the Clown" at various events, including Cycle for Survival in Summit every year.
The Mountaineer Cheerleaders, well-known for their community involvement, joined Chirichiello this year as the event worked to raise funds for rare cancer research in honor of Cycle for Survival founder Jennifer Goodman, who died in 2011 following a long battle with a rare sarcoma. The organization expects to raise over $31.5 million this year, 100 percent of which goes to
Sloan Kettering Memorial Hospital
. Head Coach Olivia Del Spina and Assistant Coach Anna D'Elia are also guidance counselors at the high school and were at the event to cheer on the cyclers as well.
"Thank you very much for enabling the West Orange Cheerleaders to join the Summit, NJ, Cycle for Survival event yesterday! What wonderful role models they are for their classmates to give their time for community service! We sincerely hope they enjoyed the day and were touched by our mission," wrote Sandy Goodman, Jennifer's mom.
"Flo, what can I write that will make you realize how much we appreciate what you do for our Cycle for Survival event? You are the mortar! You are the colorful energy that improves the mood of every moment! Thank you, thank you, thank you!" Goodman went on to say.
"I love the collaboration of our School Counselors and the heart of our cheerleaders," gushed Chirichiello.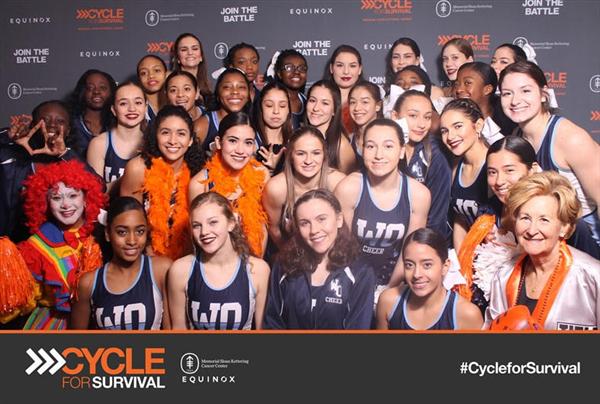 WOHS Cheerleaders with Florence Chirichiello, aka "Disco the Clown," (left)
and Sandy Goodman (right) at Cycle for Survival in Summit on Feb. 4.