Return to Headlines
West Orange High School Alum Derrick Weng Enjoying Success as Local Business Owner
WEST ORANGE, NJ – West Orange High School Class of 2006 alumnus Derrick Weng has already achieved the kind of success that many only dream of. He not only owns and operates a very successful business, but he has received the respect and trust that only comes from living a life of integrity.
Weng is the owner of Prospect Exxon, located at 486 Prospect Ave. in West Orange.
"I worked at the ice rink (Codey Arena) and at Prospect Exxon during high school," Weng began. He also worked at a station in Parsippany, where he began the hands-on training that has made him one of the best auto diagnosticians in the area.
After graduation, Weng attended Rutgers University School of Engineering for a year, but realized it was not for him. He even attended a tech school.
"I was mechanically inclined and wanted to work with my hands. Doing math and taking courses was not what I wanted to be doing," he continued.
He returned to the shop in Parsippany, and the owner put him in charge of his station and convenience store in Sterling for a year until he was laid off.
"I was so nervous the first time I was on my own," noted Weng, "but after six months or so I realized I was fine."
Previous owner of Prospect Exxon George Boyadzhyan, a long-time family friend, started thinking about retirement in 2011 and offered the shop to Weng and his family. Weng's parents took their savings and purchased the shop, and with his new-found managerial skills, word of mouth, and work ethic, Weng was able to pay his parents back within a year and even purchased the property itself from Exxon.
Weng's mother is the owner of her own successful business, World Transport Inc. His brother Sean (WOHS Class of 2009) works with her. Both boys also attended St. Cloud Elementary and Roosevelt Middle School.
"My mother told me that the key to her success was honesty and integrity," Weng pointed out, "and that's how I run my business."
Page after page of positive comments on Yelp and the Prospect Exxon Facebook page back up those words.
"I have been using his gas station and repair shop since the day he started and I have found him to be in absolute pleasure," said one West Orange resident.
"He makes a promise he keeps it, he has a tremendous skill set and is able to make repairs that other people tell me anyone else would just have replaced a system and charged much, much more. I admire Derrick and think that we are lucky to have business owners like him in the community."
"Honest, dependable man of his word... And a very talented mechanic! Great guy!," said another resident.
"Derrick has a passion for cars and is always striving to get better and learn more. His customer service is second to none and he is extremely honest. But what I notice best about him is that he makes his woman customers feel at ease as he patiently explains what's wrong and he always finds the most economical way to properly fix your vehicle," noted another.
That passion was evident as Weng described the work they do in the shop (everything except body work and transmissions). His knack for engineering and talent for mechanical operation, along with his insatiable love of learning and staying on the cutting edge of technology, keeps him up late at night as he studies online technology research, taking apart and building computers and engines.
Weng recalled a woman who came to his shop after previous estimates said she needed a new computer module that would cost $1,700. Weng took the module apart himself and diagnosed the problem as a 25 cent circuit board.
As the automobile industry moves forward, Weng believes shops and mechanics should be well-versed in programming and flash updates and have familiarity with technology.
"I'm currently learning all I can about electric cars," Weng mentioned, "but we already work on a lot of hybrids."
The staff at Prospect Exxon reflect the values that Weng stands behind. All employees are salaried, receive benefits, and receive vacation pay and bonuses. He also works with interns, teaching them how to repair cars.
"I'm glad I figured out what I wanted to do. I get to do what I'm good at and focus on it."
For more information on Prospect Exxon, visit their Facebook page here.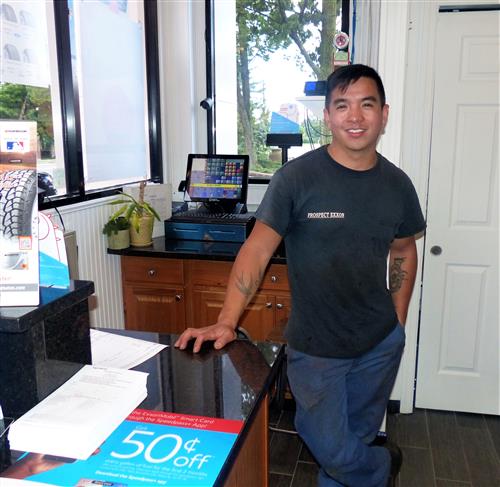 Derrick Weng, owner of Prospect Exxon in West Orange.
Cynthia Cumming
Aug. 24, 2018