Return to Headlines
Recognitions Continue at Board of Education Meeting
WEST ORANGE, NJ - Superintendent Dr. Scott Cascone and the Board of Education recognized several students for outstanding contributions to the school district during the Feb. 24 meeting.
West Orange High School Bowling Team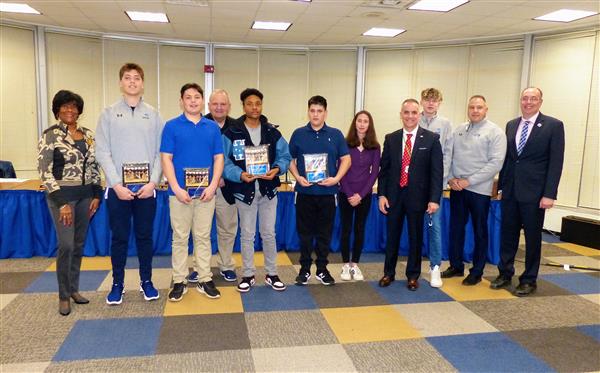 BOE VP Terry Trigg-Scales, Garrett Weinstein, Scott Lillis, AD Ron Bligh, Kieryn Knox, Joshua Allen, team member, Dr. Scott Cascone, Owen Murphy, Coach Bill Urbanski, BOE President Ken Alper.
The WOHS Bowling team was recognized for its conference and county championships. Kieryn Knox, Garrett Weinstein, and Owen Murphy were recognized for placing in the state individual championships.
CJ Morgan Foundation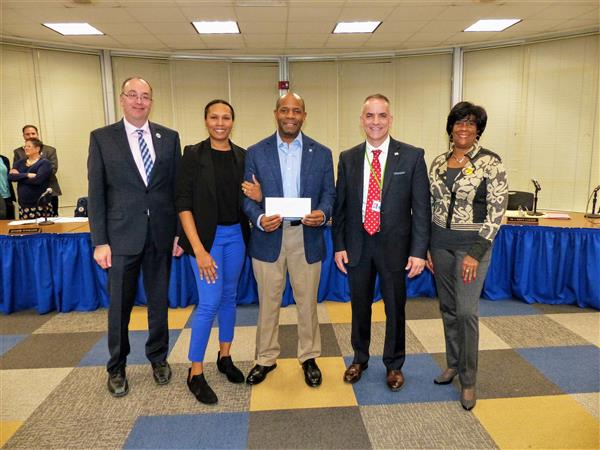 Ken Alper, April Morgan, Chris Morgan Sr., Dr. Scott Cascone, Terry Trigg-Scales.
The CJ Morgan Foundation was presented with a check for $6,775.49 for monies raised at the special Senior Night Wrestling event between West Point and Lehigh University. Morgan would have graduated this spring with the West Point Class of 2020.
Marlee and Avery John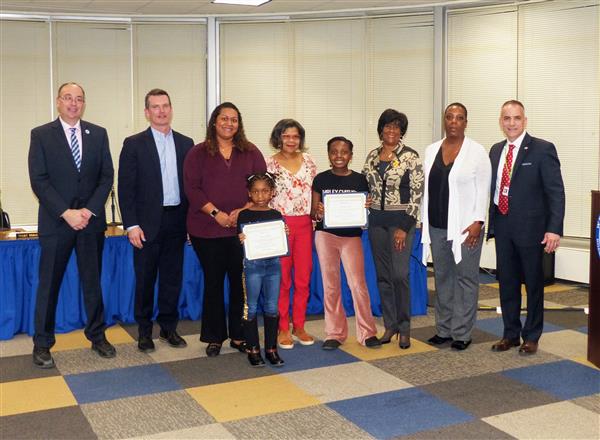 Ken Alper, St. Cloud Principal Eric Price, St. Cloud teachers, Avery John, Marley John, Terry Trigg-Scales, Ernestine John, Dr. Scott Cascone.
Marlee and Avery John, along with their mother Ernestine were recognized for their personal Black History campaign during the month of February. The girls and their mom crafted t-shirts featuring the names of famous African-American women, creating dialogue at St. Cloud Elementary School and going viral on local news.
Kai McCall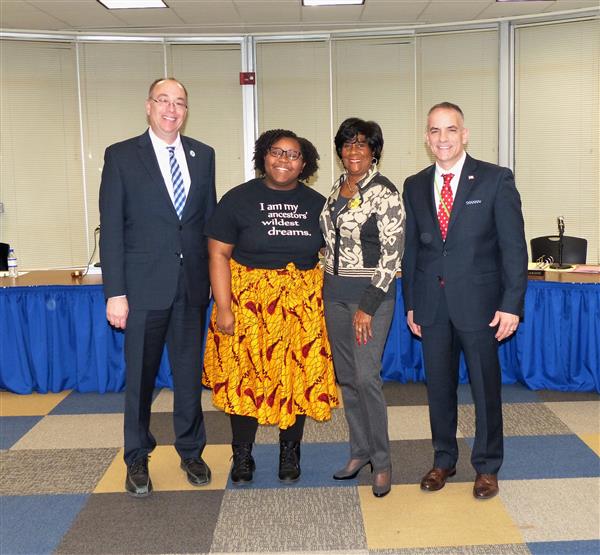 Ken Alper, Kai McCall, Terry Trigg-Scale, Dr. Scott Cascone.
McCall is a junior at West Orange High School who is active in several clubs and Jubilee Choir. She recited an original poem, "Blackbird," based on Paul McCartney's song (an homage to African-American women) along with a spoken word, at the Annual WOHS Black History Scholarship Dinner and was asked to close out Black History month during the Board meeting with her work.
See the full-resolution photos here.
Cynthia Cumming
Feb. 29, 2020