Return to Headlines
Board of Education Holds End-of-Year Parade of Honors
WEST ORANGE, NJ – The June 21 end-of-year Board of Education meeting featured its semi-annual Parade of Honors recognitions for the notable achievements of staff and students.
Superintendent Dr. Scott Cascone, Board of Education President Terry Trigg-Scales, and Vice-President Jennifer Tunncliffe posed with recipients as certificates were distributed.
The List of Recognitions is below.
See all the photos here. (Note: Photo IDs can be found by clicking the information icon on each photo.)
West Orange Board of Education Parade of Honors, June 21, 2021
Rhianna Giuliano, Violet Kohlstein…………Outstanding Community Service Award … RMS Environmental Health
Natalia Feliz, Justin Lopez, Nicole Ng………Outstanding Creative Expression Award … LMS Passages Essay/Poem
Andree Celestin, Olivia Ridley……………………Student Leadership Award …WOHS Board of Education Liaison
Soham Bhatnagar…………………Outstanding Community Service Award …WOHS Founder of Little Free Pantry
Anya Dillard ………………………………………Student Leadership Award …….WOHS Student Council President
Anya Dillard…….….…Outstanding Community Service Award …WOHS Juneteenth, Black Lives Matter
Victoria Bratsos………………………Dylan Pennell Mountaineer Trailblazer Award ….WOHS Founder of SAMHA
Outstanding Community Service Award
Michael Kelly, D.O.
Margie Heller, RWJBarnabas Health
Anne Mernin, Toni's Kitchen
PTA Presidents
Skye Monahan - Gregory

Jennifer Craine - St. Cloud

Mary Dunleavy - Edison

Victor Garcia - Washington

Patricia Gomes - Redwood

Fatou Mbaye - Hazel

Susan Pasquale - Roosevelt

Laura Ramos - Kelly

Lee Sutton - Liberty

Brooke Tippens - WOHS

Katie Witzig - Mt. Pleasant
West Orange Special Education Parent Advisory Council [WOSEPAC]
Gina Velazquez, Chair

Christina DeMarco, Co-Chair

Amber Newsome, Treasurer

Ysaura Fernandez, Diversity Chair

Nicole Ruffo, Education Chair

D'Laisa Francis Abdullah, Events Chair

Deb Milstein, Web Chair

Lisa Renwick, Secretary
District Nursing Staff
Kemi Aborisade - Redwood

Eleonora Ackerman -Roosevelt

Patience Allotey - Hazel

Shena Brown - St. Cloud

Linda Connolly Schoner- BMELC

Rosalie Dudkiewicz - Gregory

Nancy Feldman - Kelly

Brianna Grasso - Mt. Pleasant

Janis Lewis - Washington

Denise Makri-Werzen - WOHS

Elizabeth Ramos - Edison

Rosemarie Tan - Liberty
District Communications Team
Fil Santiago, Anthony Picinich, Jr., Rishi Ramchandani, Perry Bashkoff
District Equity & Access Committee [DEAC]
Cheryl Butler, Event de Mendez, Michael Figueiredo, Lionel Hush,
Kimya Jackson, Hillary Rubenstein, Stephanie Suriano
Grants
Terry Granato
ESL Teacher
Mary Quiroz
DISTINGUISHED SERVICE AWARD
Teacher of Science
Catherine Connors
OUTSTANDING SCHOLARSHIP
Dr. Lesley Chung, Assistant Principal, WOHS
Dr. William Farley, Teacher of Vocal Music, WOHS
Dr. Jessica Nuzzi, Teacher of Math, WOHS
MERITORIOUS SERVICE
Lionel Hush, Principal, Roosevelt Middle School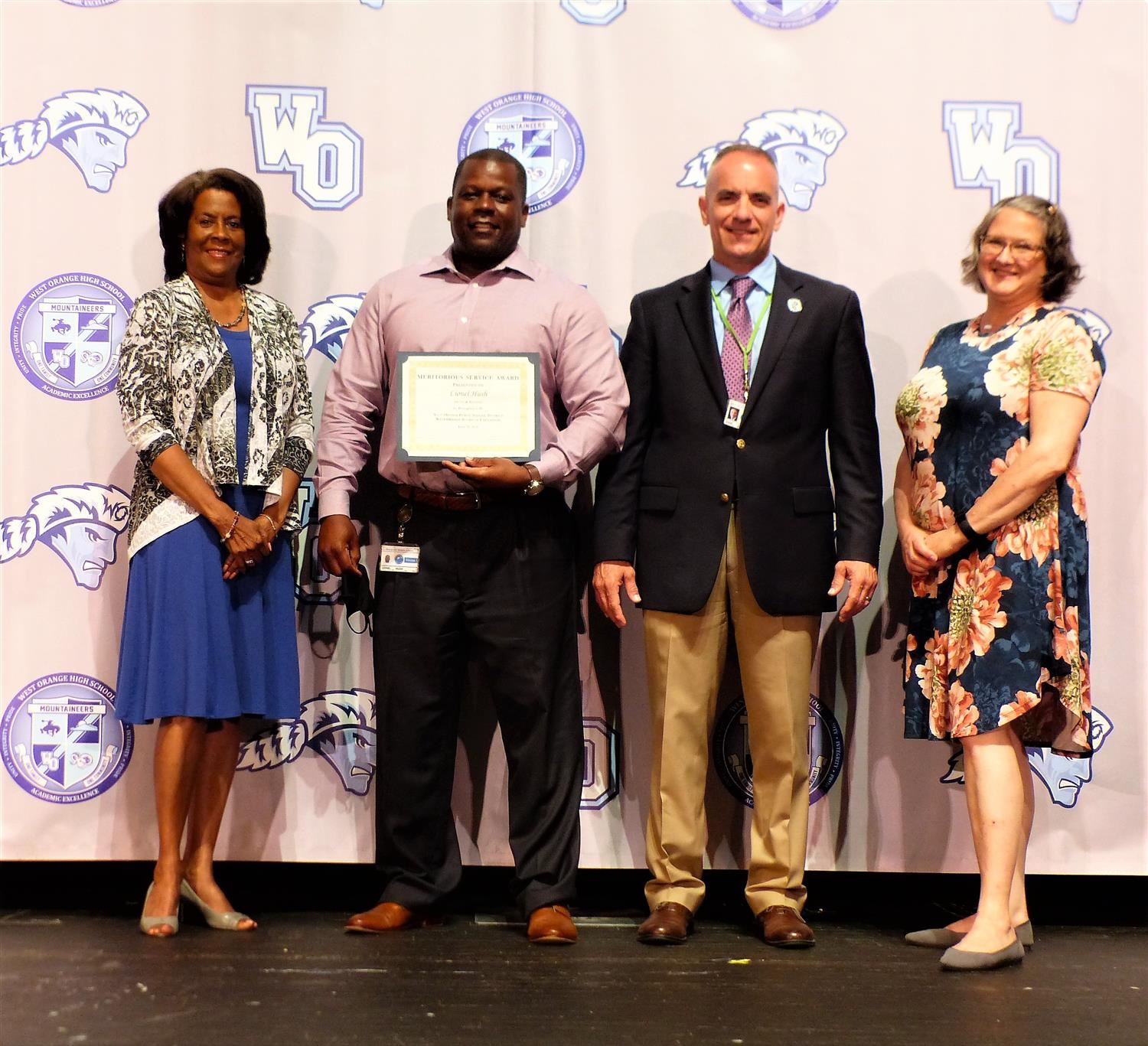 Meritorious Service Award: BOE President Terry Trigg-Scales, RMS Principal Lionel Hush, Superintendent Dr. Scott Cascone, BOE VP Jennifer Tunnicliffe.
Cynthia Cumming
July 11, 2021