Return to Headlines
West Orange Elementary Schools Begin Read Across America Activities
WEST ORANGE, NJ – In 1998, a small task force of the National Education Association came up with a plan to promote reading by celebrating Dr. Seuss' birthday on March 2, and twenty years later, the "Read Across America" program has had a global impact.
On a smaller, though mighty level, West Orange Elementary Schools have begun their own Read Across America events and activities, celebrating not only Dr. Seuss, but reading itself.
Hazel Elementary School kicked off their celebration on Feb. 28 with some special visitors who came to read their favorite books to students in grades K-5.
Assemblywoman Mila Jasey presented Reading Specialist Jennifer Sissman and Hazel Elementary School with Resolutions recognizing their participation in Read Across America. Edison Middle School Principal Xavier Fitzgeral donated the books he read to the fifth-grade classrooms.
Visiting readers included:
Jeff Rutzky - Superintendent of Schools
Mayor Parisi - West Orange Mayor
Assemblywoman Jasey
Kristin Gogerty - Director of Special Services
Xavier Fitzgerald - Principal of Thomas Edison Central Six
Denise DeMartinis - Supervisor - Language Arts (K-5)
Nancy Mullin - Supervisor of Career Education and Library Science
Jim Peskin - Associate Managing Director at Luna Stage Company
Bianca Madzarova - Projects Specialist for U.S. Senator Booker
Officer Padilla - WOPD
Brendon Curry - West Orange Fire Department
Richard Smith - West Orange Fire Department
Richie Siebert - Husband of Mrs. Seibert (Kindergarten Teacher at Hazel Ave)
See all the photos here.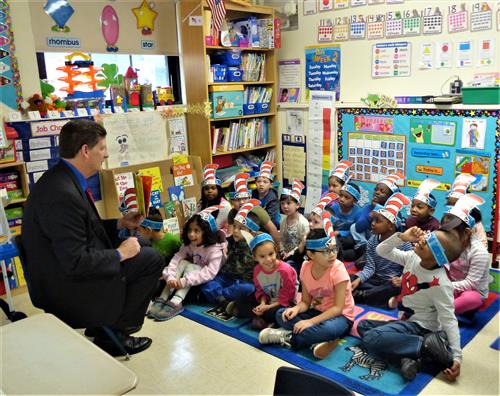 Superintendent Jeff Rutzky shares a laugh with Hazel Kindergarten students.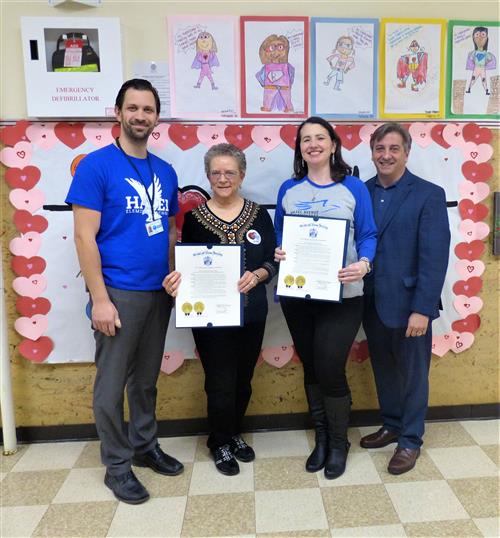 Hazel Principal Will Kochis, Assemblywoman Mila Jasey, Reading Specialist Jennifer Sissman, and Mayor Rob Parisi.
Cynthia Cumming
Feb. 28, 2018