Return to Headlines
Makeida Estupiñan Named New Principal of Gregory Elementary School
West Orange, NJ - Makeida Estupiñan has been named as the new principal of Gregory Elementary School following Board of Education approval on July 16, 2018. Mrs. Estupiñan, the former Assistant Principal at Gregory, will replace retiring Principal Michele Thompson beginning September 1, 2018.
Mrs. Estupiñan was selected from a broad field of candidates during multiple levels of interviews with administrators, teachers, and parents. Mrs. Estupiñan has 13 years of experience as an educator, coach, supervisor, and assistant principal. She possesses a strong background in instructional practice and school leadership. Mrs. Estupiñan believes in fostering a positive school climate, ensuring each child receives an education designed to meet their individual needs, and building strong relationships within the school community.
Mrs. Estupiñan was born in the Bronx and grew up in West Paterson. She completed her undergraduate degree from Rutgers-Newark in 2005 with a Bachelor's degree in Political Science and Elementary Education. In 2008, she graduated from Montclair State University with her Master's degree in Educational Leadership.
When asked what her goals were for the upcoming 2018-2019 school year, Mrs. Estupiñan said,
"I am so excited to have been selected to be Gregory Elementary School's new principal. I hope to continue to make a positive impact in our school community. As principal, I aspire to build a school culture that fosters mutual respect, kindness, and equality for each and every student. I am looking forward to listening and learning from staff and parents to meet the needs of our students."
An Ice Cream Social is being planned prior to the opening of school on September 4th between 6:00 p.m. - 7:30 p.m. at Gregory Elementary School. Details will be provided to parents very soon.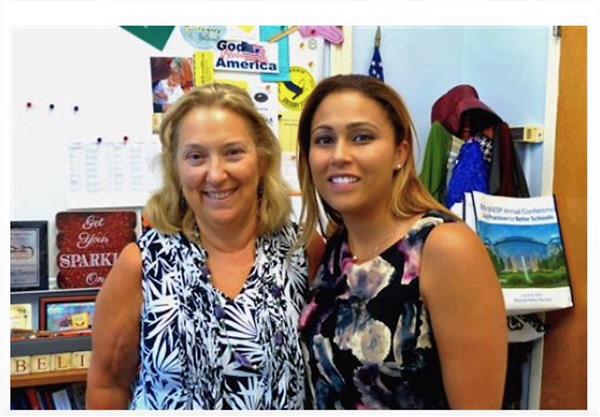 Retiring Principal Michele Thompson with newly-appointed Principal Makeida Hewitt Estupiñan.
Cynthia Cumming
August 2, 2018