Return to Headlines
West Orange High School Blood Drive Collects 50 Pints, Hopes to Find Blood Marrow Donor for Ailing Gregory Student
WEST ORANGE, NJ – West Orange High School's second annual blood drive collected 50 pints of blood on April 30 and reached out to its large community to find a bone marrow donor for Second Grade Gregory Elementary School student Veronica DePauli.
Veronica was first diagnosed with Autosomal Dominant Osteopetrosis Type 2 in March of 2017 through genetic testing performed at the Children's Hospital of Philadelphia. Osteopetrosis is a disease that causes bones to be abnormally dense and makes them more prone to fractures. Due to the abnormal growth of bones, it can cause issues like stunted growth, vision/hearing loss, anemia, bone infection and can ultimately lead to bone marrow failure.
Veronica is of Peruvian/Ecuadorian/Uruguayan descent and requires a bone marrow donation from a person in the same Hispanic genetic pool. No one in Veronica's family is a match and the family must rely on a compatible member of the community to come forward and donate. Usually 70 per cent of bone marrow donations come from persons outside the recipient's family.
Veronica's parents stopped by the high school blood drive to thank students and staff for participating and to share about Veronica's need for bone marrow. As part of teacher Catherine Connor's Dynamics of Healthcare in Society class, students observed the process of blood donation and recognize the need for blood drives and how they give back to the community.
The Dynamics of Healthcare in Society class teaches orientation and clinical exposure to healthcare services and their delivery. It presents an interdisciplinary perspective, focusing on process skills such as critical thinking, ethical reasoning, effective communication and ways to continue independent learning throughout life. The professional competencies stressed apply to general issues and topics common to all health care providers. Upon successful completion of the course, students receive one college credit from Rutgers University.
The blood drive was organized by PE teacher Ozzie Diaz.
To donate blood, visit the Community Blood Services website here.
Find out about bone marrow donation here.
See photos from the Blood Drive here.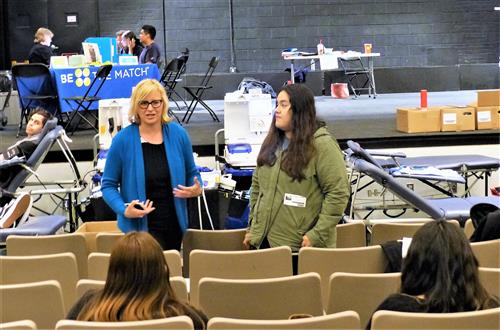 Community Blood Center media and mother of Veronica DePauli, Elise Luciano, speak to students
in Catherine Connors' class.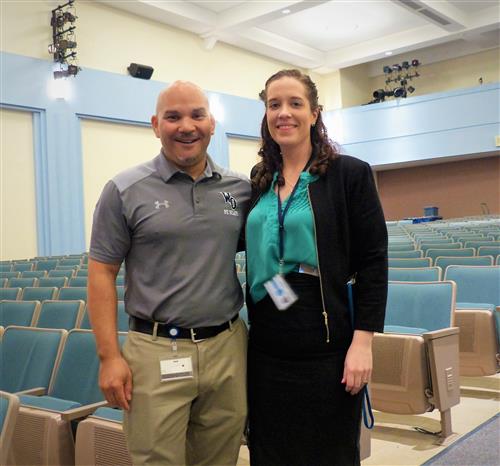 Ozzie Diaz and Catherine Connors.
Cynthia Cumming
May 17, 2018