Return to Headlines
Staff Displays Talents at Music Faculty Scholarship Concert
WEST ORANGE, NJ - The 19th Annual Music Faculty Scholarship Concert at Liberty Middle School raised spirits as well as funds for graduating seniors at the event on Feb. 13.
There was no need to wonder why the music programs in West Orange Schools are award-winning once the staff began their performances.
West Orange High School Choir Director John Hellyer served as Master of Ceremonies for the concert, which featured a performance of "As We Stumble Along" by sophomore Maria Nalieth, lead in the upcoming Spring Musical, "The Drowsy Chaperone." Hellyer also teamed with Lauren Grof-Tisza for the Garland/Streisand rendering of "Get Happy/Happy Days are Here Again."
Touching vocal performances of two "Dear Evan Hansen" songs, "Requiem," and "For Forever," were standouts.
Music Faculty from across the school district showed off their instrumental talents with performances of songs by Debussy, Leonard Bernstein, Brahms, John Williams, Steven Curtis Chapman, Van Morrison, Lieber & Stoller, Steely Dan, Average White Band, and Liberty Middle School Band teacher Ryan Krewer, to name a few.
The audience was regaled with piano, saxophone, flute, bassoon, trumpet, clarinet, french horn, violin, guitar, viola, trombone, and electric guitar, bass, and keyboards.
"It is truly an honor to work with such a talented staff every day," noted Supervisor of Fine Arts Lou Quagliato, "especially in a district that takes our music program so seriously."
See the list of performances below and see all the photos from the Music Faculty Concert here.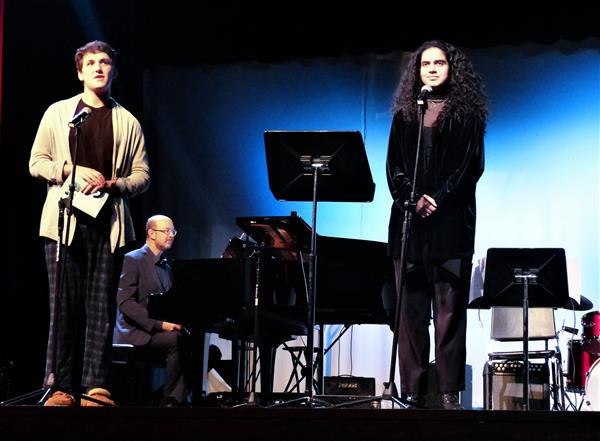 Justin Peters and Maria Nalieth perform a song from "The Drowsy Chaperone."
WOHS Orchestra teacher Elena Peres performs "Scherzo."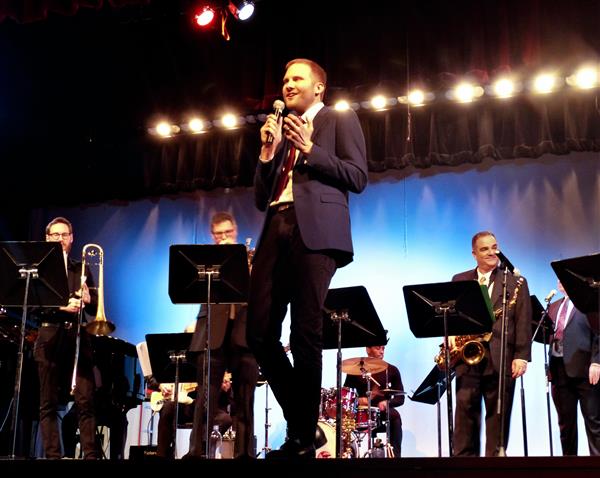 LMS Band teacher Ryan Krewer performs his original song "All I Got to Do."
Maria Nalieth
"As We Stumble Along"
From: THE DROWSY CHAPERONE
Music & Lyrics by Lisa Lambert & Greg Morrison
Accompanied by: Matt King
John Hellyer, voice
"Let Me Sing and I'm Happy"
By Irving Berlin
Accompanied by: Matt King
John Hellyer & Lauren M. Grof-Tisza
"Get Happy/Happy Days Are Here Again"
Music & Lyrics by Milton Ager & Jack Yellen/
Harold Arlen & Ted Koehler
Arr. by: Ryan Krewer
Accompanied by Matt King
Saxophone Quartet
Louis Quagliato, soprano; Roger Bryson, alto;
Andrea Rommel, tenor & Katie Westerlund, bari
"The Girl with the Flaxen Hair"
Composed by Claude Debussy
Arr. by: G. Pollen
Nicole Payne, voice; Allison Gibbons, voice
& Gary Margerum, voice
Accompanied by: Matt King
"Requiem"
From: "Dear Evan Hanson"
Vocal arrangement by: Justin Paul
Piano arrangement by: Alex Lacamoire and Justin Paul
Mark Lagatic, trumpet
"Rondo for Lifey"
By: Leonard Bernstein
Accompanied by: Matt King
Andrea Rommel, flute; Deb Rees, flute; Erin Lagatic, clarinet;
Marissa Gerin, bassoon & Jim Robinson, French horn
"Walking Tune"
Percy Aldridge Grainger
"Three Shanties"
Malcolm Arnold
Movement I—Allegro con brio
Elena Peres
"Scherzo"
By: J. Brahms
Accompanied by: Matt King
Craig Sanphy, voice
"For Forever"
From: "Dear Evan Hanson"
Music & Lyrics by Benj Pasek & Justin Paul
Accompanied by: Matt King
Francesco Composto, violin
"Theme from Schindler's List"
Composed by John Williams
Accompanied by: Matt King
Wendy Mapes, voice & guitar
"Runnin'"
Music & Lyrics by Wendy Mapes
Roger Bryson, voice & saxophone
Dave Rimelis, guitar
"Higher Ways"
Phil L. Naish / Steven Curtis Chapman
String Ensemble
Angel Liu, cello; Francesco Composto, violin;
Betsy Maliszewski, violin; Marcin Waclawek, violin;
Dave Rimelis, bass; Erika Rojas Reqeuna, violin;
Ayush Narain, viola; Jarrett Walser, drums
& Cathy Solino, violin
"Moondance"
Written by: Van Morrison
Arr. by Hopkins
WOBOE JAZZ COMBO
Saxophones:
Roger Bryson, alto; Katie Westerlund, bari &
Louis Quagliato, tenor
Trombones:
Joshua Zimmer
Trumpets:
Ryan Krewer & Scott Tomlin
Rhythm Section:
Andrew Zhang, piano; Ben Rubins, bass;
Jarrett Walser, drums; Dave Rimelis, voice & guitar
& Matt King, electric keyboard
"Love Potion #9"
By: Jerry Leiber & Mike Stoller
Arr. By Dave Rimelis
"Peg"
By: "Steely Dan"
"All I Got To Do"
By: Ryan Krewer
"Pick Up the Pieces"
Average White Band
Arr. By: Arif Mardin
Cynthia Cumming
Feb. 13, 2020