Return to Headlines
West Orange High School Homecoming King and Queen Crowned
WEST ORANGE, NJ - West Orange High School seniors Gabriella Charles and Mason Murdock were crowned Homecoming King and Queen under the lights in Suriano Stadium on Nov. 7.
Cianti "KK" Flood and Matthew Allen were crowned Honorary Homecoming King and Queen.
Although the event was decidedly different this year due to Covid-19 restrictions, the spirit of celebration and tradition remained intact as parents and athletes proudly cheered for the outstanding students named to the Homecoming Court.
Read the students' bios below and see all the photos from Homecoming HERE.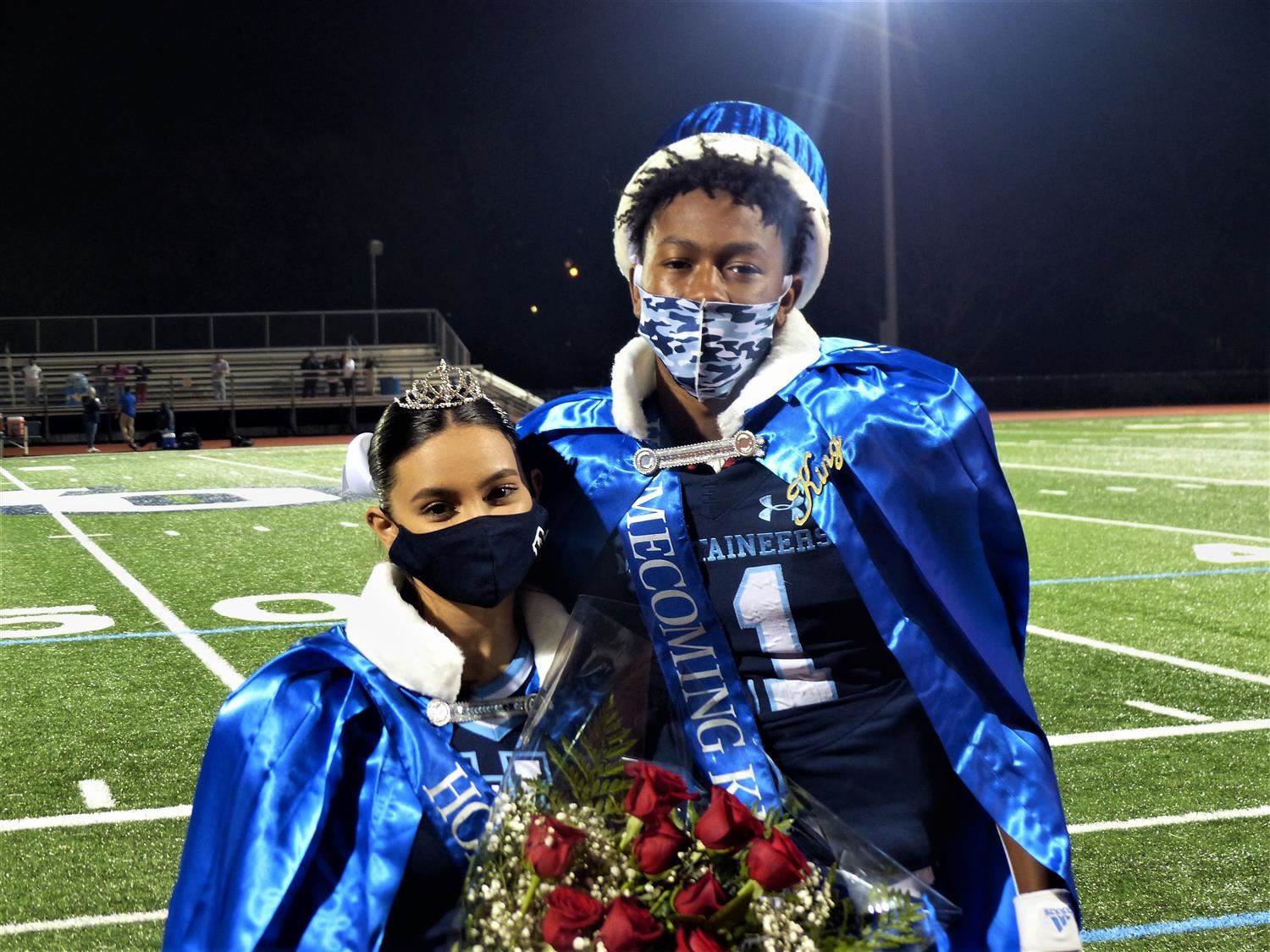 Gabriella Charles and Mason Murdock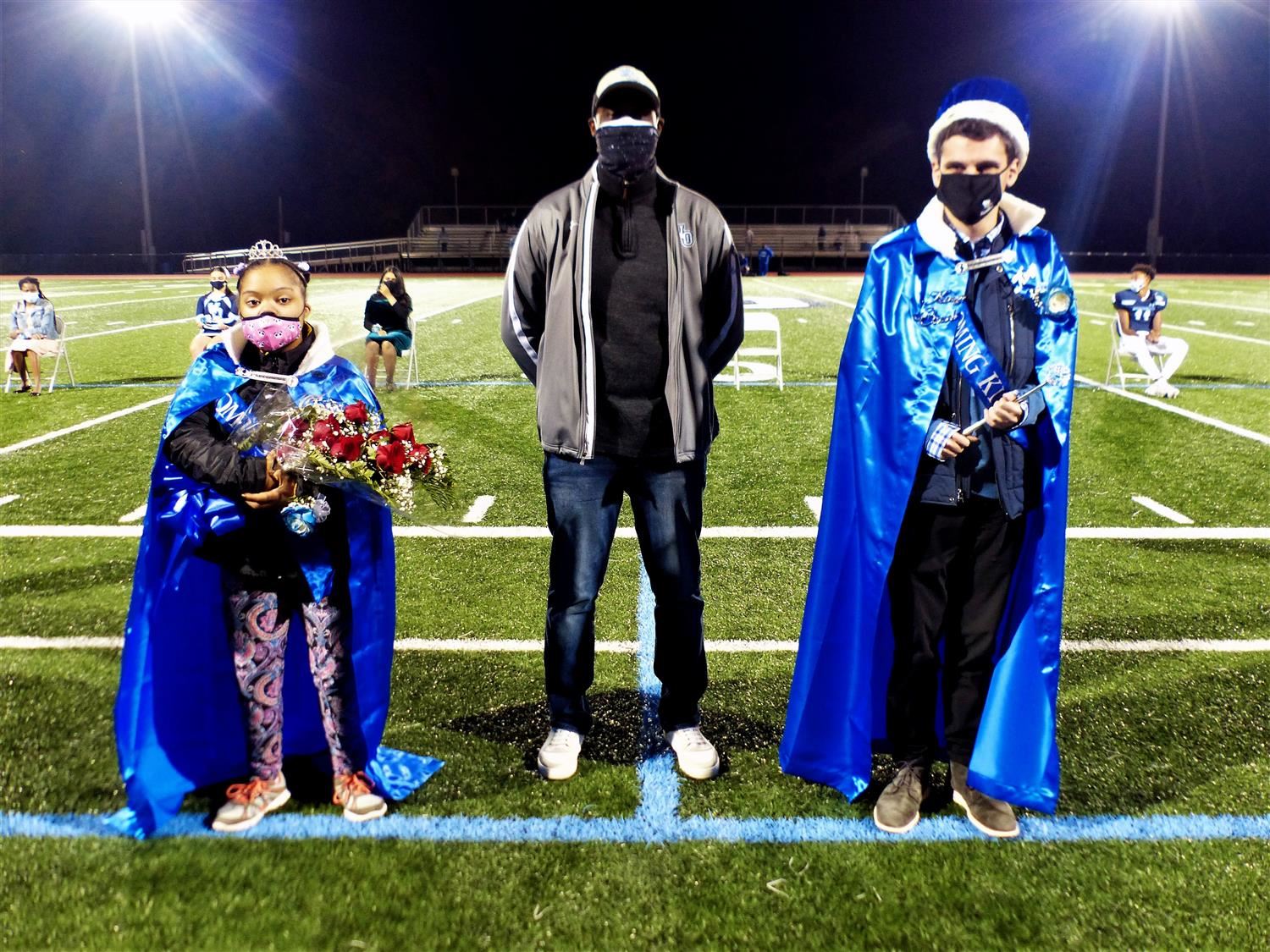 Cianti Flood and Matthew Allen with WOHS Principal Hayden Moore.
QUEEN'S COURT
Nominees
Gabriella Charles
Gabriella Charles aspires to a psychologist in the future. She volunteers her time for Daughters of Israel, WO Women's Club, and PAL cheerleading to name a few. She is also the captain of the varsity cheerleading team and was recognized as All American two years in a row. She is a Mountaineer Menor, Teen Pep Advisor, Editor of the Yearbook, and a part of the Spanish Club, Italian Club, and Rho Kappa (History) Honors society. Gabriella is a high honor roll student and volunteers her time to tutor others.
Nooha Kawsar
Nooha Kawsar aspires to be a Pharmaceutical Scientist. She is the Vice President of Escriptus, Secretary of the Class of 2021 Council, Secretary of the Science National Honor Society, a member of the Family, Career and Community Leaders of America (FCCLA), and a member of the Math and Chinese Honor Societies. She is also a Mountaineer Mentor and volunteers at Saint Barnabas Medical Center. Her hobbies include playing instruments, singing, watching movies, and writing short stories. She is currently enrolled in 4 AP classes at WOHS.
Faith Nzegwu
Faith Nzegwu aspires to be a businesswoman. She is a member of the FCCLA (Family, Career, Community Leaders of America), Track and Field and the African American Heritage Club. She works every Saturday. Her hobby is volunteering.
KING'S COURT
Nominees
Kalleo Nascimento-Mendes
Kalleo Mendes aspires to be an Engineer or a businessman. He is a 4-year Varsity soccer player, he was also part of the boy's wrestling and volleyball team. His hobbies include playing video games and watching Netflix, he also dedicates his free time to his family and friends. Since moving from Brazil, Kalleo has always been an Honor Roll student.
Mason Murdock
Mason Murdock aspires to be a college graduate with a business management degree and become a marketing manager. This is his 3rd season playing quarterback for the football team while also being an honor roll student. Mason's hobbies include basketball, weight lifting, and video games.
Sheldon Senek III
Sheldon Senek aspires to be a music educator in his future. He leads the marching band as the Drum Major and is also an Eagle Scout. His hobbies include playing piano, French horn, and guitar, as well as composing and writing music.
Honoraries
Queen - Cianti (K.K.) Flood
K.K. is currently part of the 18-21 work program at WOHS. She volunteers in the West Orange high school cafeteria in the mornings and at Kelly School and the Wilshire Grand Hotel every afternoon. K.K does her best in school and enjoys spending time with friends. She has quite the sense of humor and she lights up a room with her smile!
King - Matthew Allen
Matt Allen is a WOHS student in the 18-21 work program. He participates in an internship with the district food service company, Maschio, at Gregory School. He also has work experience at the West Orange Public Library and West Orange Town hall performing clerical work. Matt is a conscientious, hard working young man. He enjoys spending time with family. He likes to watch movies, laugh and joke around with his friends.
Cynthia Cumming
Nov. 7, 2020