Return to Headlines
Color Guard Invitational Heads into Fifteenth Year at West Orange High School on Jan. 25
WEST ORANGE, NJ - The Fifteenth Annual West Orange High School Mid-Atlantic Indoor Network (M.A.I.N.) Winter Color Guard Invitational will be held on Jan. 25 in the Tarnoff Gymnasium beginning at 4:00 pm.
The event is action-packed and features some of the best color guards in the area, who will perform visual, theatrical, and choreographed programs that include the elements of banners, flags, rifles, sabers, and other props to tell their stories.
Several area high schools from New York and New Jersey will be performing in different group categories.
Performing groups will include:
Parsippany Hills HS
Snyder Winter Guard
Somerville HS
Port Chester HS
Hunterdon Central HS
Allentown HS
Walt Whitman HS
Morris Hills HS
Mahwah HS
Pegasus Too
True Colors
Northern Valley Combined
Pequannock HS
Pompton Plains HS
Hunterdon Central Regional HS
Matawan HS
Wayne Hills HS
Mineola HS
West Milford HS
Somerville HS
Alter Ego
As hosts of the event, West Orange will perform in exhibition only. The JV is scheduled to perform at 5:53 pm followed by a 60-minute dinner intermission. The program resumes at 7:07. The varsity will perform at 8:57 pm, followed by a special performance by the West Orange Adaptive Color Guard at 9:05 pm. The WOHS Winter Color Guard programs for this season are:
JV Color Guard: The Witching Hour
Music: DANSE MACABRE by Camille Saint-Saëns, I PUT A SPELL ON YOU performed by Annie Lenox and Bette Midler
Christina Doherty - Assistant Director
Brianna Todman - Instructor
Varsity Color Guard: Behind the Mask
Music: MASQUERADE - Aram Khachaturian, YOUNG AND BEAUTIFUL performed by Lana Del Rey
Christina Doherty - Assistant Director
Brianna Todman - Instructor
Captains: Julia Giovine & Melanie Maciejak
Adaptive Color Guard: How Far I'll Go, from Disney's MOANA
Advisors: Mallory DeMarco, Michelle Hartley, and Matthew Pouy
Student Instructors: Sophia Cordoba, Julia Giovine, Brielle Hunter, Melanie Maciejak, Chloe Megden, Abigail Oliver, and Kiley Smith
Following the performances, the awards ceremony will also feature recognition of all WOHS seniors in the color guard program.
Tickets for the competition are $10 at the door for adults and $8 for seniors and students. Food and beverages will be available for sale. The family-friendly event is a great way for children to see how the intricacies of dance, balance, athleticism, and coordination are utilized in color guard.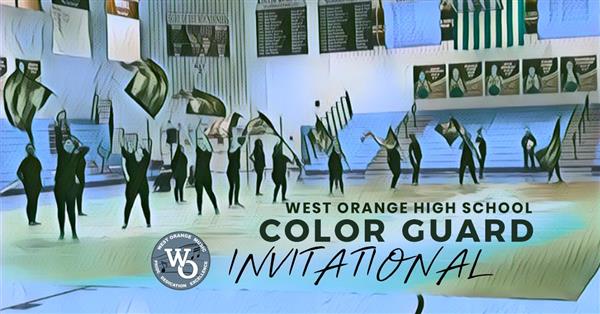 Cynthia Cumming
Jan. 15, 2020