Return to Headlines
Roosevelt Middle School Principal Lionel Hush Receives CORESWCC Financial Advocacy Award
WEST ORANGE, NJ – Principal Lionel Hush received the Circle of Rainbow Sisters Seeking Spiritual and Wellness Connection (CORESWCC) 2019 Financial Advocacy Award and a West Orange Township Proclamation naming Dec. 7 "Lionel Hush Day" during an assembly at Roosevelt Middle School on Jan. 2.
The CORESWCC Award was presented by President Martiza Brown, and the township Proclamation was presented and read by West Orange Superintendent of Schools, Dr. Scott Cascone.
The goal of CORESSWC's Financial Literacy Program for Teens is to reduce the college debt ratio for participants in their three-tiered program. Partnering with NJ Public Schools helps to build a strong alliance in showing the importance of financial literacy, creating a well-rounded, well-informed teen.
"It was truly an honor to be recognized by both the CORESWCC and the Township of West Orange," began Hush.
"Ultimately, the program is designed to improve the opportunities for our children and being able to make such programs available to the families of my school community helps me potentially positively impact their financial futures in ways not available to me as a student," he continued.
"Principal Hush has partnered with the CORESWCC organization since 2017, serving to further enhance the Financial Literacy Curriculum mandated by the state beginning with eighth-graders," stated CORESWCC President Maritza Brown.
"The Financial Discipline Award (FDA) Program is the first of the three programs, starting with students as early as fourth grade. Students learn financial planning skills with a direct focus on reducing or eliminating their college debt. Students can earn over $1000 when they apply the disciplines, and excel in the finance management challenges (reducing expenses in the household). The student receives 20 percent of the award in cash and 80 percent is placed into their existing or new 529 college account," she explained.
During Principal Hush's presentation, Ms. Brown brought eighth-grade student Olivia Raymond to the podium to describe her two years of success with the financial literacy program, "exceeding all our expectations," according to Brown.
Hush was an advocate at RMS for Financial Literacy long before Acting Governor Sheila signed the legislation into law (A-1414) mandating the State Board of Education to include financial literacy instruction in the curriculum for sixth through eighth-grade students in public schools across the Garden State. Principal Hush had already partnered with CORESSWC's Organization and had introduced the programs into Roosevelt Middle school as early as January 2017, two years before the bill was signed into law in January 2019.
Hush's advocacy resulted in the success of the Financial Discipline Award (FDA) Grades 4-10 Program pilot over the past three years, and his school-wide outreach encouraged and engaged his students with CORESWCC presentations at regularly scheduled school assemblies.
"CORESSWC's Financial Literacy Programs are under Pilot in the State of New Jersey. The strategic vision is to release the programs nationally. But, not until repeatable, sustainable, standards are adapted, one school at a time," noted Brown.
"The work that Maritza Brown and the CORESSWC organization are doing should be a model for every community. Empowering the youth to secure their financial futures not only improves the opportunities for the individual but also increases the value of the community," concluded Hush.
The Elite workshop series begins January 25 for students in grades 4-10. As a course pre-requisite, students must be referred by their Principal, Assistant Principal, or teacher.
Read more about CORESWCC and its programs here or call 973-370-3440.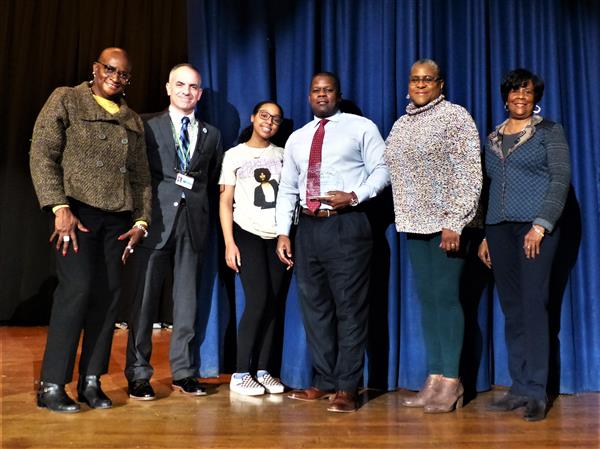 (L-R) CORESWCC President Martiza Brown, WO Superintendent Dr. Scott Cascone, Olivia Raymond, RMS Principal Lionel Hush, CORESWCC member Cynthia Hadley-Bailey, BOE VP Terry Trigg-Scales.
Martiza Brown with Olivia Raymond.
Cynthia Cumming
Jan. 7, 2020