Return to Headlines
Charming Edison Middle School Production of "Lion King Jr." Debuts May 9-10
WEST ORANGE, NJ - A charming version of the "Lion King Jr." will be presented at Edison Middle School, 26 William St., on May 10-11 beginning at 7:00 pm.
The budding thespians have been hard at work for the past several months bringing the well-known story of Simba, the lion cub that learns how to be King, to life. Several strong and comic performances highlight the musical, which features all the beloved music by Elton John and Tim Rice, including "Circle of Life," "I Just Can't Wait to be King," and "Hakuna Matata."
Kaitlyn Hahn shines as Young Simba, hitting all the right notes in her portrayal of a young, emotional, and impressionable cub. Richard Arjoon is Mufasa, Simba's father, who loses his own life while saving his son's. Watch for Arjoon's solo on "They Live in You," which will amaze theatergoers.
Araya Sickles as Rafiki projects a confident air of wisdom and understanding while Ethan Syzmanski's villainous Scar is decidedly creepy and mean. Laila Fowlkes and Free Dixon play Timon and Pumba, who bring comic relief and camaraderie to the production. Pay attention to Hyena leader Trey Atterberry, whose comical approach to his character will bring some chuckles.
A strong supporting cast and ensemble tacke the choreography and melodic harmonies with ease, making the audience wonder if this is actually a middle school play.
Directed by teacher Molly Eisen, the cast is supported by a strong stage crew and band teacher Joe Romano and voice teacher Bonnie Pomeroy, who assist with sound and lighting.
Tickets are $5.00 at the door each night of the performance.
See all the photos from "Lion King Jr." here.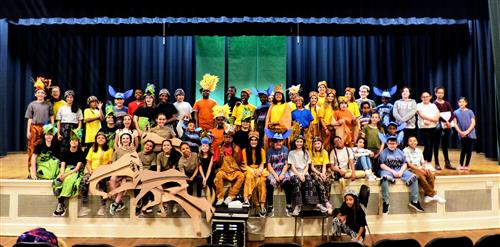 I Just Can't Wait to be King
They Live in You
Finale
Cast and Crew
Rafiki…………………………………………………………………………………..….Araya Sickles
Mufasa……………………………………………………………..………………Richard Arjoon
Sarabi…………………………………………………………………………….Shayla Mathurin
Zazu………....………………………………………………………………..Jaime Dolegowski
Scar……………………………………………………………………………..…Ethan Szymanski
Young Simba…………………………………………………….…………….……Kaitlyn Hahn
Simba………………………………………………..…Sundiata Cooper-Caraballo
Young Nala…………………………………………..…………....………...…Milexy Santana
Nala……………………………………………………………………………………....…Emily Benton
Sarafina………………………………………………………………………....Satiana Alvarez
Banzai……………………………………………………………………………………....Erick Suazo
Shenzi…………………………………………………………………………....……..Sabrina Lewis
Ed………………………………………………………………………….………….Augustine Korlie
Timon……………………………….……………………………………………………Laila Fowlkes
Pumba………………………………………………………………………...….…………...Free Dixon
Lionesses
Makayla Arjoon
Julia Chichioco
Cleopatra Curis
Hayley Goldberg
Arden Greer
Willa Kass
Taylor Shimek
Singing Ensemble
Ava Bowman
Samia Bruno
Olivia Camacho
Miranda Elmera
Kyley Gary-Grayson
Abby Heffner
Carlo Henriquez
Charlotte Keefe
Elizabeth King
Mary Kouadio
Alondra Martinez
Alexa Nieves
Lucia Pereira
Sofia Pereira
Lia Perez
Dance Ensemble
Jessica Chiaramonte
Delimarie Elizondo
Ryanne Hudson
Karla Panchame
Mia Peretz
Hyenas
Hanna Amoyaw
Trey Atterberry
Simone Dalencourt
Mason Insana
JayBari Johnson
Steven Mulvihill
Stage Managers
Breanna Cordero
Annika Ginocchio
Ellie Kukes
Freia Schwander
Crew Members
Andrea Charalambous
Zoe Griola
Charlotte Lipschutz
Sahli Negassi
Cynthia Cumming
May 9, 2019