Return to Headlines
Mamma Mia! Opens at West Orange High School
WEST ORANGE, NJ – The wait is over for the anticipated West Orange High School Spring musical, Mamma Mia! as it debuts in performances April 4-6 beginning at 7:00 pm and April 7 in a matinee beginning at 2:00 pm. (The April 4 performance is a free Senior Citizen performance.)
The musical first opened in London in 1999 and on Broadway in 2001. A popular film version opened in 2008. Set in Greece, the musical features the music of Swedish pop superstars ABBA.
Single mother Donna Sheridan has raised her 20-year-old daughter Sophie while running a taverna on the island of Kalokairi. Sophie is getting married and has dreamed of having her father walk her down the aisle, but her mother has never told her who he is. When Sophie finds her mother's diary, she discovers that three men: Sam Carmichael, an American architect; Harry Bright, a British banker; or, Bill Austin, an American adventurer, could be her father. Sophie sends a wedding invitation to all three, who accept.
Donna's friends Rosie and Tanya from Donna's former band, Donna and the Dynamos, arrive for the wedding at the same time as Sam, Harry, and Bill. Will Sophie discover who her father is? What ensues are intriguing revelations, life-changing moments, and perhaps the notion that Sophia may actually wind up with three Dads.
This year's West Orange High School production of Mamma Mia! continues the school's tradition of musical and theater excellence. An outstanding cast of talented performers brings the characters to life. Soaring vocals and harmonies fill the auditorium while spot-on choreography accents the musical numbers.
Graduating seniors Danielle Russell (Donna), Gabby Florendo (Sophie), Reuben Centeno (Sam), and Litzy Reyes-Polanco (Tanya) shine. Juniors Rachel Favetta (Rosie), Joseph Nalieth (Sam), and Joseph Florendo (Harry) add to the impressive production with strong vocals and acting. Senior and principal dancer Jovaughn Shannon sparkles in the dance numbers.
Production values, sets, lighting, costume design, sound, and music put the audience in the middle of the performance for an enjoyable evening or afternoon of theater. Mamma Mia! is as close as you can get to a Broadway show without the cost and travel.
Tickets at the door for all ages is $15. The show runs approximately two hours with a 15-minute intermission. The show is recommended for children ages 12 and above.
See all the photos from Mamma Mia! here.
See the program featuring information on cast and crew here.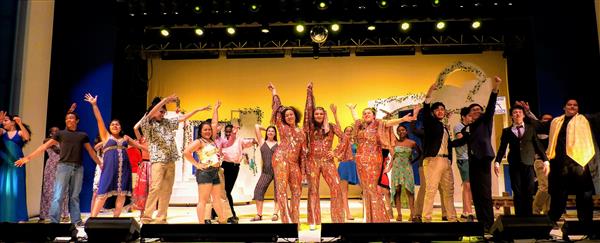 The Cast of Mamma Mia!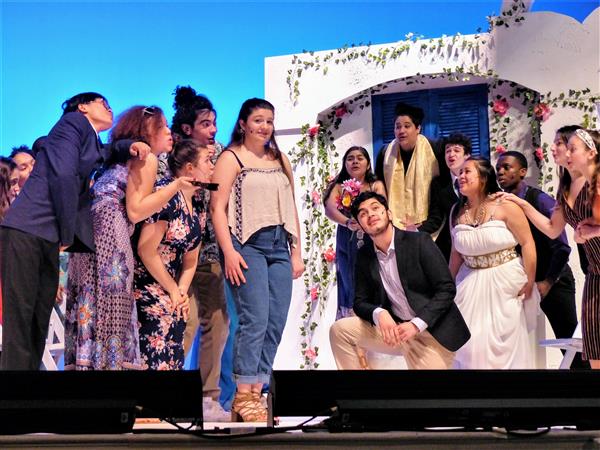 Donna makes a decision.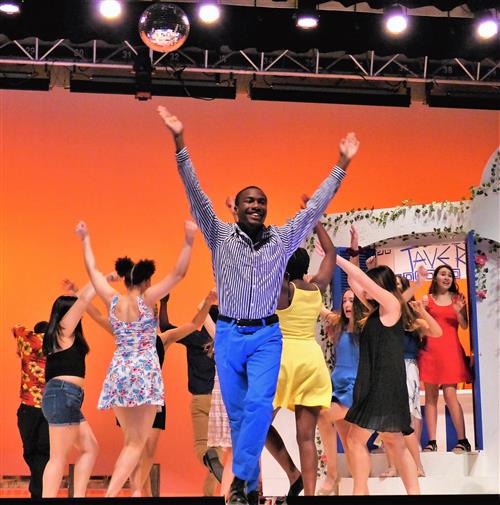 Jovaughn Shannon.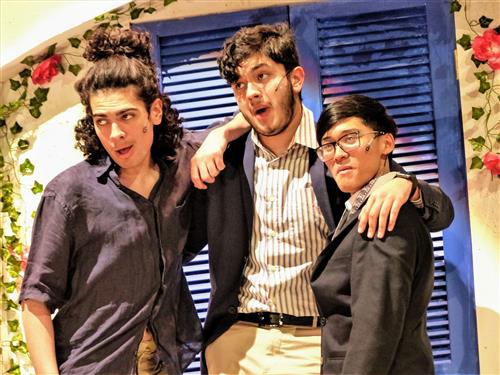 Joe Nalieth, Reuben Centeno, Joe Florendo.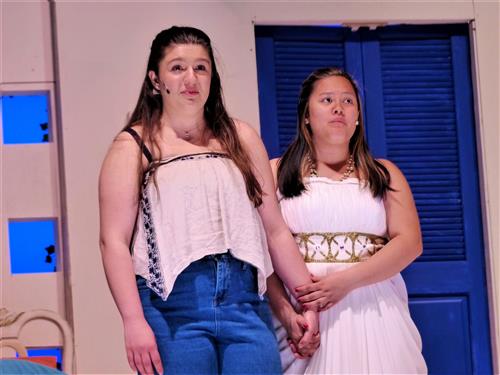 Danielle Russell and Gabby Florendo.
Cynthia Cumming
April 4, 2019