Return to Headlines
West Orange High School Black History Scholarship Dinner Touches Hearts and Minds
WEST ORANGE, NJ – The 2019 Black History Month Scholarship Dinner, held Feb. 1 at West Orange High School, touched hearts and minds, brought laughter and tears, and most of all, paid homage to the black men and women that are a part of shared American history.
Black History month grew out of "Negro History Week," created by Carter G. Woodson and other prominent African Americans in 1927. Since 1976, every U.S. president has officially designated the month of February as Black History Month. In 2002, New Jersey passed The Amistad Law requiring public schools to teach black history that recognize the accomplishments and contributions of black Americans.
"These students worked tirelessly to create an event that showcases the talents of WOHS and how we celebrate Black History Month here, said Advisor Catherine Connors.
"Selam (President) and Mike (VP) are a dynamic team and were able to flawlessly host the event. I could not be prouder of all our students and how hard they worked to create this amazing event!"
The annual event is organized by the Student Council and held to celebrate February as Black History month and to raise money for scholarships for graduating seniors. Student Council President Selam Woldai and Vice-president Mike Petros served as hosts along with Principal Hayden Moore, who led the crowd in a conga line and a "Soul Train" dance line.
"We recognize all history at West Orange High School," noted Principal Hayden Moore as he welcomed guests," "and tonight we recognize black history."
"I am proud to be the principal and get to work with these kids every day," he noted.
Musical performances, including the Jubilee Choir, were interspersed throughout the evening. Students performed original spoken word poetry, and the Girls and Boys Step teams ended the evening on a high note.
The evening's Keynote Speaker was Dr. Janice Johnson Dias, a founder of the GrassROOTS Community Foundation and Professor at John Jay College of Criminal Justice.
"Dr. Janice Johnson Dias and the GrassRoots Community Foundation has been a supporter of our schools and helped to install and fund Green Ribbon Week, a mental health awareness week at West Orange High School. We could not be happier that she accepted our invite to speak at this event ," explained Connors.
Johnson Dias emphasized that "It is critically important that we all seize the opportunity to honor the too-often neglected accomplishments of black folk in every area of life throughout our history."
She went on to reflect upon the achievements of well and not-too-well known black people, including Woodson, Shirley Jackson, Lewis Lattimer, Marie Van Britton Brown, Garrett Morgan, and Madame CJ Walker.
"How can you value black lives if you don't know black history?" Dr. Johnson Dias asked.
"By diminishing the contributions of black people it diminishes all of us … black history IS American history. It IS world history," she concluded.
See all the photos from the Annual Black History Scholarship dinner here and view some clips below.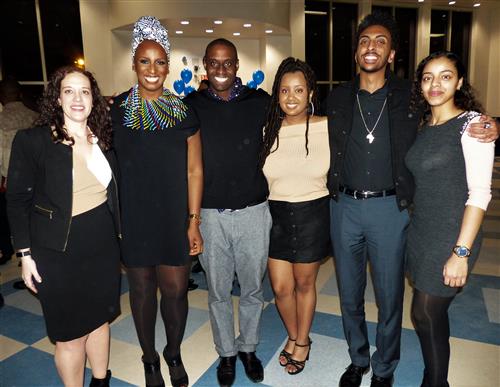 Advisor Catherine Connors, Dr. Janice Johnson Dias, Principal Hayden Moore, SC President Selam Woldai, SC VP Mike Petros, Advisor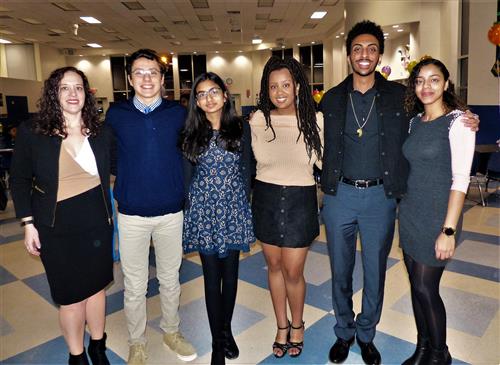 Advisor Catherine Connors, Student Council Officers Brett Zeligson, Arthi Sivendra, Selam Woldai, Mike Petros and advisor Katherine Garcia.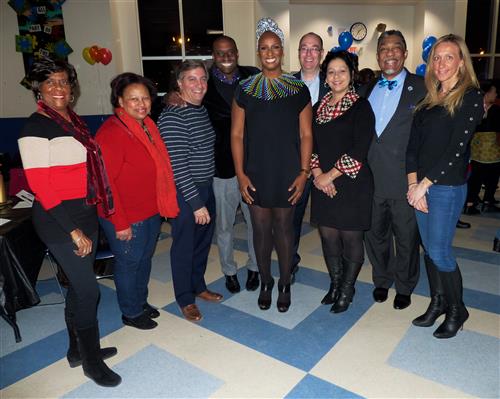 Board Member Terry Triggs-Scales, BOE VP Sandra Mordecai, Mayor Robert Parisi, Principal Hayden Moore, Dr. Janice Johnson Dias, Board President Ken Alper, Acting Superintendent Eveny de Mendez, Board member Mark Robertson, and Board member Cheryl Merklinger.
Program Highlights:
Presentation of Colors
ROTC
National Anthem
Joseph Florendo
Lift Every Voice and Sing
Isaiah Adrian
Welcome
Principal, Hayden Moore, Student Council Advisors
Student Council President, Selam Woldai
Student Council VP, Mike Petros
Poetry Reading
"Blood Lungs" - Olivia Ridley
Musical Performance
"Motherless Chile"- Eberechi Ekweghariri and Blair Murdock
Poetry Reading
Geraldine Louis, Emily Cardona, Chanel Chambliss, and Kai McCall
Speaker
Dr. Janice Johnson-Dias
Dance Performance
Kristian Reynolds
Poetry Reading
"If a Black Girl Knew" – Mariana Simpson
Musical Performance
Jubilee Choir
Poetry Reading
"Blackbird" – Kai McCall
Musical Performance
"From a Distance"-Stacey Lozin
Poetry Reading –
"There shouldn't be a Black History Month" – Orianna Carter
Musical Performance
"Strange Fruit"-Daniella Rodriguez
Performance
Girls Step Team- Nu Theta Omega
Musical Performance
"Feeling Good"-Indigo Jackson
Dance Performance
Ashleigh Phillips
Musical Performance
"Respect/Think"- Nyasia Foster, Jordan Scott-Young
Performance
Boys Step Team- Ab-Salute
Cynthia Cumming
Feb. 4, 2019