Return to Headlines
"The Outsiders" Comes to Life at West Orange High School
WEST ORANGE, NJ – "The Outsiders," S.E. Hinton's 1967 coming-of-age tale pitting the "Greasers" against the "Socials" and the tragedy that ensues, has been brought to life at West Orange High School.
Hinton herself was just a junior in high school when she penned the iconic novel of socioeconomic struggle, and the novel has become a mainstay on teen reading lists since. The 1983 movie featuring up-and-coming Brat-packers battling life and each other on the streets of Tulsa, OK, has added to its popularity.
The story's protagonist is Ponyboy Curtis, who also narrates the play. With non-traditional casting, Olivia Ridley portrays Ponyboy with a sense of strength and sensitivity that provides a solid thread throughout the two-act play. Ponyboy envisions a world beyond the one he shares with brothers Derry and Sodapop, though the day-to-day lives of the Curtis family do not seem to offer much.
Ponyboy and friend Danny are out at the drive-in when they meet the girlfriends of two drunk "Socs," Bob and Randy. Although the interaction is innocent, Bob and Randy return to assault the pair for daring to speak to the girls. Danny kills Bob as Bob is drowning Ponyboy in a fountain.
Sebastian Chaviano portrays Danny, rejected by his family and fearful of constant bullying from the Socs.
Tough-as-nails Dallas hides the two in a church, where Ponyboy reads "Gone with the Wind" to Danny. When they decide to turn themselves in, they return to pick up the book and discover that the church is on fire. Danny races in to rescue some children, with dire results.
In another non-traditional casting turn, award-winner Erin Arnold plays Dallas, who has shut down his emotions - except anger and rage, to keep from being hurt. A strong supporting cast and an ensemble that functions in multiple roles completes the cast.
WOHS Class of 2013 alumnus Brandan Mangen choreographed the volatile fight scene while lighting by Lauren Grof-Tizsca added excitement and mood throughout the production. Sound by Kirk Roberts also featured a sixties soundtrack that highlighted the seamless scene transitions.
Director and Drama teacher Wendy Mapes-Chrzanowski has once again brought out the best in her actors and the show is a must-see for fans of the novel and the movie. The play is recommended for children aged twelve and above, with some violence and mild sexual situations.
"The Outsiders" is playing Nov. 1, 2, and 3 in the auditorium at West Orange High School beginning at 7:00 pm. The auditorium is located at 51 Conforti Avenue on the Pleasant Valley Way side of the campus. Tickets are $10 for students and $12 for adults in advance at wohs.booktix.com. All tickets at the door will be $15.
See all the photos from "The Outsiders" here.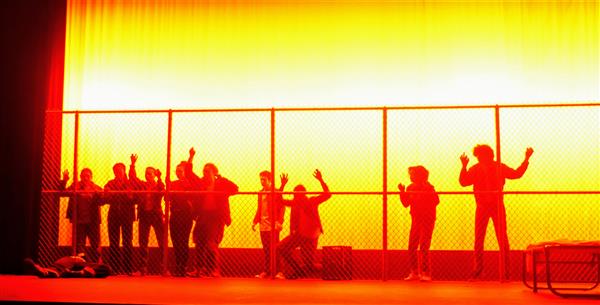 "The Outsiders" at West Orange High School, Nov. 1-2.
See the program here.
Cynthia Cumming
Nov. 1, 2018