Return to Headlines
West Orange Boys Tennis Plans to Serve Up Great Season
WEST ORANGE, NJ - The West Orange High School Boys Tennis team is aiming for a conference championship and they are well on their win with a 3-0 record.
Seniors Trey Cohn and Richard McCleese are this year's co-captains. Other seniors on the team are Sushi Kaplan and Shaurya Sanghvi. Head Coach Jeff Mazurek is excited with the season's strong start.
"The strengths of this year's team are the experience of our singles players, and the intelligence and athleticism of our doubles teams," Mazurek said.
"Athletes to watch this year are senior Trey Cohn at first singles, Sushi Kaplan at third singles and Shaurya Sanghvi at first doubles," continued Mazurek, " and freshman Karan Belday is outstanding at second singles. He is going to have a phenomenal career at WOHS."
Sebastian DePinho is the Assistant Coach for the Boys team. Boys tennis will play Newark Eastside in an away game on April 21 beginning at 4:00 pm.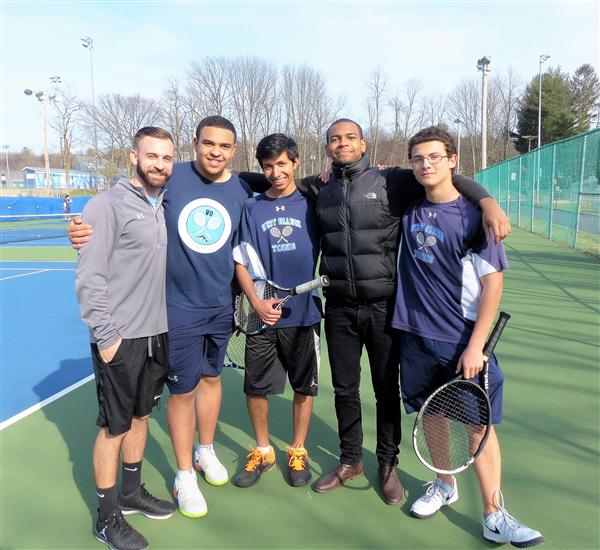 (L-R) Head Coach Jeff Mazurek, Trey Cohn, Shaurya Sanghvi,
Richard McCleese, and Sushi Kaplan.