Return to Headlines
Astronaut Lee Morin and Congressman Rodney Freylinghuysen Visit Liberty Middle School
WEST ORANGE, NJ - Congressman Rodney Frelinghuysen (District 27-R) and Lee M. Morin (M.D., Ph.D) (Captain, U.S. Navy, Ret.) and NASA Astronaut visited with seventh-grade Liberty Middle School students on March 13 to discuss Dr. Morin's storied career and innovations in space technology.
Morin has a storied career in the Navy, first serving as a doctor during the Desert Storm conflict. He joined NASA in 1996 and became a mission specialist, eventually logging more than 259 hours in space including 14 spacewalk hours. Morin was appointed Deputy Assistant Secretary of State for Health, Space, and Science with the Department of State, Washington D.C. and returned to the Astronaut Office at Johnson Space Center, where he is currently assigned to the Exploration Branch working on the cockpit of NASA's newest spacecraft, the Orion Multipurpose Crew Vehicle.
Dr. Morin gave a video presentation to students, followed by a short question and answer period.
"Our students are always excited to meet astronauts in the Space Program and learn about the STEM-related opportunities it offers," said Liberty Middle School Principal Robert Klemt.
"We are grateful to Congressman Freylinghuysen and Dr. Morin for including Liberty in their tour of local schools."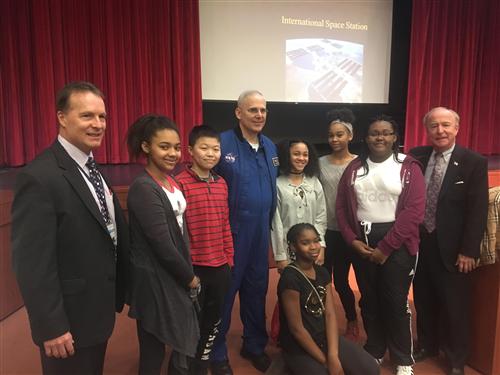 Principal Bob Klemt, Dr. Lee Morin (in blue), and Congressman Rodney Freylinghuysen