Return to Headlines
West Orange Scholarship Fund Awards $92,000 to Graduating Seniors
WEST ORANGE, NJ - The West Orange Scholarship Fund distributed $92,000 in scholarships to graduating West Orange High School seniors at Senior Awards Night on June 7.
The evening began with a welcome from West Orange High School Principal Hayden Moore, followed by student recognition for academic excellence and community service.
A series of Military Awards, including full ROTC scholarships to Michael Giovine and Abby Rosu, followed.
Several local scholarships were then announced, including the Melissa Williams Scholarship, the Betty Maddalena Memorial Award, the Dean Michael Clarizio Cancer Foundation Scholarship, the Seed Scholarship, the Elks, the Sanford L. Kahn Post #538 Jewish War Veterans XX Olympiad Memorial Award, the Montclair Chapter of the Drifters, the PASSE Scholarship, and UNICO.
The WOSF then took to the stage to present their series of scholarships. Formed in 1923, the WOSF has donated money to graduating seniors of West Orange High School in an amount over one million dollars. Treasurer Jim Quinn, President Rich Rizzolo, and trustees stood by to assist with distribution of the scholarships. 56 endowments provided scholarships for over one hundred students.
Notable this year was the first scholarship awarded in memory of musician and West Orange resident Tommy Page, who passed away in 2017. The scholarship was presented to Leonardo Zeoli by friends Mark Levinsohn and Lisa Boymann.
The evening concluded with the awarding of the Valedictorian and Salutatorian sashes to Aishwarya Kanagala and Aion Ashby in anticipation of the graduation ceremonies at Codey Arena on June 21.
To see all the photos from the evening, go here.
To see the program listing all awards and recipients, go here.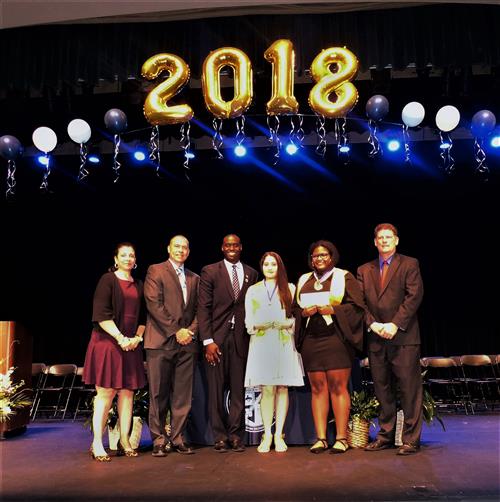 (L-R) Asst. Principal Annette Towson, Asst. Principal Steve Olshalsky,
Principal Hayden Moore, Aishwayra Kanagala, Aion Ashby, Superintendent Jeff Rutzky.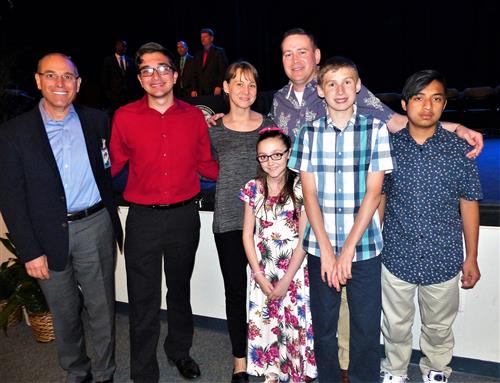 L to R (back row) – Mark Levinsohn; Leonardo Zeoli; Lisa Boymann; and Charlie Wright
L to R (front row) – Ruby, Alden and Owen Page
Cynthia Cumming
June 13, 2018