West Orange Scholarship Fund
West Orange Scholarship Fund
Return to Headlines
Ninth Annual Nikhil Run/Walk Held at West Orange High School
WEST ORANGE, NJ – It was a picture-perfect day for the Ninth Annual Walk/Run for Nikhil, held Sept. 15 at West Orange High School. The popular event, sponsored by the Nikhil Badlani Foundation, raised over $43,000 to help promote traffic safety awareness, music education, and scholarships for graduating seniors.
"Nine years ago we had our first run/walk. The suggestion was made with the idea to celebrate Nikhil's birthday. Nine years later, it remains the only run/walk in the State of NJ that advocates for traffic safety," began Sangeeta Badlani, a founder of the Nikhil Badlani Foundation.
The foundation was established in 2011 following the death of 11-year-old Nikhil Badlani in an automobile crash caused by a distracted driver. Since that time, the foundation has worked tirelessly to honor Nikhil's memory by educating the public on traffic safety, providing musical training to students in the West Orange Public Schools, and awarding scholarships to seniors in West and South Orange.
To date, the Foundation has:
Spent over $150,000 on traffic safety, educating over 7,000 students, creating 26 traffic safety murals, and running ad campaigns on NJT train stations and Light Rail.

Distributed $125,000 in Academic Scholarships to 75 students.

Provided $95,000 in Music Scholarships to 130 students.
Darlene Folas, President of the WOHS Youth Advisory Board, discussed the initiatives begun since its inception in November, 2018. They included speaking to middle school students, painting a mural at the high school, and winning a Driving Simulator through the Brain Injury Alliance of NJ competition.
Hundreds of community members attended the event, held in Suriano Stadium. Raffles, food trucks, a Kids Fun Run, Face painting, aerobics, and more were enjoyed by the crowd. Traffic safety and local organizations were present to provide information and hand out literature.
West Orange Mayor Rob Parisi was on hand to thank the Badlanis and welcome their continued partnership in the community. Assemblywoman Mila Jasey also thanked the Foundation for their efforts on behalf of traffic safety. Jasey was one of the supporters of Nikhil's Law.
Anay Badlani, Nikhil's younger brother and a sophomore at West Orange High School, led participants in Nikhil's Pledge, which now appears on all New Jersey Driving tests thanks to the passage of Nikhil's Law in 2015.
The 2019 Nikhil Badlani Inspiration Award was presented to Burlington City High School students in recogniton of their determination to create a positive change and a legacy of increased safety in honor of Antwan L. Timbers, Jr.
"In May 2016, another town 70 miles south of us lost one of their own," continued Badlani.
"Antwan L. Timbers Jr.'s was a sophomore and a ROTC member at Burlington City High School. He was walking along Route 130 when he was killed by a drunk driver. The students started a "25 Save Lives" Campaign in memory of their classmate under the leadership of principal James Flynn, and the Bill was recently signed into law.
Senay Dani, a sophomore and member of the ROTC and student council at West Orange High School, took First Place in the Men's Division of the 5K with a time of 18:20.2. This was Denay's second win in a row. Tiffany Smith took First Place in the Women's Division with a time of 20:29. See all the results of the 5K here.
Badlani concluded her comments by saying, "It is wonderful to see the community come together even after nine years to support our cause. I am always heartened by the big turnout of students at this event. Motor vehicle crashes are the leading cause of death in teens. Our mission is to educate them about the dangers of disobeying traffic laws and offer them the opportunity to take the STOP For Nikhil Safety Pledge to prevent tragedies like ours. We are hopeful that after participating in our event and hearing our story and others people will think before they reach for their phone while driving."
The Nikhil Badlani Foundation still accepting donations. Go to the Nikhil Badlani Foundation website here.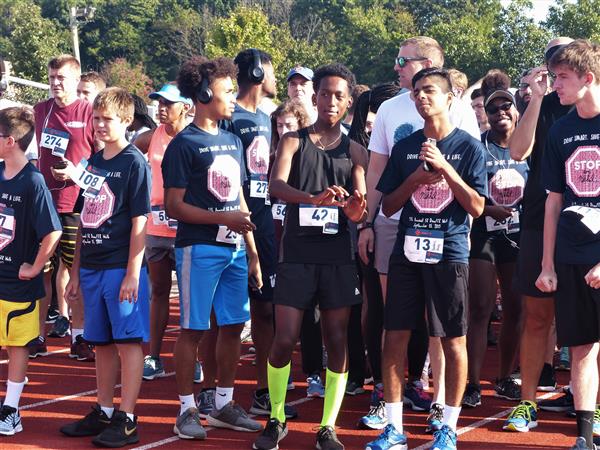 Senay Danai (green socks) was the top runner of the day.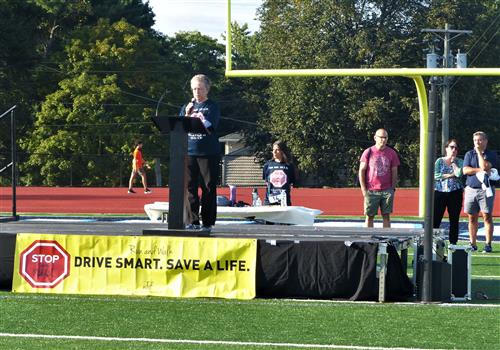 Assemblywoman Mila Jasey.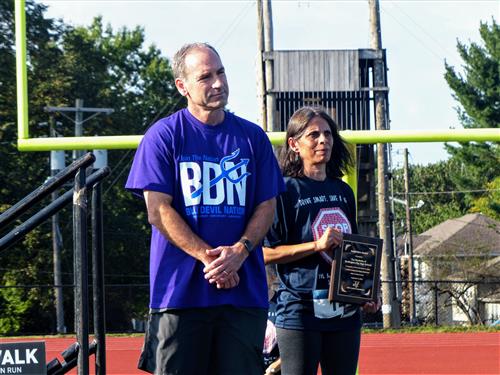 Principal Jim Flynn of Burlington City Hall with Sangeeta Badlani.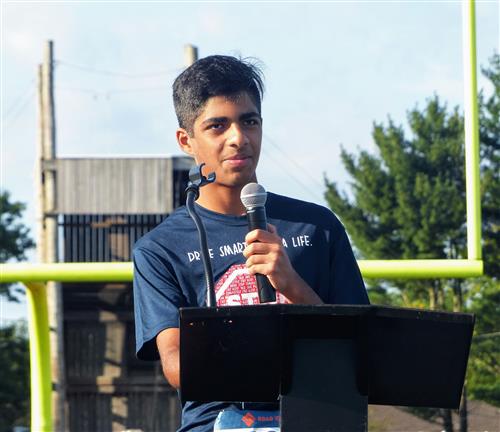 Anay Badlani.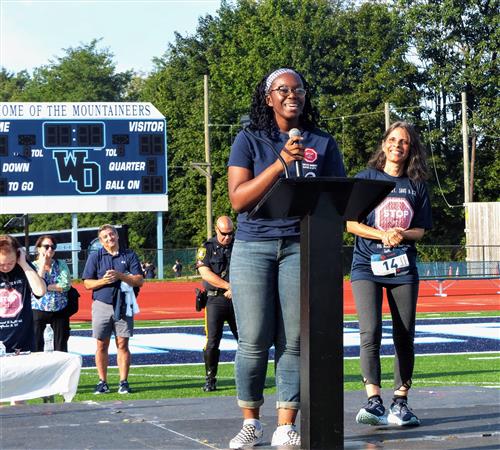 Darlene Folas of the Youth Advisory Board.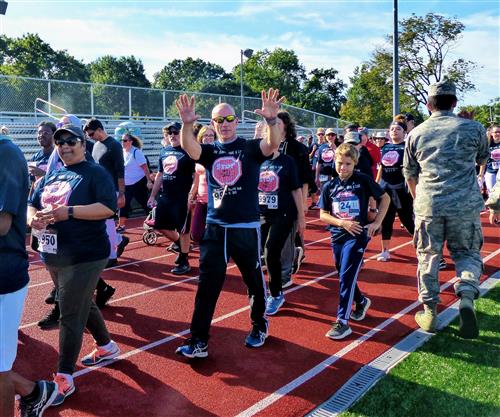 Superintendent Dr. Scott Cascone heads out with the walkers.
To see all the photos from the 9th Annual Nikhil Badlani Walk/Run, go here.