Return to Headlines
West Orange High School 2019 Senior Awards Nights Marks Many Firsts
WEST ORANGE, NJ - The annual West Orange High School Senior Awards, held June 13, were notable for several exciting firsts for the event.
The West Orange Scholarship Fund (WOSF), established in 1923, provided a record-breaking $95,000 in scholarships to graduating seniors.
"Our part of Senior Awards Night represents the sole purpose of the West Orange Scholarship Fund," said WOSF President Rich Rizzolo.
"It's very special to me to represent the Fund at this ceremony. Along with me, many trustees and sponsors on stage, it was my great pleasure to announce 113 Awards totaling $95,000 and call to the stage each of the 90 seniors to receive them," he continued.
For the first-time ever, the WOSF distributed 12 new scholarships:
Patricia Villarosa Scholarship
Marlene Coyle-Kruse Scholarship
Doctor Philip Congilose Scholarship
Harold Morrison Scholarship
Glen Rock Savings Bank Scholarship
Aliyah Perkins Scholarship
Jhaveri Family Scholarship
Engineering Explorations STEM Day Camp Scholarship
Cunningham and McNeill Families Scholarship
Sue Zaccaro Student Leadership Scholarship
"Many made this possible including VP Pat Sforza, VP Deb Weston, Alice Beirne, Tynia Thommassie, Awards Committee and Jim Quinn, Treasurer," noted Rizzolo.
In addition to the WOSF scholarships, a long list of local scholarships not affiliated with the WOSF were awarded.
Colin Morgan, brother of Cadet Christopher Morgan, was called to the stage along with Vanessa Lettman, Wes Rideau-Winds, and Andrew Amoyaw, to receive their appointments to West Point. Recruiter Vince Commisa left a space between Morgan and the other future cadets to honor his brother Christopher Morgan, recently killed in a accident at West Point.
Angel Cordero, Allan Becerra, Cristian Diaz, Aileen Robles, and Carlos Rivas Tejadas received United States Marines Delayed Entry Scholarships, and Joseph Farro, Dylan Gotay, Jean Leonard, and Rutchell Auguste received their appointments/scholarships for the United States Army. A total of 16 WOHS graduates are entering into military service following graduation.
Lettman will be the first female from West Orange High School to attend West Point.
WOHS Principal Hayden Moore, administrators, and supervisors presented community service and academic recognitions to the seniors. The evening concluded with the presentation of cords and sashes to the graduating class of 2019 Valedictorian Daniel Feinblatt and Salutatorian Max Dickman.
To view the complete lists of scholarships and recipients, go here.
To see all the photos from Senior Awards Night, go here.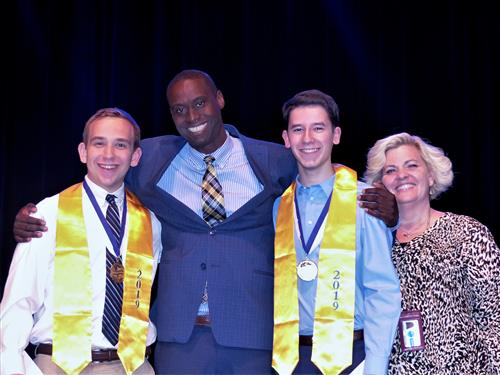 Valedictorian Daniel Feinblatt, Principal Hayden Moore, Salutatorian Max Dickman, Asst. Principal Dr. Kim Mancarella.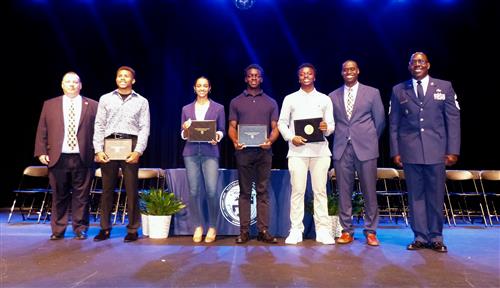 West Point Commissions: Vince Commisa of West Point, Colin Morgan, Vanessa Letman, Andrew Amoyaw, Wes Rideau-Winds, Principal Hayden Moore, Sgt. Ricardo Thurston of the WOHS JRAFROTC.
Cynthia Cumming
June 21, 2019