Return to Headlines
West Orange Education Association and West Orange Scholarship Fund to Honor Galante Brothers for 80+ Years of Service to West Orange Schools
WEST ORANGE, NJ – The West Orange Education Association (WOEA) and the West Orange Scholarship Fund (WOSF) have announced plans to honor twin brothers Nick and Pat Galante, who both served in the West Orange School District for 40 or more years.
"We are very excited to be working with the West Orange Education Association to honor Pat and Nick Galante for 80-plus years of extraordinary service to the West Orange school district and the children of West Orange," said Jim Quinn of the WOSF.
The event will be held at Rock Spring Golf Club, located at 90 Rock Spring Road, on May 30 from 6:30 – 9:30 pm, and will be the first event held at the club since its purchase by West Orange township.
The storied careers of fraternal twins Nick and Pat Galante are well-known in the West Orange community. After moving from Newark in 1957, the twins attended Redwood Elementary, Lincoln Jr. High, and Mountain High School, graduating in 1965. The brothers attended Seton Hall University, where both received Bachelor's in Elementary Education.
Nick went on to earn his Master's in Elementary Education and an Administrative K-12 Certificate; Pat earned a Master's in Elementary Education and Educational Media. Their educational paths began to diverge once they began working in the West Orange School District.
Nick began his teaching career at St. Cloud Elementary 1969-1977 (grades 2, 3, 4, and 6). In 1972 he w
rote and implemented an Individualized program in 1972-73 with Marilyn Bornstein for grades 2 and 3, with the assistance of Seton Hall University student teachers, and Professor Oreste Rondinella.
In 1984, he assisted with implementation of the Madeline Hunter Model and served on the District Steering Committee and was observed
by 12 administrators and Madeline Hunter teaching a lesson with Sheila Nehemiah on "Civilization."
Nick became involved in curriculum and grant writing, taught sixth grade at Washington Elementary School, and was named Essex County Teacher of the Year in 1990. He transferred to Pleasantdale Elementary School (now Kelly) in 2000 as Assistant to the Principal, and oversaw the discipline, special education programs, and transportation. He served as Acting Principal prior to Dr. Pollara's hiring in 2010, and was the Golf Coach at West Orange High School from 2000-2012.
Nick was best-known as President of the West Orange Education Association from 1973 until his retirement in 2013. His tenure represents the longest tenure of any local association President in the history of New Jersey. He, along with Roosevelt ELA teacher Jay Wecht, helped to pass 37 out of 40 school budgets.
Nick has been married to his wife Jeanette, a former West Orange Instructional Assistant, for 14 years and they have three sons, David, Leonardo, and Gustavo, and one grandchild, Angie.
Pat Galante served as a sixth grade teacher at Mt. Pleasant from 1970-1985, where he assisted in the development of transitional curriculum from elementary to middle school. He spent three years at Pleasantdale and moved to Roosevelt Middle School in 1988, teaching math and science.
In 1997 Pat became Dean of Discipline at West Orange High School until his retirement in 2010. As a huge supporter of athletics, Galante coached baseball and football at Lincoln Jr. High and freshman football at WOHS. He coached varsity football from 1987-1997 and supervised weight training at WOHS for 10 years.
Like his brother, Pat was involved in the WOEA as Negotiation Chairperson for 37 years.
Pat has been married to his wife, Colleen, for 48 years. She taught senior citizens aerobics for the W.O. Recreaction Dept for 14 years.
"I listened to my Mom and Dad and found a job that I truly loved," noted Nick, "and I wanted to go to work every day!"
"I feel humbled and honored to have a scholarship in our family name," added Pat.
View the invitation here and Ad Journal information here.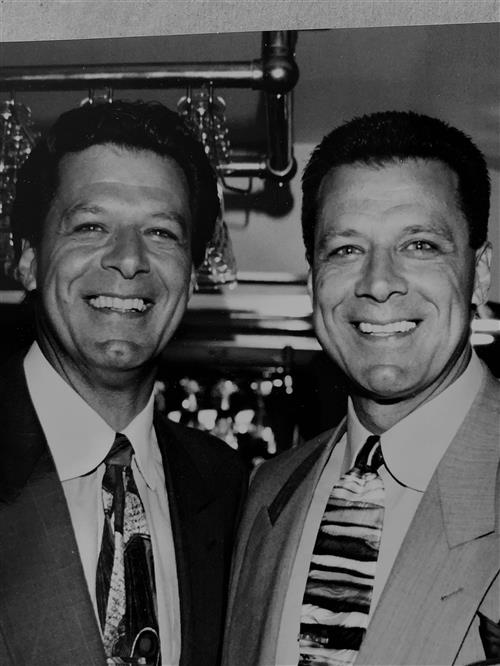 Nick and Pat Galante
Cynthia Cumming
May 5, 2019