Return to Headlines
Students, Teams, and Community Members Recognized at 45th Annual West Orange Chamber of Commerce Mayor's Breakfast
WEST ORANGE, NJ – Students, athletes, and community members were recognized for their outstanding accomplishments at the 45th Annual West Orange Chamber of Commerce Mayor's Breakfast, held Feb. 6 at the Wilshire Grand.
The annual event featured Mayor Robert Parisi's State of the Township address in addition to the well-deserved recognition of students, athletes, and community members. Members of the township council, Board of Education, Chamber of Commerce, Rotary, Police and Fire Departments, local businesses, and community filled the room.
Mayor Parisi had much to say about the West Orange Schools, its students, and staff. He recognized the Girls Soccer Team by noting "The Girls Soccer team followed their first undefeated season in school history and league championship last season, by winning the North Section 1, Group 4 State Sectional Championship this season - the first in school history."
He welcomed Head Coach Sean DeVore, voted New Jersey Coach of the Year, and Team Captains Nyah Harper, Morgan Clark, Hannah Villasin and Kaitlyn Charles. In addition, junior Natalie Nevins was named Essex County Player of the Year for the second year in a row.
"Congratulations to the Mountaineer Indoor Track & Field Team," Parisi continued.
"In addition to several medals, the Girls won the Championship at the Essex County Indoor Relays and have already broken eight school records already this year." Coach Jason-Lamont Jackson and seniors De'nae Hill, Kayla Robe, Alina Chant, and Kathy Lopez-Jacobs were present.
Parisi lauded the recent accomplishment of the newly-formed Virtual Enterprise Team, who placed third statewide in the New Jersey Regional Trade Show and Business Competition, held Jan. 15 at Fairleigh Dickinson University.
"Whether as parents, coaches, and teachers or as a community, nothing makes us prouder than to see and to celebrate the successes of our children.," Parisi continued.
"We have a lot to be proud of in West Orange. Success in the classroom, on the athletic fields, on stage, in music, and in public service help to define our school system and speak to the promise we make to our children each and every year…to provide them every opportunity in their pursuit of achieving life's dreams. This morning, as every year, we take the time to recognize some of our high school students…young men and women that have worked hard to fulfill that promise.
Mya Bembry
Daniel Bradley
Wes RideauWinds
Morriel Kasher
Sessina Dani
Emily Sarett
Max Dickman (Salutatorian)
Aarushi Bhatnagar
Proggya Paromita
Jordan Broking
Ryan Retino
Daniel Feinblatt (Valedictorian)
"Wherever life may take them, each of these students speaks to an inspiring school system that has achieved the objective of providing opportunities for young minds to flourish," Parisi explained.
"These impressive young men and women offer each of us hope for our nation's future and remind other students of the unlimited possibilities presented to them each day in our schools," he stated.
Freshman Soham Bhatnagar was recognized for his efforts as an eighth grader at Liberty Middle School to have a new traffic light installed while crossing Kelly Drive and have that section of Mt. Pleasant Avenue named an Official School Zone, recently approved by the State Department of Transportation.
In addition to the recognition of students and athletes, Mayor Parisi named long-time Department of Public Works employees Michael and Giuseppe Elifani as Employees of the Year.
After graduating the West Orange School System, in 1984, where Michael serves as Supervisor of the Shade Tree Division and Giuseppe serves as Supervisor of the Sewer and Pump Station Division.
Rich and Linda Rizzolo were named Citizens of the Year. Rizzolo currently serves as President of the West Orange Scholarship Fund and served as a Board of Education member from 1998-2004. Linda was one of the founders of Project Graduation at West Orange High School and served as an Administrative Assistant in the Guidance Department until her recent retirement.
The West Orange Scholarship Fund, first established in 1925, has provided over $700,000 in scholarships to graduating West Orange High School seniors since 2000.
Parisi described many township accomplishments over the past year, including the annual St. Patrick's Day Parade, downtown development, the purchase of 1,000 homes by new homeowners, the installation of a traffic light at Alisa Drive in conjunction with the Board of Education and County, the renovation of Essex Green that is set to begin, and the rebuild of the Ginny Duenkel Pool building.
This year, the town hopes to bid on the Rock Spring Golf Course property, continue redevelopment projects, pave several miles of road, begin to address the need for more senior housing and a senior citizen center, discuss the possible relocation of the West Orange Public Library, construct a new animal shelter, and will partner once again this year on the installation of GPS technology on all school buses; providing easy tracking of the buses and ease in locating during storms or in emergency situations, to name a few.
The Mayor concluded his speech with the following exhortation to the community:
We are West Orange. We may be different, in how we look, how we got here, how we think, the way we live, in what we eat or how we pray. But we are bound in a commitment to this home and to each other. And though we may disagree at times, with each success, as with each failure, together we help to define what it means to be West Orange…for a success for any one of us is a success for all of us.
Beyond the familiar streets and neighborhoods, we share a responsibility…to the children that count on us, the businesses we count on, the public servants, serving our schools and the Township and to each neighbor…to each other.
The process can be hard. But difficult or not, that responsibility should not limit us in our hopes or in how big we dare to dream. We should be bold…in our own lives and in the dreams we dream for each other. We should commit that each year can be better than the last and that each new day is a step toward believing that.
Being a community takes work, requiring commitment, compassion, patience and a relentless pursuit for answers…to questions large and small or for the everyday, mundane problems that can be part of the framework of suburban life. But simply spending our day identifying the problems does not bring us any closer to discovering the answers.
We need to look away from our phones…a little more often…to see and touch the world, to see and touch our world, to see the people and the brightness that surrounds us…the brightness often blurred by our determined focus on life's small imperfections.
And if we don't...we may never realize our full potential as a community or as people…for a lifetime lived with an expectation of perfection is a lifetime filled with disappointment.
We are West Orange…there may never be perfection, but there is greatness all around us…in the students that inspire us, in the businesses that serve us and the people, the many people that bring pleasure to this journey and joy to our community.
Despite the challenges, despite struggles…and the imperfections so easy and tempting to focus on, each day ends here…at home, with family…so that with each new morning…we can rise…start again, and we can remember…just how lucky we are.
See all the photos from the 45th Annual WOCC Mayor's Breakfast here.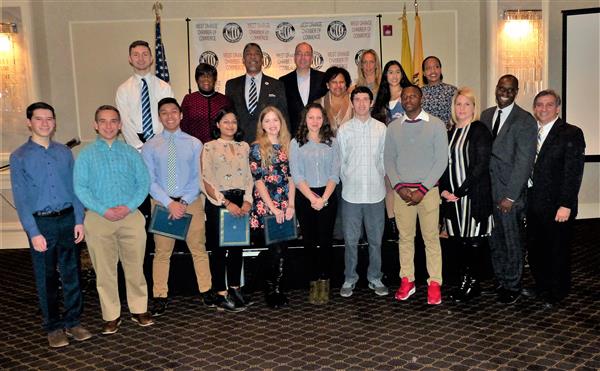 (Front row, L-R) Max Dickman, Daniel Feinblatt, Ryan Retino, Proggya Paromita, Jordan Broking, Emily Sarett, Morriel Kasher, Wes Rideau-Winds, Acting Asst. Supt. Liz Veneziano, Principal Hayden Moore, Mayor Parisi.
(Second row, L-R) Daniel Bradley, BOE member Terry Triggs-Scales, BOE Board member Mark Robertson, Board President Ken Alper, Board VP Sandra Mordecai, Board member Cheryl Merklinger, WOHS BOE Liaisons Aarushi Bhatnagar and Sessina Dani.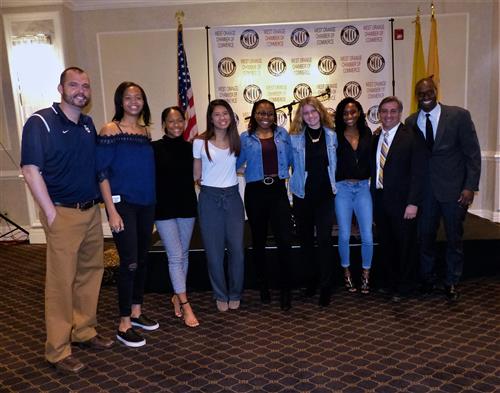 Girls Soccer Coach Sean DeVore, Mya Bembry, Morgan Clark, Hanna Villasin, Nyah Harper, Natalie Nevins, Kaitlyn Charles, Mayor Parisi, Principal Hayden Moore.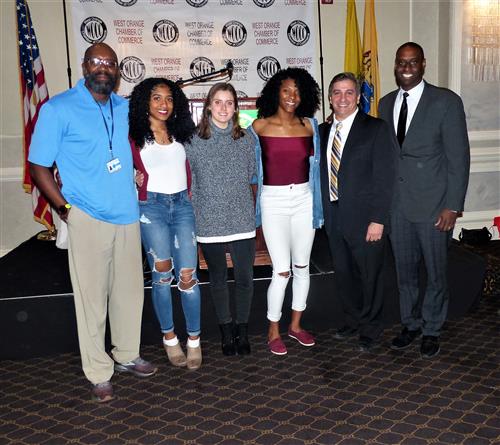 Girls Track Coach Jason Lamont-Jackson, Kathy Lopez-Jacobs, Alina Chant, Kayla Robe, Mayor Rob Parisi, Principal Hayden Moore.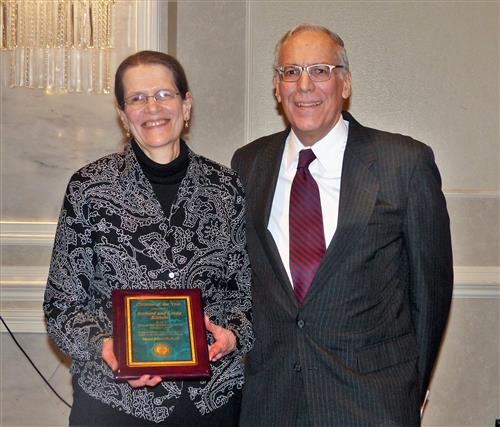 Citizens of the Year - Linda and Rich Rizzolo
Mayor Parisi, Maria Frangos, Nancy Mullin, Principal Hayden Moore.
(Virtual Enterprise Class recognition.)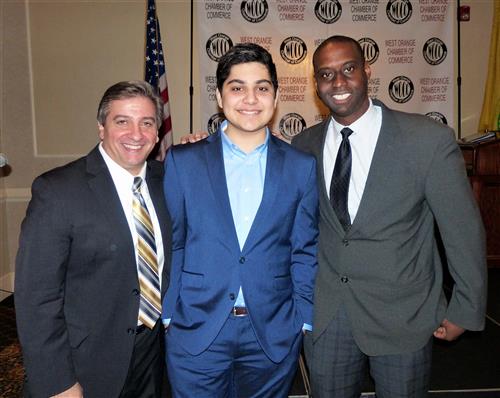 Mayor Parisi, Soham Bhatnagar, Principal Hayden Moore.
Cynthia Cumming
Feb. 7, 2019