Return to Headlines
West Orange High School Virtual Enterprise Class Wins Third Place in State Competition
WEST ORANGE, NJ - The West Orange High School Virtual Enterprise Class took third place in the New Jersey Regional Trade Show and Business Competition, held Jan. 15 at Fairleigh Dickinson University.
Students are given the challenge to create a business idea and submit it to a panel of judges comprised of University professors and experts in business and entrepreneurship. Students with the most innovative ideas and business proposals will be awarded scholarships, certificates, and cash prizes and recognized at an awards ceremony, where they will get to connect and network with other creative and innovative high school students from across New Jersey. All students that are enrolled in grades 9-12 in New Jersey high schools can participate.
With the guidance of advisor Maria Frangos, the WOHS team devised a business plan for "Elia Life." "EliaLife, Inc. is a West Orange, New Jersey start-up dedicated to improving customer health while assisting in the preservation of traditional olive oil farming. We do so as facilitators of sale, connecting small southern European COOPs in Italy, Greece, and Spain with eco-friendly and health conscious buyers throughout the United States and Europe," the plan explained.
The competition grew from six teams in 2018 to 19 teams on Jan. 15, not including the four teams that presented remotely prior to yesterday due to administrative reasons. The addition of a Championship Round was exciting, and a great experience for the participating teams.
The teams that earned a berth in the Championship Round were:
* MerchMe - Morris County School of Technology
* Deja Brew - Morris Knolls High School
* Elia Life - West Orange High School
* Bubbles Up- Livingston High School
* VersaTie- Academy for MS&E
* Appy Hour- Lakeland Regional High School
* Snak Pax - Parsippany Hills High School
The final results of the Championship Round were:
* Deja Brew - 1st Place (National Championship Qualifier)
* MerchMe - 2nd Place
* Elia Life - 3rd Place
"This is a big deal and a great new program that was rolled at WOHS this year with the financial support of the West Orange Education Foundation Alumni Fund and the volunteer efforts of the WO Chamber of Commerce," said Jim Quinn, treasurer of the West Orange Scholarship Fund.
"This was our first year out and we came in third in the state out of 23 schools for our company, "Elialife," Supervisor of Career and Library Science Nancy Mullin.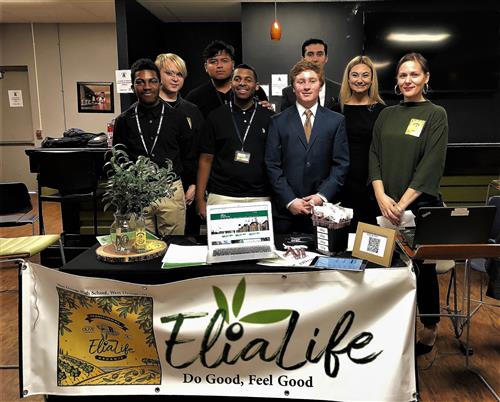 Virtual Enterprise students present at Trade Show/competition.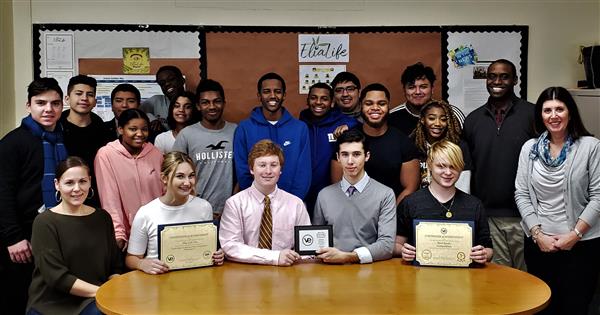 WOHS Virtual Enterprises class with awards. (Maria Frangos, left, Hayden Moore and Nancy Mullin, right).
Cynthia Cumming
Jan. 28, 2019