Return to Headlines
American Heart Association Delivers CPR Kit to West Orange High School
WEST ORANGE, NJ – A brand new CPR/AED (automated external defibrillator) instructional kit valued at $649.00 was delivered to to West Orange High School by the American Heart Association on Dec. 21.
Katie Kinney, CPR Schools Manager for the AHA, contacted Health and district Physical Education Supervisor Kevin Alvine in October to offer the free kit for the 12th grade CPR program. The kit was donated by ADP, located in Roseland, NJ.
10-20 students can utilize the training at the same time. The kit contains:
• 1 wheeled classroom carry bag
• 10 Mini Anne Plus inflatable manikins
• 10 individual carry bags
• 1 hand pump for manikin inflation
• 5 practice-while-watching training DVDs
• 1 Facilitator Guide
• 1 Facilitator Binder that contains the Lesson Plan, pre and post-test, and additional supplementary material
• 10 AED training simulators
• 2 mesh collection and storage bags
• 10 replacement airways
• 10 replacement face masks
• 50 manikin wipes
To date, only one athlete has needed CPR at West Orange High School. In the late 1990's, former athletic trainer Ozzie Diaz was required to perform CPR on a baseball player from Clifford Scott who was struck by lightning in centerfield. The efforts of Diaz and a WOHS parent saved the player's life.
"I am always appreciative to the many outside organizations wanting to help our students, teachers, and our programs," said Alvine.
"This is a life-saving donation from the AHA and ADP that will continue to prepare the students with the valuable lifesaving skills that they acquire to possibly help others in our school, in their families, and in the community. It is my privilege and honor to help provide our student's and teacher's with whatever they need to make our program one of the best," he concluded.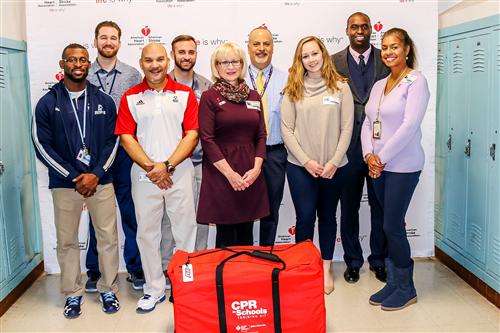 (L-R) WOHS Phys Ed teachers Dave Joisil andTim Blumkin, Ozzie Diaz, Phys Ed teacher Jeff Mazurek, Joan Helfman (NNJ Regional Board Chair, American Heart Association), Kevin Alvine (District K-12 Supervisor of Health & Physical Education), Liz Mudge (Regional Director, NNJ Affair of the Heart Ball), Hayden Moore (WOHS Principal), Melanie Dixon (Youth Market Director). (Photo by Buzz1441).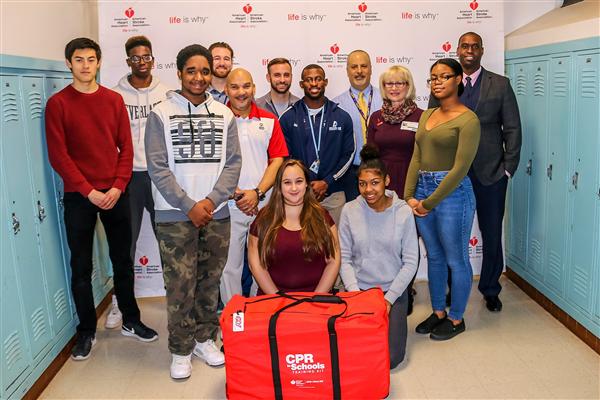 WOHS seniors with staff. (Photo by Buzz1441.)