Return to Headlines
West Orange High School Alum Graduates with Doctorate from Stony Brook University
WEST ORANGE, NJ – West Orange High School Class of 2014 grad Jordan Velez continues to excel as he works to achieve his dreams, graduating in May with a Doctorate in Physical Therapy from Stony Brook University. Prior, he graduated with a M.S. in Sports Management from Florida State University in 2020 and a B.S. in Athletic Training from Sacred Heart University in 2018.
"I was fortunate enough to work as an Athletic Training intern during the summer of 2017 for the New England Patriots," Velez began.
"This internship exponentially improved my clinical skills as a healthcare provider and was my first glimpse and experience in the NFL. It taught me how much goes into running a medical team at the highest level," he said.
"That internship created more opportunities than I could have ever asked for," he continued.
"I am forever grateful to Daryl Nelson and the rest of the Patriots medical team for teaching me, and allowing me to be a part of their staff, even for a short period of time."
While at West Orange High School, Velez was an accomplished wrestler. He won over 100 matches, was a state qualifier, region finalist, two-time district champ, and county champ.
"I do feel like my experience at WOHS played a role in preparing me for college," Velez went on the say.
"I must give almost all the credit to Stephan Zichella and the wrestling team at WOHS. Even more important were the values and work ethic I learned from Coach Z and the alumni. And through wrestling at WOHS I have made friends that I consider brothers, one of which died in a tragic accident in 2019. We miss you CJ Morgan. And to the rest, thank you for always having my back."
"I have so many goals that I hope to accomplish," Velez added.
"The most immediate goal is to be a Physical Therapist/Athletic Trainer at the professional level. Right now, I live in Cleveland, OH. I moved here after graduating from PT school and have been working as a seasonal intern PT/AT for the Cleveland Browns."
With a background in wrestling and rugby, Velez feels his dream would be able to work with those athletes. He also loves teaching, and would love to create some sort of mentorship, or be an adjunct professor at a University.
In addition to all his training, Velez is committed to the practice of yoga.
"I started doing yoga on a challenge from my mom, who said she doubted I could handle yoga in a 100-degree room. I took that challenge in 2016, and I have not stopped since. I received my 200-hr yoga certification in 2018, and have taught for three years in total. Yoga (for me) used to be all about the physical benefits. But now I use it to improve the mind-muscle connection, and for the mental clarity it provides for me. I recently started implementing some of the principles I have learned in Physical Therapy to my yoga classes," he explained.
"And later in my career, I want to open a yoga studio/café," he stated.
Even with all his success, Velez remains grounded by friends and family.
"I would also like to give credit to the biggest supporters of my life: my parents. They have helped and supported me no matter what, accomplish whatever dreams I have. I would not be where I am without them. Thank you, Mom, and Dad."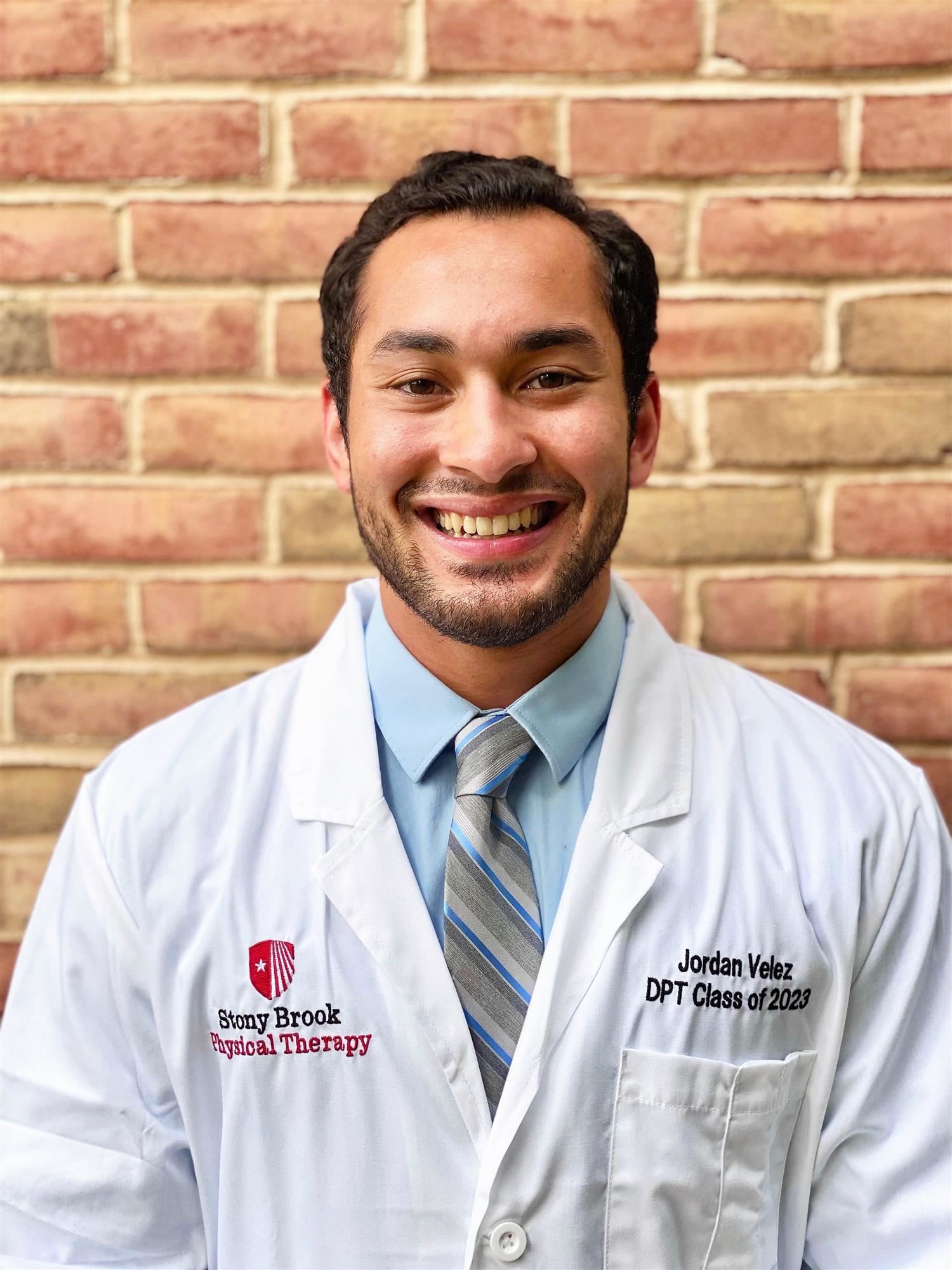 Dr. Jordan Velez
Cynthia Cumming
July 30, 2023