Return to Headlines
West Orange High School Art on Display at West Orange Arts Council Gallery
WEST ORANGE, NJ - The artistic talents of juniors and seniors at West Orange High School is now on display through March 24 at the West Orange Arts Center, 551 Valley Road.
Students' work shone in acrylic, pen, pencil, watercolor, markers, and textiles and represented art projects and personal representations of the artists.
This is the third year the show is being coordinated by WOAC Board Members Lisa Suss and Frank Niccoletti, who worked with Visual and Performing Arts Director Louis Quagliato and AP Art teacher Heather Young. Prior to the show, the art students received instruction on display and presentation by Suss, who is also the gallery manager of The Gaelen Galleries at the JCC MetroWest in West Orange.
"This exhibit holds a special place in the hearts of many of our members," noted woAC President Patricia Mitrano.
"It is important for us to support and celebrate the rising stars of the West Orange arts community and enable them to exhibit their work in a professional gallery setting."
The exhibit will be on display through Sunday, March 24. Gallery hours are Saturdays and Sundays, from 2 to 4 p.m. For more information about the West Orange Arts Council and West Orange Arts Center, visit www.woarts.org or email info@woarts.org.
Seniors - AP Art
Elizabeth Berwind
Kate Dickman
Elijah Evans
Proggya Paromita
Emily Sarett
Jasmine Torruella
Juniors - Art III
Brandon Andrade
Olivia Callender
Ruth Donagher
Cassidy Joyce
Tricia Garchitorena
Christina Gilio-Malabre
Ari Latchman
Jack Mault
See all the photos from the art exhibit here.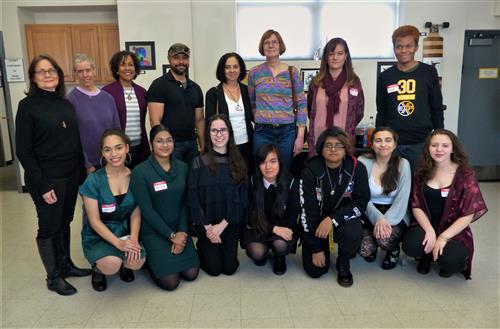 Front Row (L-R) Jasmine Torruella, Proggya Paromita, Kate Dickman, Tricia Garchitorena, Ari Latchman, Kate Berwind, Emily Sarett.
Rear (L-R) Charlotte Westcott, Lisa Suss, Carol Black-Lemon, Rey Arvelo, Patricia Mitrano, Lois Condon, Heather Young, Elijah Evans.
Cynthia Cumming
March 12, 2019