Return to Headlines
45th Annual UNICO Sports Breakfast Recognizes West Orange Athletes
WEST ORANGE, NJ - West Orange Girls Soccer co-captain Hanna Villasin and football player Terrence Toussaint were recognized as "Unsung Heroes" at the 45th Annual UNICO Sports Awards Breakfast on Feb. 24.
UNICO is the largest Italian-American service organization in the country, and they are well-known in West Orange for supporting the local food pantry, the Italian program at West Orange High School, and providing scholarships for graduating seniors.
The Unsung Hero Award harkens back to the beloved Brian Piccolo, who played football for the Chicago Bears until passing away from cancer in 1970. In 1975, West Orange resident and UNICO member Ben Spinelli organized the first UNICO Sports Breakfast to recognize local athletes that embodied the spirit and courage of Brian Piccolo and exemplied the notion of "unsung heroes."
"Hannah came to compete every day," said Girls Head Soccer Coach Sean DeVore.
"She played on the U16 Phillipines Team in the Nationals and helped to lead our girls team to become number 20 in the nation. I never had to say something twice to her. She is a great person and a great student," he stated.
Villasin has signed with Ithaca University to play Girls Soccer.
"Even after many injuries, Terrence came back and was a player the team could depend on. I was proud to coach him, and if any one of my sons turns out like Terrence, I'll be happy," Head Football Coach Jim Matsakis shared.
Toussaint has signed with Ithaca University to play football.
Following the student recognitions, which also included athletes from Orange High School, Seton Hall Prep, and Golda Och, West Orange Girls Soccer Coach Sean DeVore was recognized for being named the New Jersey State Coach of the Year. DeVore himself is a graduate of West Orange High School.
UNICO's very special guest speaker was Dwight "Doc" Gooden, former pitcher for the New York Mets and Yankees. Gooden took several audience questions and signed baseballs for enthusiastic fans.
See more photos here and here.
Jim Matsakis, Terrence Toussaint, Doc Gooden.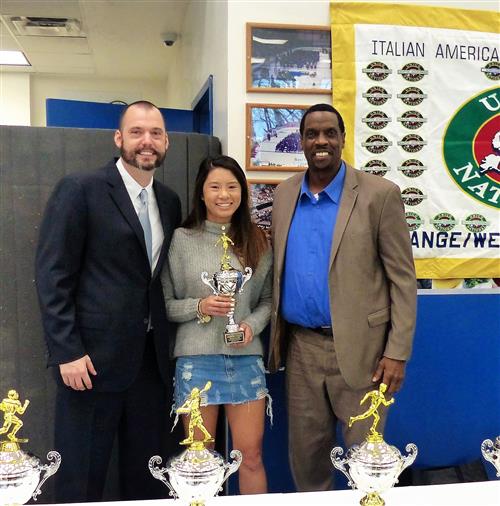 Sean DeVore, Hannah Villasin, Doc Gooden.
Cynthia Cumming
Feb. 27, 2019