Return to Headlines
14th Annual West Orange High School Color Guard Invitational Set for Jan. 26
WEST ORANGE, NJ - The Fourteenth Annual Mid-Atlantic Indoor Network (MAIN) Winter Guard Competition will be held in the Tarnoff Gymnasium at West Orange High School, 51 Conforti Avenue, on Jan. 26 from 4:30 – 9:00 pm. West Orange High School will host the event and the WOHS Varsity and JV Winter Color Guards will perform in exhibition.
"The guard show will feature 20 teams from the tri-state area," noted WOHS band director Erin Lagatic, "and we are looking forward to hosting the kick off to the competitive season."
The following teams are currently slated to perform:
Parsippany Hills HS, Port Chester HS, Barnegat HS, West Orange HS JV, Northern Valley HS, Nutley HS, Roxbury HS, Fair Lawn HS, Hillsborough HS, Matawan HS, Morris Hills HS, Pequannock HS, Wayne Hills HS, Mineola HS Varsity, Southern Regional HS, West Milford HS, West Orange HS Varsity, and Alter Ego, an independent color guard from West New York, New Jersey.
"We are excited to display the talent of our two winter guard teams this year. Thirty-five young ladies from West Orange High School, Liberty Middle School, and Roosevelt Middle School comprise our two winter color guard teams," Lagatic stated.
The 2019 West Orange HS Varsity Color Guard show is titled is "Becoming," and features the music "Quintette No 1" by Dustin O'Halloran, "Dear Thoedosia" from Hamilton performed by Sara Bareilles, and "Angel" by Sarah McLachlan.
The 2019 West Orange HS Junior Varsity Color Guard show is titled "Beyond the Rainbow," and features the music "Somewhere Over the Rainbow" performed by Katherine McPhee.
The program will begin at 4:00 pm with younger teams in the Scholastic Novice Class. The Music Boosters are providing refreshment and concessions for sale throughout the entire competition. The West Orange Varsity Color Guard will perform at approximately 7:45 pm and the Awards Ceremony will begin at approximately 8:15 pm.
Any monies earned from the event will help to fund the West Orange Winter Guard travel expenses, including the Varsity Color Guard trip to Dayton, Ohio for Winter Guard International (WGI) World Championships in April, 2019.
Tickets for the competition are $10 at the door for adults and $8 for seniors and students. The family-friendly event is a great way for children to see how the intricacies of dance, balance, athleticism, and coordination are utilized in color guard, an activity termed "Sport of The Arts".
"I am proud of what the students and coaches have accomplished so far and I'm looking forward to seeing them perform and compete," concluded Lagatic.
The West Orange High School Tarnoff Gymnasium is located on the Pleasant Valley Way side of the West Orange High School campus. Parking is available in the main Conforti Ave. parking lot and limited parking available may be available in the parking lot off Alisa Drive.
More info, including volunteer and trophy sponsorship opportunities, can be found here:
https://wohsmusic.org/2019-guard-invitational/
Follow the West Orange High School Bands and Color Guard on Instagram and Twitter
@WOHSBands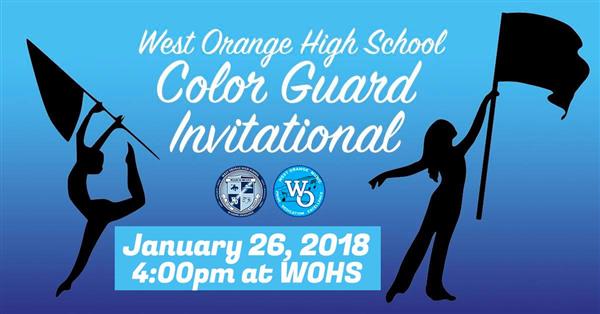 Cynthia Cumming
Jan. 11, 2019