Return to Headlines
Eleventh Annual Business Forum Held at West Orange High School
WEST ORANGE, NJ - Students in business classes at West Orange High School attended the eleventh annual Business Forum on Feb. 8 featuring a panel of distinguished businessmen and women from a variety of professions.
The business forum is a collaborative effort of the NJ Future Educators Club (Advisor, Debbie Sharkey), Future Business Leaders of America Club (Advisor, Anne Hanson), and the entire Business Education department at the high school under the direction of Nancy Mullin, Supervisor of Career Education & Library Science.
Panel members discussed their career paths, life choices, and experiences that led them to their current professions. A question-and-answer period with students followed, and panelists were impressed by the WOHS students who expressed interest in the content of the presentations.
This year's panel was comprised of Perry Bashkoff (SVP, Global Content & Revenue Development Warner Music Group), Regina Golden-Alston (Manager of Information Systems for Product Development in the Individual Life Insurance division at Prudential Financial), Jon Budish (retired from the investment banking firm The Jefferies Group, as Senior Vice President and Managing Director and is currently an entrepreneur teaching at Fairleigh Dickinson University), Pat Cozza (retired from HSBC where he was the CEO for HSBC Insurance and SEVP for Retail Banking Wealth Management – North America, and currently teaches a class in personal financial planning.at Fairleigh Dickinson University), Ilene Sharinn (Owner and founder of Nobodo, Inc. - Deodorants & More (All natural Organic, Vegan, Human, Earth Friendly items), and Dan Torres (Information Technology professional with over two decades of experience in the Information Security and Information Technology fields).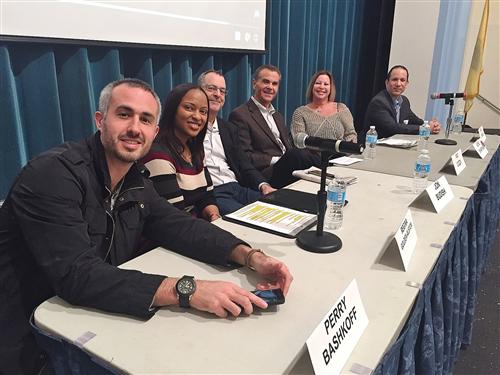 (L-R) Perry Bashkoff, Regina Golden-Alston, Jon Budish, Pat Cozza, Ilene Sharinn, and Dan Torres.