Return to Headlines
West Orange Cheerleaders Win 2017 NJCDCA State Championship
WEST ORANGE, NJ - The West Orange High School Varsity Cheerleaders took home the New Jersey Cheerleading and Dance Association state championship in the Small Varsity Non-Tumbling Division on March 5. The annual event was held at the Sun Bank Arena in Trenton, NJ. This is the second year in a row that the team has taken the state title.
The state championship caps off a stellar season for the Mountaineers, who captured the SEC Conference Championship, UCA Regional Champions, UCA Garden State champions, third and seventh place nationally at the NHSCC Competition held in Orlando, FL Feb. 10-11.
"This was our last competition of the 2016-17 season," said Head Coach Olivia Del Spina, "and we could not be happier to end an overall great season on such a high note."
"The coaches are extremely proud of these 16 girls for all of their hard work and dedication this season," continued Del Spina, "and I can't wait to see what the future holds for the West Orange Cheerleading program!"
This year's varsity team is comprised of:
ROSTER:
Amanda Scalora- 12th grade
Brianna Griffin-10th grade
Danielle Arrabito- 12th grade
Emma Scalora- 12th grade
Erica Odoemene-10th grade
Grace Loma-11th grade
Kassandra Castillo-11th grade
Kaycie Elifani-11th grade
Linnea Nichols-10th grade
Matigan Kohlman-11th grade
Nephtalie Celestin-11th grade
Oneida Aduko-11th grade
Rachel Scott-11th grade
Skyler Fleisher- 12th grade
Veronica Cardona-11th grade
Viviana Cardona-10th grade
Head Coach: Olivia Del Spina
Varsity Assistant Coach: Taylor Calixto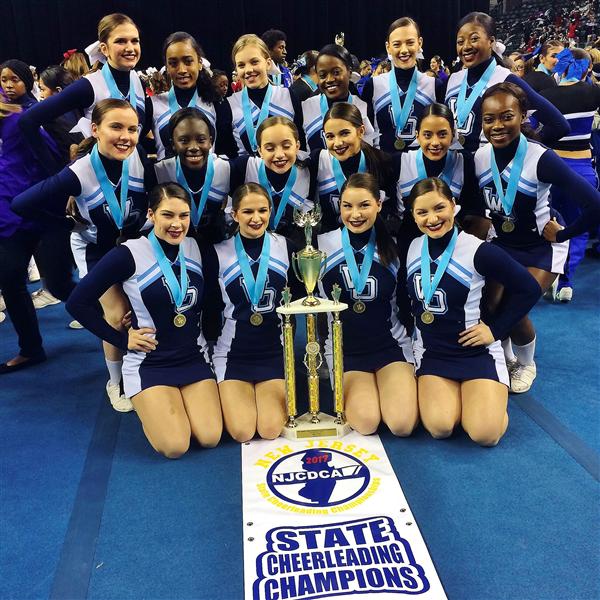 State Champion West Orange High School Cheerleaders